Winter Sensory Bottle Ideas
The sensory bottle. One of my all-time favourite dollar store craft ideas to assemble. What's not to love about a sensory bottle? Quick, simple, thrifty and provide so much enjoyment to young children. I also love them because you can literally fill them with anything. You name the theme and I'll come up with an idea! These winter-themed bottles were filled with goodies I found in my house, mostly in my Christmas bin. All the items were purchased either from the dollar store or from a big box store after Christmas when everything was 75% off. Another thing thing I adore about sensory bottles is the recycled and reused aspects. While these are made in baby food jars, you can pull literally any clear container from your recycling bin. Peel off the labels, give it a wash and you are good to go.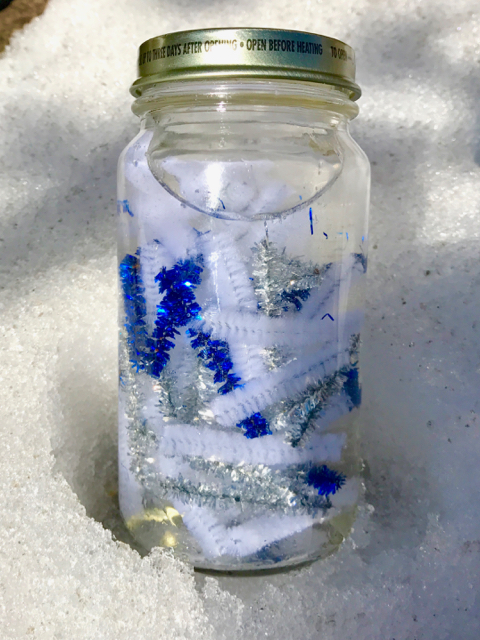 Pipe Cleaners
Pipe cleaners in a variety of wintery colours: fuzzy white ones, metallic silver and blue, have fun with it!
Water
Container
Glue
I cut my pipe cleaners into 8 pieces, tossed them in the jar and added water. Voila! A whirly, twirly, sparkly jar full of wintery goodness. For added safety, glue the jar shut with just about any type of adhesive such as hot glue or super glue. One thing I noticed after assembling this bottle is that the metallic pipe cleaners tend to stick to the fuzzy ones. In hindsight, I would suggest using one or the other. The fuzzy ones seem so much softer and more like a blanket of snow.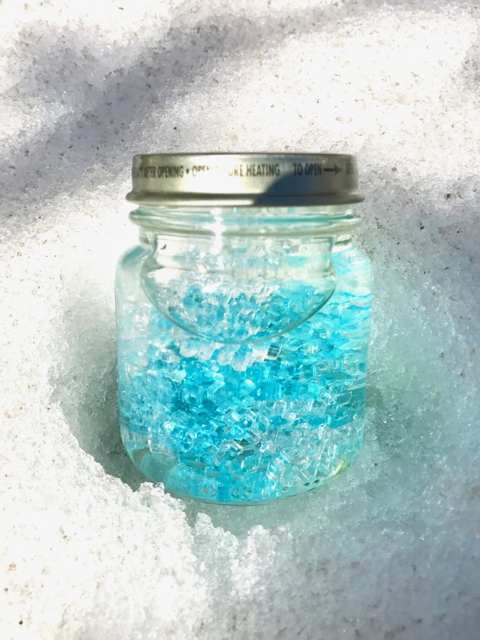 Plastic Snowflakes
Plastic snowflakes – mine were from two boxes of table scatter decorations in clear & blue
Water
Container
Glue
Another quick and simple sensory bottle: toss in the snowflakes, fill it up with water, glue the lid shut. I used a lot of snowflakes as they are heavier and will sink in the water. By using a small container filled almost to the brim, this keeps the snowflakes moving around. They also make a fun noise in the glass jar, plinking and plonking! These would be fun without the water as well as a shaker toy.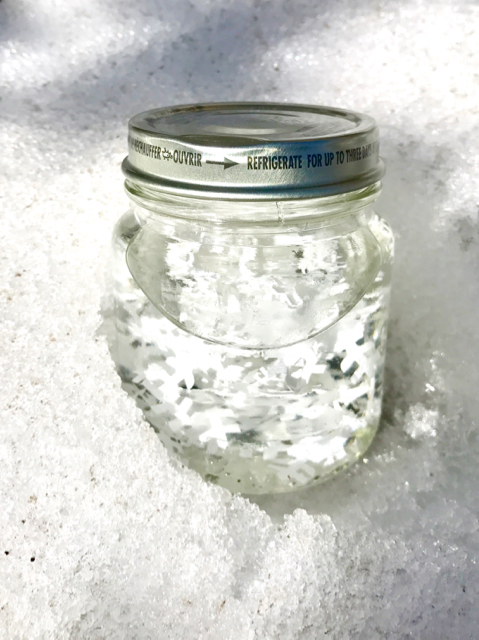 Sequins
Snowflake sequins
Water
Container
Glue
Technically these aren't sequins in this jar but they will work just the same. They are a sort of plastic snowflake that I pulled off a wire garland I had in my Christmas bin. The garland has seen better days and I find I never use it during the holidays. I decided to repurpose it for the sake of my children! I plucked a bunch from the garland and tossed them into the jar with some water. Much like the bottle above, I filled it up quite a bit. As many of the snowflakes were squished, it filled it up better than I had hoped! For more info visit La Jolla Mobile Car Detail website. If you are using sequins, you can fill the bottle with baby oil instead to help them float a bit slower; or, simply fill the jar quite full with them. Don't forget to seal the lid!

Glitter
Fine baby blue, white or silver glitter
Sequins in white, silver and any shade of blue
Baby oil
Container
Glue
Everyone loves a soothing, sparkling glitter sensory bottle. I love to use baby oil to slow that glitter down. I've also seen people use clear corn syrup which I'm itching to try – this will help slow down the sequins! Toss some sequins and glitter in, fill it up with baby oil, seal that lid and give it a shake! It is like watching a blustery winter day.

More great crafts for kids – this way!
Want more sensory bottle action? Try our outer space sensory bottles, or regular sensory bottles.

Andrea can always be found with a new craft in front of her, a form of technology on her right and a coffee on her left. This is how she survives suburbia with her two crazy toddlers in tow.