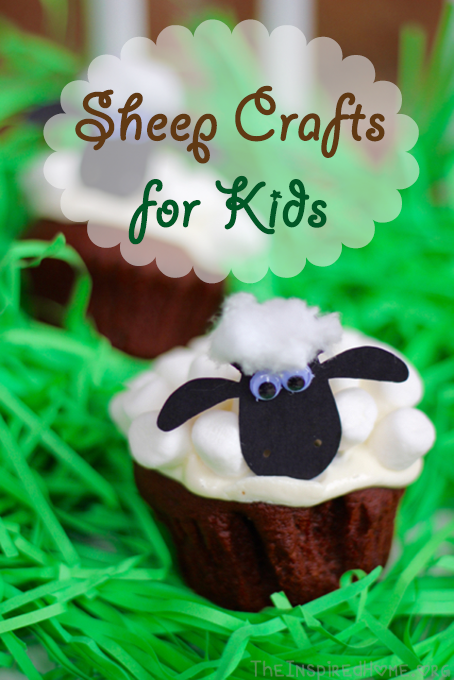 After the bitter cold winter we had this year, I love getting the family out into the summer sunshine. Visiting places like the raspberry farm gives us a chance to view farm animals like sheep. Many farms will have lots of adorable baby sheep right now. Be sure to explore local farms in your area to see what different types of animals they have!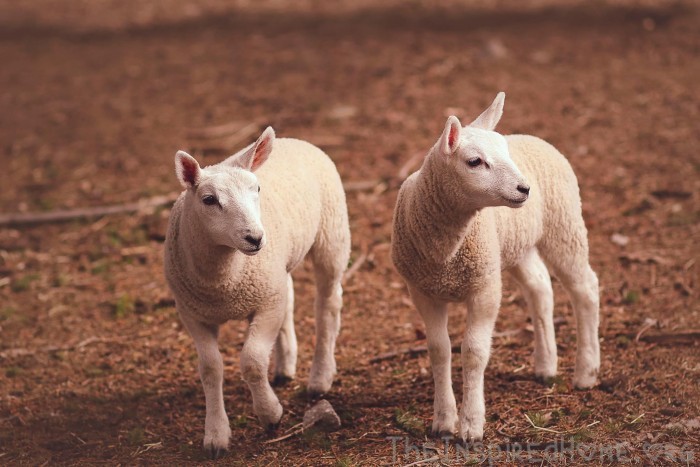 Photo credit: JennyFig Photography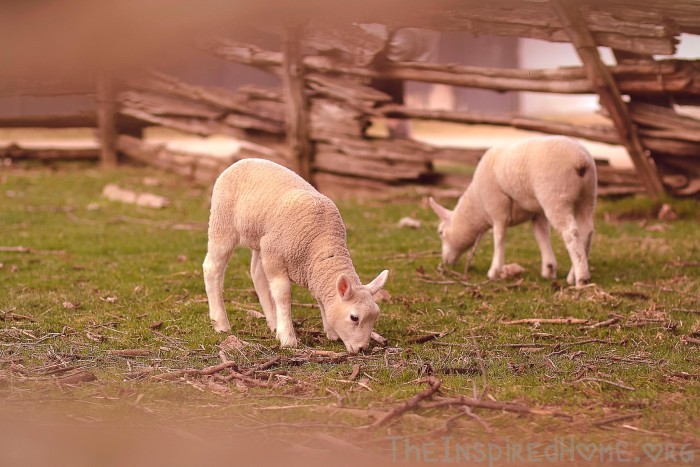 Photo credit: JennyFig Photography
After visiting the baby sheep, we came home and decided to do some colouring. I printed out a few Shaun the Sheep colouring pages for Miss O and let her go to town.
Have you met Shaun the Sheep? He's the mischievous yet lovable sheep who originated in the Wallace & Gromit cartoons and earned his own hilarious spinoff cartoon. You can check out the video here: https://goo.gl/YxsbiY
After colouring we decided to bake some cupcakes. We decorated them to look like Shaun the Sheep! It required only a few simple ingredients and Miss O had lots of fun. Holly and I are big advocates for getting toddlers involved in the kitchen. Cupcakes from a box are one of the easiest things you can make with kids. And who doesn't love decorating them after??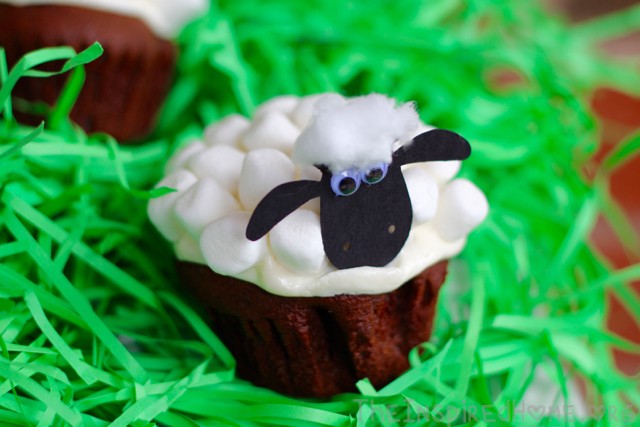 To make the Shaun the Sheep heads, I pulled out my Cricut Explore Air
. I put a picture of his head into the software and cut the shape out of black cardstock. After that I glued on part of a cotton ball for the hair and attached some googly eyes. You definitely don't need to have a Cricut; simply print off a picture of Shaun's head that's about 2″ tall and cut it out with scissors. The cotton and googly eyes will add a bit of pop but are not necessary. Using a piece of scotch tape, attach a toothpick to the back and stick it into your cupcake!
Shaun the Sheep Cupcakes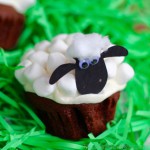 A simple recipe to make with your toddler after a visit to the farm!
1 box of chocolate cake
1 container of french vanilla icing
Ziplock bag
Mini marshmallows
Prepare your cupcakes according to the box directions. Most boxed cake mixes should include the directions for making cupcakes.
Allow cupcakes to cool completely before decorating.
Put some of the icing into a ziplock bag and seal shut. Snip a tiny corner off the bag to form a makeshift icing piping bag.
Ice the top of the cupcake – only cover about half of the surface area as the marshmallows will push it down the sides.
Put in your sheep head (instructions above in post).
Stick the marshmallows into the icing.
Let harden enough for the marshmallows to set before eating.
Pom Pom Sheep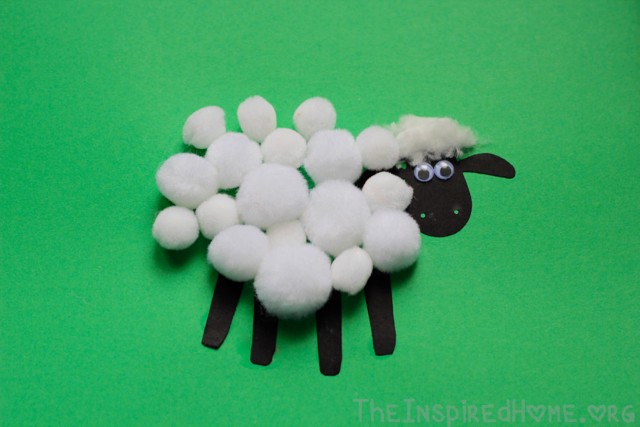 While the cupcakes were cooling, I had to keep Miss O busy. We decided to make a simple sheep craft using some supplies I always have on-hand. I saved one of the Shaun the Sheep heads so we could make a pom-pom sheep! I pulled out a piece of green cardstock to represent a field of grass. She glued on the head and I drew her a big circle of glue in the shape of a sheep to stick white pom poms onto. I had a variety of sizes which is why I opted for pom poms instead of the classic cotton balls.
I cut out four legs from the leftover black cardstock and she stuck those on the page. From there you could set a whole scene on the page including a barn and even more sheep.
Another way to do this craft is with buttons but white buttons are the one colour lacking in my collection! I'm sure Miss O would have been very happy to make a pink sheep though. She prefers to sing "Baa Baa pink sheep, have you any wool?" She's my little girly-girl!
Have you made any fun sheep crafts lately?