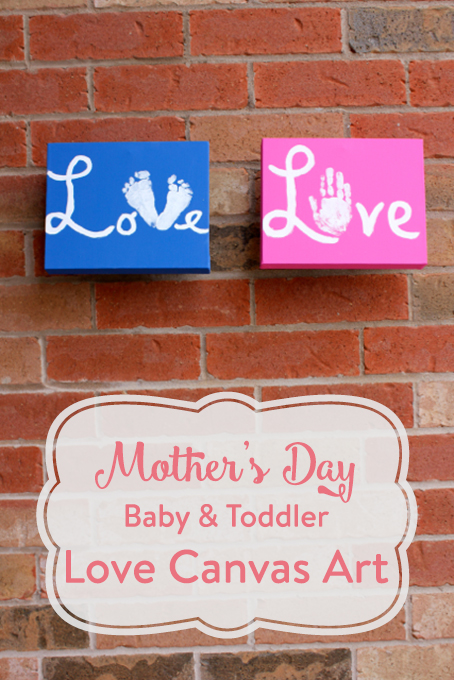 Mother's Day Canvas of Love
I'm always trying to find new things for my kids to make for grandma for Mother's Day which is coming up quickly on Sunday May 10th. I want the gifts to be meaningful and something she will keep around for a long time. This year I decided to make some artwork for her new cottage that she will be getting at the end of May. Children's artwork just seems perfect to adorn a family cottage. All of my supplies are from my local dollar store which is an added bonus!
I decided to use Miss O's toddler-sized handprint for her mother's day canvas and Little J's wee baby toes for his mother's day canvas. The thought of trying to get a baby to place his hand nicely on a canvas didn't sound very exciting so I decided to stick with just his feet.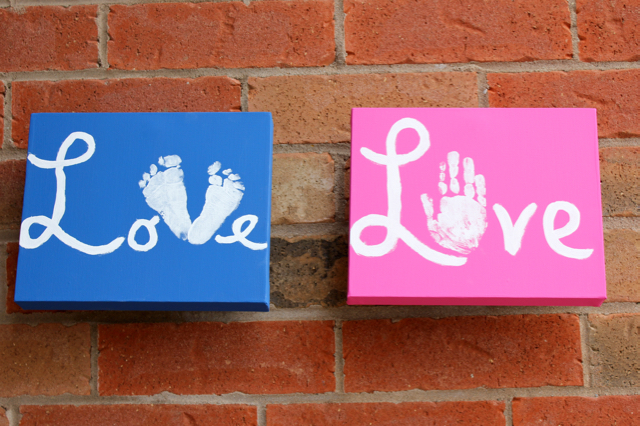 The canvases turned out even better than I ever could have imagined. I caught Miss O in a good mood so she was happy to oblige. If you give yourself ample time to prep, most likely when the kids are in bed, you will be able to get even the craziest of toddlers to help you out for 5 minutes to complete this beautiful artwork. I wrangled her into the high chair to reduce any chances of mess. I did the same with Little J for his footprints. As he's almost 8 months, he can sit up just fine in the high chair and it keeps him contained and his wandering hands out of the way.
What You Will Need
Canvas – it doesn't matter the size as long as it's a rectangle. Mine were 8″ x 10″
Acrylic paint in the colour of your choice – I suggest something bright
White acrylic paint – this will pop against the bright coloured canvas
Paint brushes (I used a small bristle one for the letters & a sponge one for painting the canvas)
How To Make a Mother's Day Canvas of Love
While the kids are in bed, paint your canvas(es) with the bright colour. I put down a layer of newspaper on my counter and propped up my canvas on four other bottles of paint (I have every colour of the rainbow!). This allows you to get at the sides and a little bit around the back without the painted canvas sticking to the newspaper.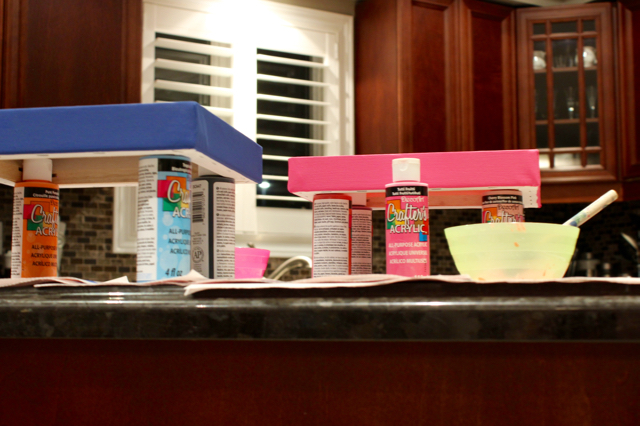 You will need three coats of paint on your canvas. It doesn't take long to dry, especially if you are making more than one. By the time you paint one, the other will be dry. All-in-all I think it took me about an hour to get all three coats on two canvases. Make sure you paint the sides and just a little bit around to the back so you don't see any white areas once it's hung on the wall.
To err on the side of caution, I suggest prepping your canvases at night so they are fully dry when you go to do the prints with the kids.
Handprints
For Miss O, I painted her hand for the O in "love". Place the handprint just left of centre on the canvas. Once that is done, a baby wipe will take the paint right off and your toddler is done! You can then freehand the L – v – e.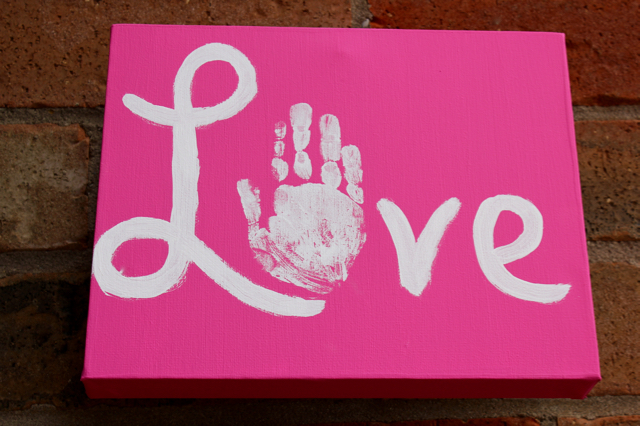 Footprints
For the baby, it's easiest if they are in a high chair or if someone holds them. You will need both feet to make the V. Paint the left foot and place it on the canvas just right of centre at an angle. Clean that foot off with a baby wipe and paint the right foot. Little J laughed his head off as I painted his feet because it tickled so much! Press the right foot at the opposite angle to form your V. Once baby is all clean, freehand paint on your L – o – e.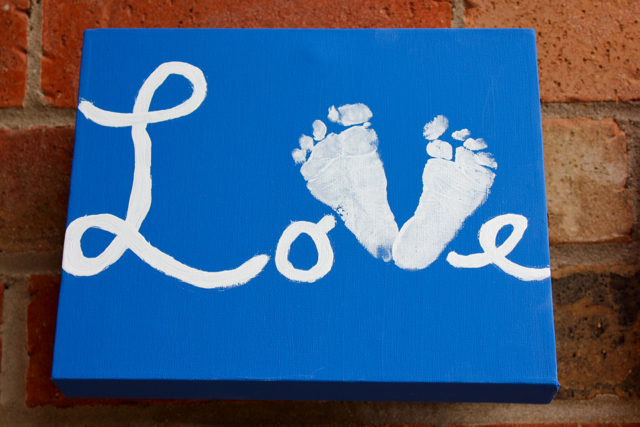 You could seal the artwork to protect it but I did not. I figure something hung on a wall isn't going to get ruined (now that I've said that, someone will sneeze on them). On the back you can write the child's name and the date so you never forget when they had hands or feet that tiny.
I think my mom is just going to love her bright new artwork with a hand- (and foot-!) made touch. I bet any grandma would love some artwork like this for Mother's Day!

Be sure to check out some of our other Mother's Day projects!
Why not make some Mother's Day Crafts that kids can do & give too?