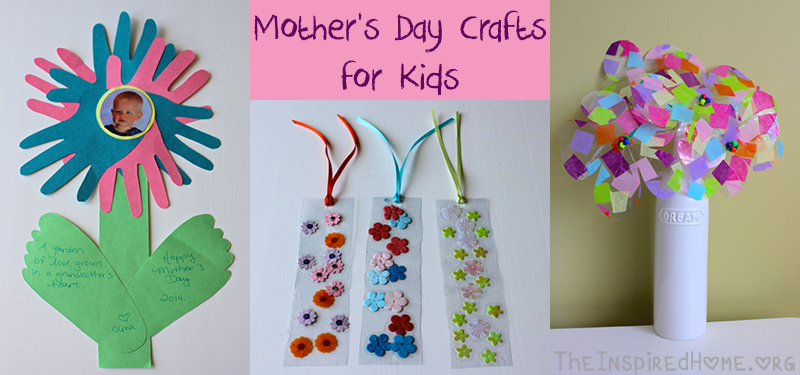 Looking for more inspiration for Mother's Day Crafts for your kids to make? Miss O and I made these three awesome crafts. Best part is, they took very little time to do so they are great in a pinch. We have lots of grandma's & great-grandma's to make Mother's Day gifts for. I don't want to give them all the same thing so I like to change it up! These crafts are so simple that even dad can help make them *hint hint!*
Hand & Footprint Photo Flowers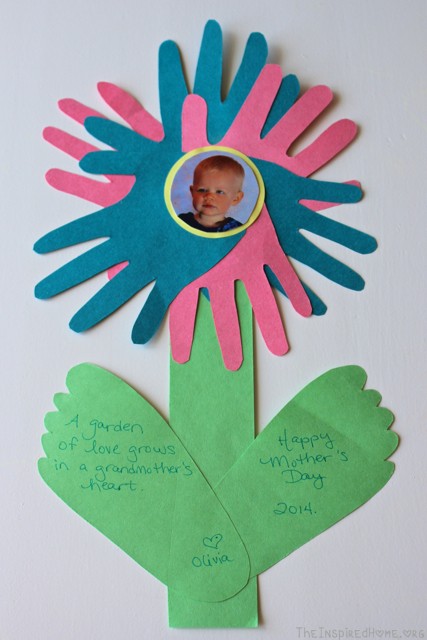 Items Required
Construction paper per flower: 1 sheet of green, a small piece of yellow for the center and 1 sheet each of two different colours for the flower
Photo of child
Scissors
Pencil
Glue
Instructions
Trace each foot onto the green paper. On each sheet of coloured paper, trace a hand 3 times for a total of 6 handprints. Cut out all foot & handprints.
Cut a strip of about 2″ wide and 8″ long from the rest of the green paper for the stem of your flower.
Cut the child's face out of the photo in a circle. Cut a larger circle out of the yellow paper. Glue the photo to the circle.
Arrange the handprints at the top of the stem like a flower, gluing them down as you go. Glue the footprints near the bottom of the stem as leaves. Glue the yellow photo circle to the center of the flower.
As this gift is for grandma, I added a small quote: "A garden of love grows in a grandmother's heart." I put this quote onto the left foot. On the right foot I put Happy Mother's Day and the year. At the bottom I "signed" it from Miss O.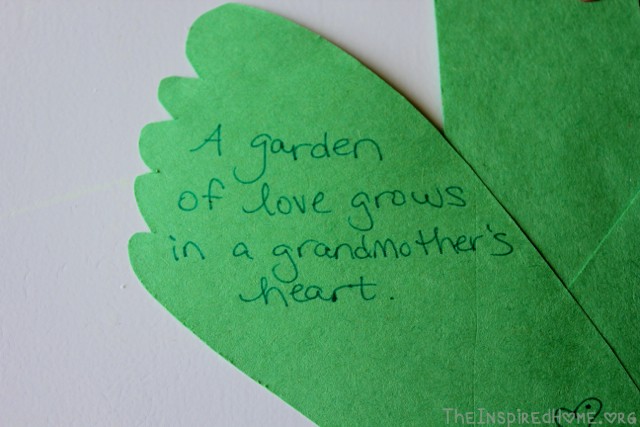 Contact Paper Bookmarks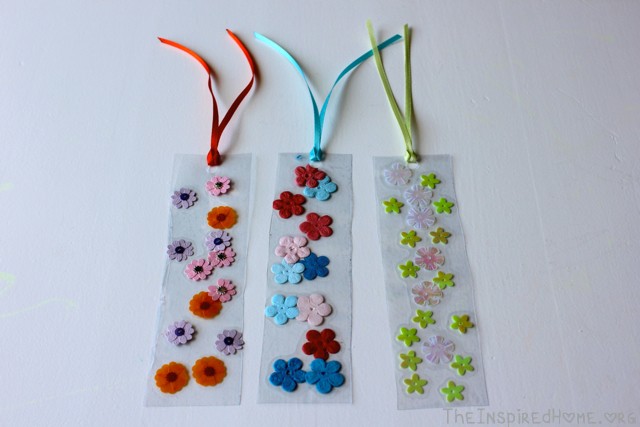 Items Required
Contact paper: two strips per bookmark approx. 1.5″ wide x 6″ long
Various embellishments such as small flowers, butterflies, sequins, etc.
Ribbon
Hole punch
Instructions
Remove backing paper from one strip (or multiple if you are making more than one bookmark). Use painter's tape to attach the strips to a flat surface, sticky-side up. Let kids embellish each strip. Once complete, lay another strip of contact paper on top of each bookmark to seal. Punch a hole near the top of each bookmark and loop ribbon at the top for a tassel.
Contact Paper Flower Bouquet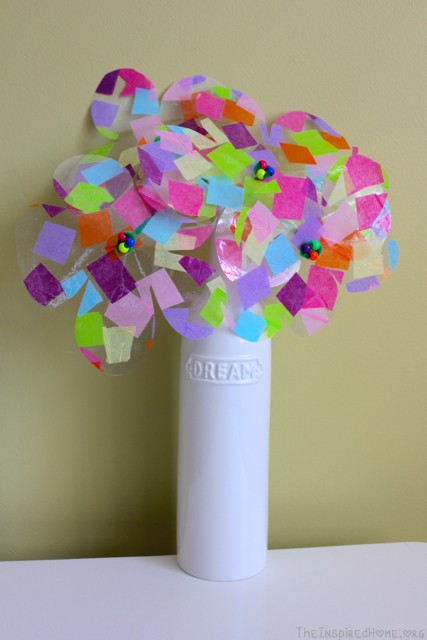 Items Required
2 large pieces of contact paper of equal size (depends how many flowers you want to make)
Tissue paper cut into squares in a variety of colours
Pipe cleaners
Pony beads (optional)
Scissors
Vase or ribbon
Instructions
Remove backing sheet from one piece of contact paper. Lay on a flat surface, sticky-side up, securing edges with painter's tape. Let the kids put squares of tissue paper all over. Once they are happy with how it looks (or you're out of tissue paper!), lay your other piece of contact paper on top, sealing in all of the tissue. Using either a template or freehand, cut out as many flowers as you can. I suggest making them at least 4″ across.
Take a pipe cleaner and push through the contact paper from the back. String on 3-4 beads, if using. Loop the pipe cleaner back around and attach to itself to make a circle for the center of your flower. I just used one green pipe cleaner for each stem but you could use any colour. You could also make leaves!
Place your pretty flowers in a vase and give to mom or grandma on Mother's Day morning! Instead of placing in a vase you could also tie a ribbon around the bouquet.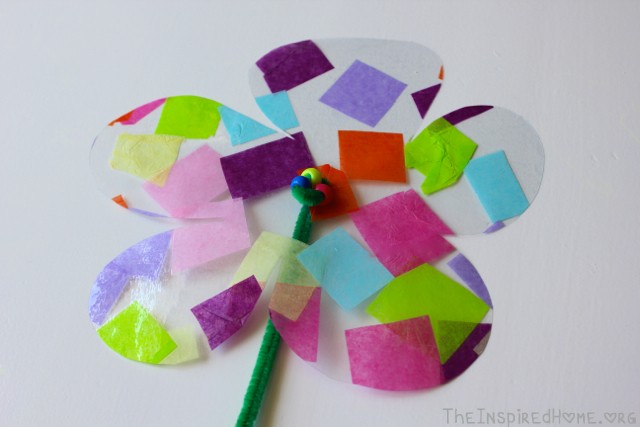 Don't forget to check out some of our other Mother's Day gift ideas!