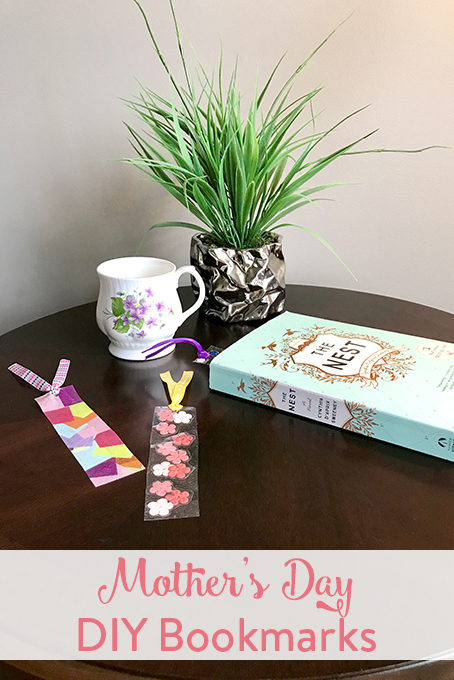 Contact Paper DIY Bookmarks
I love love love contact paper crafts for toddlers. The possibilities are endless and the mess is usually non-existent. The main use for contact paper in our house is to assemble beautiful "stained glass" creations such as rainbows, hearts, shamrocks and more. With Mother's Day quickly approaching, I came up with the brilliant idea to have the kids make DIY bookmarks for the many avid readers in our lives.
DIY bookmarks can be made by squishing so many cute items between two pieces of contact paper. I have a bevy of craft supplies in my home but if you don't have a giant stash like I do, head to the dollar store! You can buy everything you need which makes it the perfect dollar store craft. Wander the craft aisle and have the kids pick out something thin to press between the clear sheets. Think sequins, stickers, tissue paper, gems, go to town! You will also need to pick up some ribbon.
Another wonderful thing about these DIY bookmarks is that they require very little prep. This makes for a great last-minute gift for just about anyone for any occasion (ssshhhhh, we won't tell!)
What You'll Need
Contact paper (this is also known as "book cover" in my local dollar store – found near the envelopes)
Items to press

sequins
gems
stickers
tissue paper
fake flowers
get creative!

Ribbon
Scissors
Hole punch

How-To
Cut out some strips from the contact paper about 1.5″ wide x 6″ long. You will need two strips for each bookmark you plan to make.
Peel the backing layer from one of the strips. Place it sticky-side up on the table. You can use a bit of painter's tape to adhere it to the table so it doesn't move around while your child goes to town sticking all sorts of things to the surface. Once they are complete, remove the painter's tape. Peel the backing from another strip and place the sticky sides together to press everything between the layers.
Trim around all the edges as necessary to remove any sticky sides which are not lined up. About 1-2cm from the top, punch a hole. Cut a piece of ribbon about 2-3″ long. Use a lighter to slightly melt the ends so it doesn't fray. Fold the ribbon in half and feed the ends through the hole. Loop the ends through the bottom and pull snug.
And there you have a beautiful, hand-crafted DIY bookmark perfect for mom or grandma. Pick up the latest bestseller for them and tuck the bookmark inside with a little note wishing them a Happy Mother's Day.

For more great crafts, homemade gifts and meal ideas for Mother's day, visit here.