There is no clearly defined curriculum for art within the Montessori theory but rather that children be inspired by nature or other subjects to create art. However, since Montessori theory does lead to a lot of creativity and problem solving, I believe arts and crafts can fit into that beautifully. So let's just call this a modified Montessori activity.

Skills Learned
Fine Motor, Creative, Sensory
Speaking of problem solving, we actually started this activity as fingerpainting; however, J doesn't like to get his hands yucky, so when I encouraged him to put his hands in the paint, it was a NO… even when Grandma and I showed him how and did it with our hands, it was still a firm no.

Enter cars, the great motivator, and we are painting! I chased his car around the paper a few times and then it wasn't long before he was spooning out more paint and we had gone through 2 different papers. Clearly race car painting was a big hit!

For painting in the future, we would like to also use some other natural items like leaves, sticks, stones and pinecones from our backyard. Stay tuned on https://www.joesjewelry.com/ Thursday when I show you how to make the paint smock J is wearing. It takes no time at all and I know you already have the tools necessary to make it!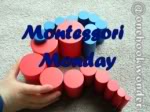 a passionate recreation coordinator by day, crazy farm mama of two by night. i live outdoors: growing my own food, camping and hiking with my border collie with two active kids in tow. when I'm not writing, I'm experimenting with recipes, and crafts – or anything else that might keep the monkeys entertained.