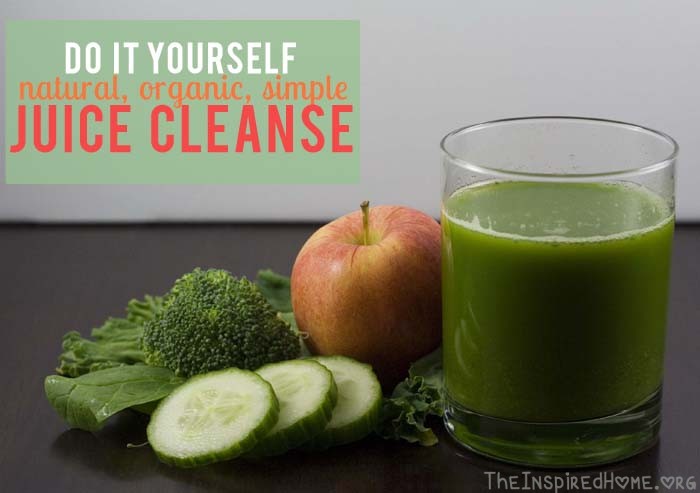 DIY Juice Cleanse
I've gotten really into juicing recently. I purchased a Hurom Slow Juicer as a way to get more vegetables into my diet. It has quickly become one of my favourite appliances and I may just move my toaster off the counter to make room for it. I took several books out of the library on juicing. After learning about the tastes and textures, I began to experiment with my favourite ingredients to develop a green juice recipe that didn't taste like grass. I taste-tested many different batches on my visiting mother and she told me brutally which ones were grass-like and which were not. As she had never had juice like this before, it was a pretty unbiased opinion.
Over a few weeks, I consumed the fresh juice that I made myself. I found that my skin glowed, my mind was more sharp and I felt a lot more energetic. The best time of day to drink my green juice was in the morning, it just kick started my whole day! We had several sickness scares in our house too but with fresh orange juice with a dash of local honey and lemon, we seemed to kick the symptoms really quickly.
With my newfound love of juice, I researched doing a juice cleanse where they send you the bottles to drink over a 3 or 5 day period. I think this is a great thing to do for your health but the $180 price tag is simply out of my budget at the moment. Instead, I created my own DIY juice cleanse using simple, natural, organic ingredients that I found at my local grocery store.
How To: DIY Juice Cleanse
Before you start (2-4 days):
Ensure you're hydrated (drink a lot of water, or coconut water, at least 2L/day), decrease your sugar intake (this will help you feel less nauseated when cleansing).
Get yourself a cool tumbler, and straw for being so brave.
Visit the grocery store to load up on healthy ingredients you need – buy organic if budget/supply allows (if you can't, just make sure you peel).
Start soaking your almonds the night before.
Each Day:
You can consume as much water as you want, 5 – 16 oz glasses of green juice, and 2 – 8 oz glasses of Maple-Almond Protein+ Juice.
I recommend drinking green juice at every meal time, and Protein+ just prior to lunch & dinner time. Water whenever you're not drinking something else.
For best results, drink only juice. If you're about to eat your own arm, try a palm full of your favourite nut (naked, no salt) to take the edge off.
Raw juice is best when consumed right after juicing. If not possible, prep ingredients (chopping to fit juicer, peeling, etc) the night before, then juice in the morning into reusable glass containers (I used Mason Jars & upcycled glass bottles from one of my favourite beverages).
After Cleansing:
Ease back into your normal diet slowly. Eat healthy vegetables, fruits, gluten-free grains and lean meats.
I went vegetarian for a day just to help my body adjust back to normal, and ate frequent light meals and avoided dairy products.

Holly's Green Juice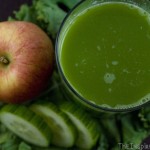 A simple green juice made from ingredients from your local grocery store.
1 cucumber (peeled)
1 handful of baby kale (or 1 kale stalk with stalk removed)
1 handful of baby spinach
1 crown of broccoli
3 gala apples (peeled)
Peel vegetables and fruit as noted
Feed into juicer in order listed
Stir juice with fork
The broccoli is bite sized. Think the size of one you would put on a vegetable tray.
Best to consume immediately, but will keep in the fridge about 2 days in sealed glass container.
Ingredient Power
Cucumber – major hydration (they are 96% water), flushes toxins, vitamins A, B, C (immunity, energy, radiance), helps digestion, muscle pain and joint pain.
Kale – high in vitamins & minerals (strong bones, teeth, energy galore), increases testosterone, feeds healthy probiotic bacteria, healthy blood cells
Spinach – literally packed with vitamins that are good from head to toe, magnesium packed, great for your eyes & skin
Broccoli – helps damaged tissue, keeps digestive & immune system healthy, more calcium than milk, good for heart & eye health
Apples – antioxidant rich, slows aging and deters illness, natural sweetener, helps digestion (malic acid), slows bad fats (LDL)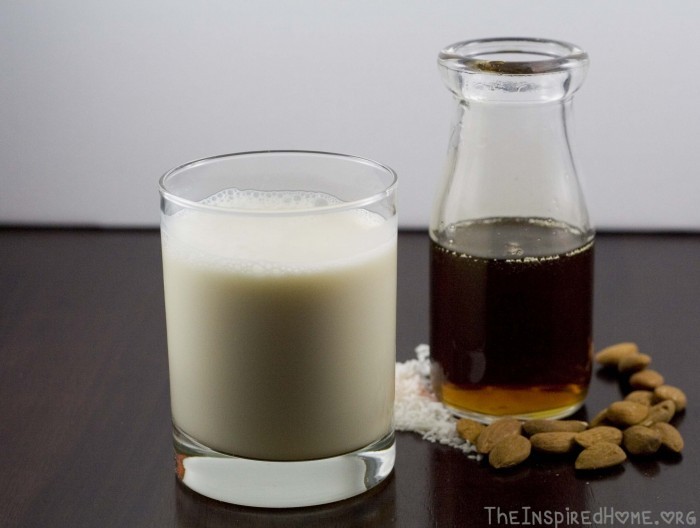 Maple-Almond Protein+ Juice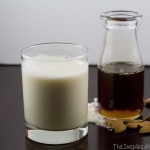 2 cups almonds
3.5 cups of water
0.5 coconut (fresh, whole)
1/3 – 2/3 cup maple syrup
Mix almonds & water together in a bowl.
Using a 1/2 measuring cup, carefully pour nuts & water into juicer
Set aside nut milk
Make 3 nail holes in the bottom of coconut and drain water
Crack coconut
Scoop out all coconut meat, and chop into strips
Feed coconut meat with nut milk through juicer once again
Strain nut milk using a cheesecloth bag or produce bag
Add maple syrup (to your taste) to the mixture and stir
Best to drink immediately but will keep in the fridge for 2 days in sealed glass containers
Ingredient Power
Almonds-excellent source of protein, magnesium, vitamin E and fiber – a knock out punch to hunger & helps you flush out toxins.
Coconut-contains fatty acids, fiber – helps you flush out toxins.
Maple Syrup-freaking delicious – my favourite sugar replacement. Great source of zinc & manganese (energy & antioxidants)
Do you have any healthy eating goals for 2014? Are you into juicing?
This cleanse isn't for everyone: if you have any medical conditions before, during, or after the cleanse please consult a doctor immediately. We are not nutritionists, nor do we claim to be. I'm just a chick who digs eating fresh & juicing.