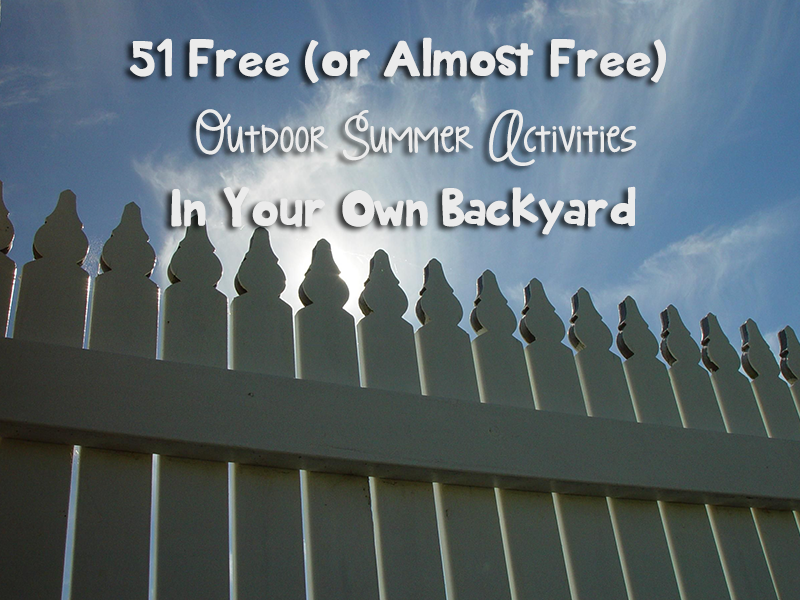 In the dog days of summer you may find that you just don't want to leave the house. You don't want to shower or do your hair. You want to hang out in your own backyard in your grubby shorts and tank top but the kids need something to do. Here's a list of 50 things they can do in your front or backyard that will cost nothing or next-to-nothing. Now sit back and relax with your iced tea while the kids go to town getting their fill of good ol' Vitamin D. Heck, you might even want to join them! Just don't forget the sunscreen!
Sidewalk chalk. Nothing beats it. You can even make your own.
Make sidewalk chalk even more exciting: Make magic sidewalk squirt paint.
Draw shadow outlines of everyone in the driveway. It will freak out dad when he gets home from work.
Play hopscotch!
Learn how to hula hoop.
Jump rope! Get long ones and try to teach the kids how to double-dutch.
Hunt in the grass for a four leaf clover.
Bubbles! What kid doesn't love blowing bubbles. Get crafty and make jumbo bubbles.
Run through the sprinkler. Nothing is more enjoyable on a hot day plus it's good for the grass!
Take the sprinkler and convert your backyard into a splash pad instead. Great for little ones who aren't overly mobile.
Use a pool noodle & a hose to make a DIY sprinkler.
Two words: Tricycle Carwash.
While they're at it, get them to wash your car!
Build or buy a sandbox. Add cinnamon to keep bugs away.
Have a watergun fight! Everyone loves super soaker water guns.
Better yet, have a water balloon fight!
Even better? Sponge bomb fights! Learn how to make them with cheap dollar store sponges & some string.
Do some painting with those water guns.
Dig some smooth rocks from the garden, clean them off and paint them.
Use some vinyl placemats to make pinwheels.
Freeze small toys in a big ice block and then go "excavating" to remove them.
Scavenger hunt. Make up a big list of things and let the (older) kids wander the neighbourhood looking for everything.
A sounds scavenger hunt – you have to listen for various neighbourhood sounds to check them off your list such as dogs barking and cars honking.
Make a DIY sand & water table.
Make a "river" on a sloped lawn or driveway using tinfoil.
Teach the kids how to tie dye! Here's a quick technique using acrylic paints.
Have a breakfast picnic in your pj's. One of the perks to hosting a picnic in your own backyard.
Get gardening! Enlist the kids to help you plant some annuals or have fun filling your own planter pot with an array of colours.
Sit in the middle of the lawn eating big, juicy slices of watermelon. Have a seed-spitting contest.
Teach your toddler about colours by playing a round of colour golf.
Camp out in the backyard, even it's in the middle of the day for an afternoon nap.
Watch the sunset and then run around with sparklers.
Watch a meteor shower.
Catch fireflies at night or bugs during the day.
Play in the rain.
Go puddle-jumping after a big storm.
Play in the mud! Sure it looks yucky but trust me, it washes off.
Make rainbow volcanoes using vinegar, baking soda and some food colouring.
Assemble your own backyard obstacle course.
Read books outside in the shade.
Good old-fashioned tag.
Good old-fashioned hide and seek.
Make up a new game!
Learn how to make a dandelion crown.
Throw a baseball around. Or frisbee. Or play a little badminton.
Lay back and see what shapes the clouds form into.
Play follow the leader.
Incorporate some Montessori-inspired ideas into your outdoor adventures.
Soak up the sun and enjoy spending quality time with your family. Sometimes it's nice to just sit back, relax and have some wonderful conversation.

Find more great ideas on our Outdoor Fun Pinterest Board! Follow The Inspired Home's board Outdoor Fun on Pinterest.