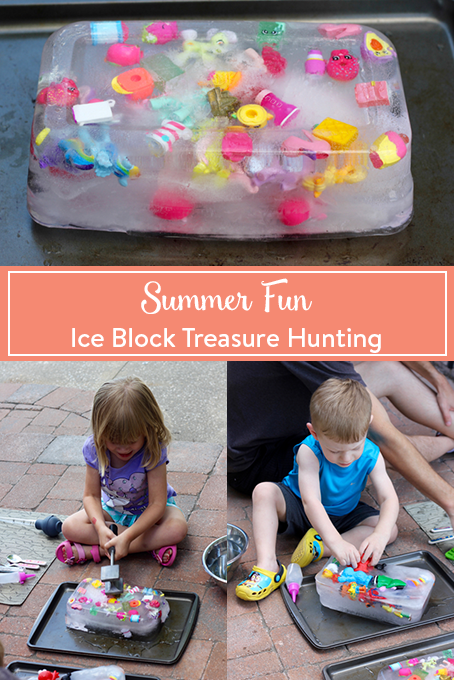 There is no better way to beat the summer heat than by playing with ice. And when it incorporates your kids' favourite little toys, it's even more fun!
I took a few evenings after the kids went to bed to assemble a fun project for them to do on a hot summer day. We were in the middle of a heatwave so I knew it would be very enjoyable for them. I froze a bunch of their toys in a giant block of ice and then let them go to town trying to dig, melt and hammer out all of the trinkets.
There are so many items around your house you can use to help them dig out their treasures. Just check your kitchen cupboards and drawers. There is no expense incurred with this activity which is an added bonus. Who doesn't love a free activity that occupies their kid for half an hour?!


What You'll Need
sizeable tupperware container
a collection of small toys – use ones without holes or hair so they don't get damaged or full of water (see ideas below)
a collection of tools to break into the ice block (see list of ideas below)
water
cookie sheet
large bowl or bucket
Instructions
You'll need to take your time with this one as you need to freeze the toys into layers. For Miss O, I separated the toys into categories such as Shopkins, My Little Ponies and Tsum Tsums. Little J's collection consisted of Sesame Street characters, superheroes and Daniel Tiger characters. I opted to use a longer container instead of a taller one but anything will work. In fact, taller might have been a better choice for the layers.

Put a layer of cold water in your container and stick in some toys. Freeze for a few hours and repeat. Be sure to use cold water so it doesn't melt the bottom layer and shift your toys around. Continue making layers until your container is full.

Now it's time to let the kids have some fun! Put the ice block onto a cookie sheet and give them a big bucket of warm water. They will also need a variety of items to get into that block. Here's a few ideas to get you started:
squeeze bottles
spray bottles
drinking cups and/or measuring cups
meat tenderizer
turkey baster
utensils such as fork & spoon
tools such as a hammer, screwdriver, etc.
for the little ones, plastic tools are fun such as the ones I gave Little J from his little tool set
syringe
salt (this is a fun way to include a bit of science)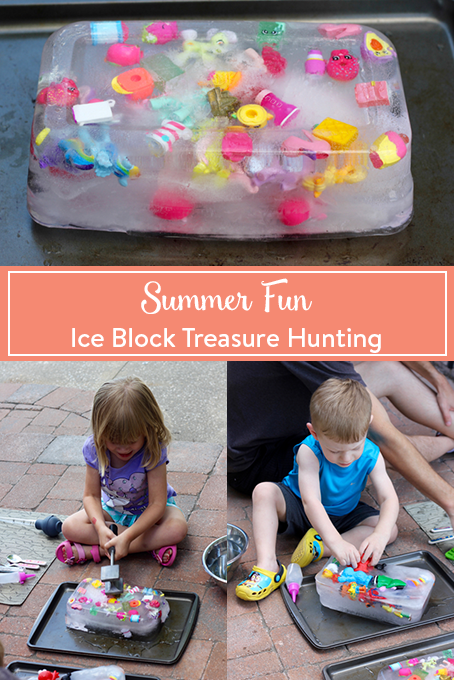 Andrea can always be found with a new craft in front of her, a form of technology on her right and a coffee on her left. This is how she survives suburbia with her two crazy toddlers in tow.