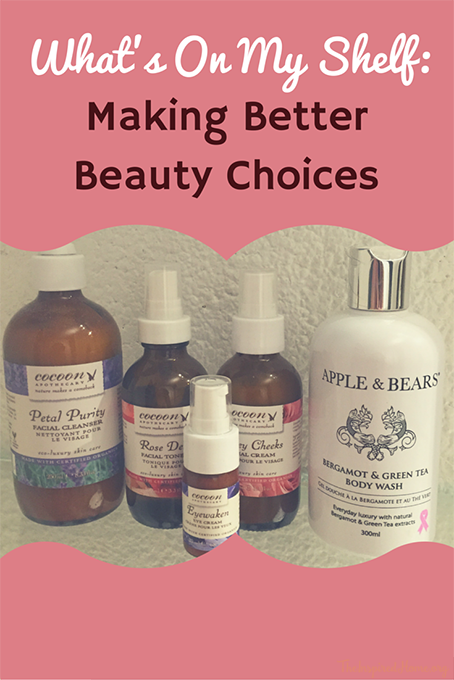 So I stepped up, jumped in, and began to scrutinize what my family slathers on their skin everyday. My previous philosophy had to do with if I could pronounce the name of what is in each product – then it was good. What I discover was that wasn't enough.
Reducing the amount of chemicals has to do with a multitude of factors. You can take Environment Defences' Ten Toxic products to avoid as a place to start. However, I'm a busy mom, and I am not going to scour labels for these ingredients. (Power to you if you do this!) I'd like to think I would, in reality, I'm time strapped. When the newest form of the toxic ingredient comes out, I likely will miss it altogether. More my speed, is the Think Dirty App to do an audit.
Step 1: Do a Quick Personal Care Product Scan
You download the Think Dirty app, then scan your beauty products by their UPC or search for them in the database that holds over 380,000 products and counting. Think Dirty does the heavy lifting for you! Each product gets rated on the dirty meter overall, then ingredients are ranked by toxicity. The brilliance comes in at the "You May Also <3" tab – here's a few good ideas on what products you could use instead of the one that you are changing out.
To give you an idea of the dirty meter:
Neutral (0-2) – white
Half N' Half (3-6) – yellow
Dirty (7-10) – red
Step 2: Throw Up in Your Mouth
I'm not kidding. You can add your current products to shelf, and the results will be eye opening. I thought I was doing okay with mine, however I had neglected my husband's products (rated 9 across the board), and my kids products were improved however the two different brands that were currently on our shelf had a huge difference in toxicity (a 4 vs. a 1).
Step 3: Decide What You Can Change
I started replacing products as they got empty, as I don't have an unlimited budget. I tried sample sizes from Well.ca to decide if it was a product that I enjoyed or not! Many green beauty companies have small sample sizes that you can try to see if it's what you need.
What's Working?
I've replaced my skin care routine with the gorgeous products from Cocoon Apothecary. I have been a little lax in this department previously, however the delicious fragrances of Cocoon really inspire me to continue on with this daily routine.
I had the opportunity to try the Bergamot & Green Tea Body Wash made by Apple & Bears recently as part of the Green Moms Collective's Turn October Green campaign. Petal & Post generously sent this product for me to try. They offer a wide variety of green beauty products so you'll find something there to clean up your cabinet too! This body wash smells great and invigorates me to open my sleepy eyes in the morning. Not only is it delicious, it works for both women & men, is gluten-free, SLS, paraben and phthalates free.
I'm still searching for a shampoo & conditioner combination for my coloured curly hair and a deodorant that can keep up with this active sweaty body.
What's your favourite green beauty products? Got any great leads for me? Post them below.
Join the Conversation!

October 20 – 23, #GMCBeauty Instagram Loop Giveaway: Watch GMC's Instagram Account for details
RSVP for our #GMCBeauty Twitter Party on Thu October 29th, 9 pm -10 pm EST by following our sponsors on this Rafflecopter form. There's over $500 worth of beauty prizes up for grabs!