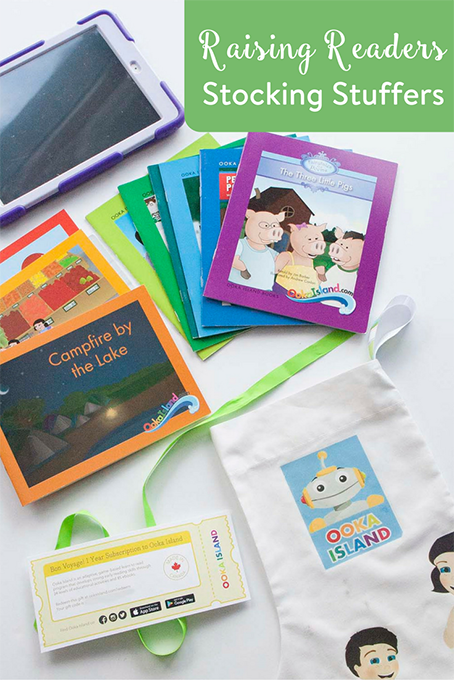 Raising Readers Stocking Stuffers
My kids stop, drop and READ at any and every opportunity. The huge book aisle in Costco, at the library on a bean bag chair, in the car, and all over the house – there are books everywhere. Being a huge reader myself, I can't help but want to encourage this behaviour with many books, and even smarter apps, games, and activities that will lead to more reading.
Tonight, I was wrapping some presents for cousins which included a book for two of my nieces, and Miss P promptly sat down and read them. Then she put them right on our book shelf and I had to calmly tell her they were not staying at our house.
So, if you have a voracious reading bookworm like I do, here's some more essentials you can add to your readers' list.
Have You Visited the Island Yet?
Ooka Island is an adaptive, game-based learn to read program that develops strong early reading skills through 24 levels of educational activities and 85 ebooks. It's a great addition to learning at home, and you can try it out the first 1.5 hours of the adventure before you subscribe.
We were given an educational subscription last year as a gift that kept on giving, and we'd been playing it on our iPad since. Unlike most learning apps, parents get weekly emails telling you about the progress your children are making. It even will send you worksheets to print if they are being challenged by certain activities, as well as how long they have played.
Mr J loves Ooka Island, and Miss P started playing on his account which actually wasn't so great. It causes the program to think Mr J was regressing (which he was not). We've since solved the problem by getting Miss P her own account; and she is happily tells me all about Zobot each time she plays.
Raising Readers Stocking Essentials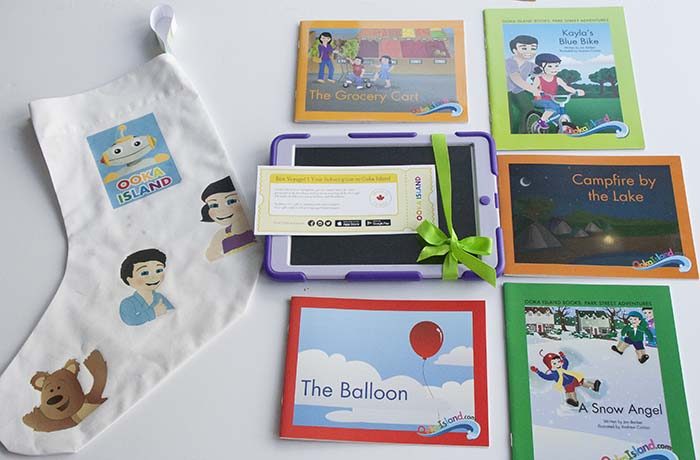 1. Subscription to Ooka Island Learn to Read Program
2. iPad Air
3. or Subscription with Books – these are a few of the titles
Other Items for Your Little Bookworm
-Bean Bag Chair
-Bookmark
–Mess Free Colouring Books
-Small Map
-Kids Magazine Subscription
-Special Library Book Bag
What are your favourite book titles?