Why a Video Monitor on Baby #3?
We have used two different audio only monitors since having our oldest daughter, who is a little over 3 years old. Both served us well, and the features fit with what we needed at the time. Now, having used a video baby monitor, I am looking back and seeing how it would have been a benefit to us in many ways to use one from the get go. Up until a few weeks ago, we just didn't know what we were missing.
I have to admit that I was skeptical about using a video baby monitor. Do I really need to see my baby to know they are safe and know when they needed me? Will the video feature make me stress less or more? Will I find myself just watching the monitor like it was a TV? And will being able to see my baby really make a difference to how I respond to them?
Now that I have been using the Philips Avent SCD 630/37 Video Monitor for the past few weeks with my second daughter, who just turned 1 year old at the end of December, I can say without a doubt that I wish we chose to invest in a video monitor before. The reasons are simple: to let sleeping babies lie, to not respond to every small grunt, and to keep an eye on baby while balancing life with 2 other young girls.
Let Sleeping Babies Lie
Something I have noticed with my oldest, is that she likes to be able to look at the screen and see her sister sleeping in the crib. She knows we check the monitor first before going upstairs, and it has been a helpful tool in explaining the difference between playing, stirring, and crying.
I can imagine this will continue to be very helpful when our next baby comes along. We will be able to show both girls that the baby is sleeping, and use this to explain why we need to be quiet or not go upstairs at that time. As most parents know, having a visual aid can make any explanation easier.
Audio vs. Video – Small Grunts Don't Need To Be Investigated
While every baby is different, our babies have one thing in common: they are active sleepers. Both our daughters have moved a lot in their sleep, squirming around the crib from an early age. With an audio only monitor, as a mom I would hear movement and assume the baby was awake. So I would get up and go into their room to find they were still sound asleep. This would disrupt my sleep immensely; and as any new mom knows, sleep is the most precious thing. Now, having the Philips Avent SCD 630/37 Video Monitor, I know I will be able to visually see the baby on the screen. And I can then determine if I need to be getting out to bed or if I can roll over and keep sleeping.

Balancing Time with Baby Needs and Older Sisters
Much in the same way, using the video baby monitor will allow me to check on the baby while still tending to our other two girls throughout the day. Both my girls enjoy being my shadow, so sneaking off to check on baby will be tricky. I will likely have two little helpers in hot pursuit, which will probably result in the baby waking up before she's ready. Using the video baby monitor will also allow me to keep going with activities with the older girls, and ensuring they get the much needed time & attention they deserve.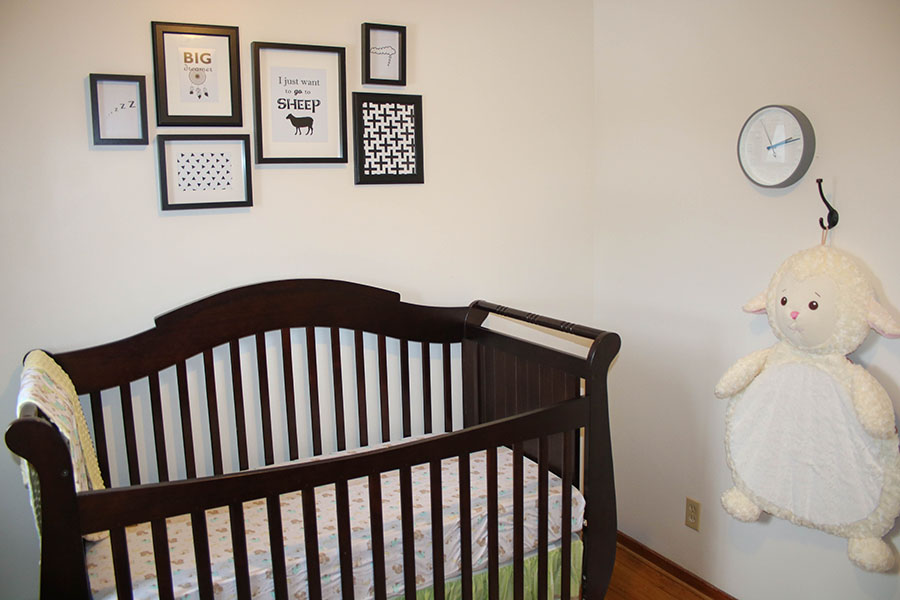 Features of the Philips Avent SCD 630/37 Video Monitor
There are many amazing features to the Philips Avent SCD 630/37 Video Monitor, and I want to touch on a few that really hit home with me.
ECO Mode
Eco mode allows the audio & video screen to turn off during quiet times and then turn on when only when sound is detected. This means the battery lasts longer on a single charge. Since the screen only turns on when baby makes noise I didn't find myself compelled to watch the screen all the time. Also, I like that when our next baby comes, I will be able to have the parent unit beside my bed without the light from the screen interfering with my ability to sleep.
Temperature Sensor
This temperature sensor feature may not be important for some people, but for anyone living in an older home with poor insulation and/or with a furnace that likes to randomly stop working overnight (yes, we fall into both categories), this is a huge comfort. I can set the lowest & highest temperatures we want the baby's room to be at. I can also turn on an alarm that will sound on the parent unit if the temperature falls outside the range, offering a good deal of peace of mind on cold winter nights.
Private and Secure Connection
The adaptive FHSS technology offers a private and secure connection from the base unit in Baby's room to the parent unit. I can say this was a concern for us, not wanting our monitor to be able to be hacked or accessed from outside our home. The quality of the picture and sound has been spot on, with no interference or feedback or other interruptions.
Large Screen and Zoom
The 3.5 inch high resolution colour screen is extremely clear and easy to view. The ability to zoom in up to 2x is very nice, especially if you are checking in on a brand new baby. The picture quality at night or in the dark is equally great, you can really see the details – this may be what surprised me most about the monitor.
Overall, I am very happy with the quality and performance of the Philips Avent SCD 630/37 Video Monitor. It has definitely exceeded my expectations, and opened my eyes to how beneficial a video baby monitor is to our family. I look forward to using it in the nursery when our next little girl arrives this March.
Disclosure: I am part of the PTPA Brand Ambassador Program with Philips Avent and I received Compensation as part of my affiliation with this group. The opinions on this blog are my own.