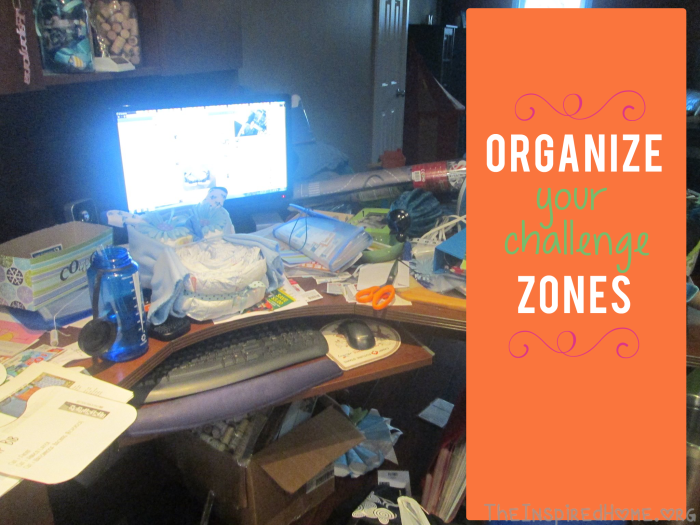 I think having my whole house organized would be a wonderful thing, but due to the on-going construction and renovation of my house, piles seem to move from room to room. In my defense, I usually cut the pile at least in half when I do so, but there is always a pile of stuff, it seems.
My next projects include:
Organizing my 7'x8′ pantry
Creating a command center cupboard in my kitchen
Creating a better system for my desk
Organizing & toy rotation of our new playroom
Organizing & creating kid-accessible storage in Mr J's new big boy room
Organizing my new craft desk & shelving (woo!)
Organize Your Challenge Zones
Identify the Spaces You Are Most Challenged By
Ask Yourself:
What room/space do I not want to spend time in the most?
What room/space is not inspiring me?
What do i have sofort
lieferbar that can help me
Right now, my kitchen pile and desk drop zone are two of my major challenge areas. In creating order in these chaotic zones, I think it will serve me the best overall in feeling in control. I have noticed when I clean up the kitchen before the next day of cooking again, this really impacts me in the morning. With a clean zone, I am ready to make great meals, and feel inspired to get going. When I have a messy zone, I am depressed and mad that I have to deal with more dishes after I have just cooked. Those 5-10 minutes at the end of my day even just organizing the dirty dishes on to one counter to run in the dishwasher in the morning makes me feel more in control.
Make a Plan
After you identify what room/space you are challenged by, make a plan on how you're going to reduce the clutter in it. For some zones, it can be as simple as providing a container for the clutter to go in, or a recycling box to send some things on their way. Perhaps you need to spend 5 minutes in your day just to deal with what's in the zone.
For my rooms, this usually means creating a system that works. I know I am a piler by nature, so if I can organize these piles right off the bat, it makes them a lot easier to deal with. I always get the mail, and my husband likes to pay the bills, so creating a small space where that could be corralled for instance would help!
Get Inspired
To the Internet! I especially love Pinterest for this – get inspired. Check out our Organization Board, or type your challenge zone into Pinterest, and see what comes up! I bet there is someone out there who has come up with an attractive solution to your problem – or a solution that you can DIY or tweak slightly to fit your problem.