Well folks, I guess it's time to let the cat out of the bag.

I'm pregnant with #2!
Miss O is going to be a big sister to a baby brother at the end of August. Now that I'm going to be a mom again, it's time to start thinking about baby gear. It's been almost two years since I had Miss O so I'm a little bit out of the loop on what is new and awesome. I also need to explore blue boy world as it's been all pink, dresses and tea parties in our house. Enter the BabyTime Show.


I'm no stranger to the BabyTime Show. I went when I was pregnant, I went after I had Miss O, I even went with a pregnant friend. It's a great one-stop venue for moms to check out all the latest and greatest products for brands you know and new brands that are just hitting the market. The freebies & coupons don't hurt either.
The world of baby products is always changing and evolving. I like to be on the cutting edge of the newest gadgets and gear that help save my precious time & enrich our family life. Since this year is going to be a little different for me, I complied a list of must-see items for second time moms.
Double Stroller
I'm not even sure what's out there for double strollers! I am specific in what I'm looking for though – I need a narrow stroller to fit between the clothing racks. With two kids, I still want to be able to get out and score deals at the mall. I'm looking to view a selection of double-strollers and take them for a test run around the show. Here's the ones I will be keeping my eye out for:

The Graco DuoGlider Stroller that Sears carries looks like a great choice. I like that my existing baby seat will fit in it, and with two kids, a one handed folding system makes a lot of sense.

The Contours Options LT Tandem Stroller that Babies R Us carries looks really luxurious! I would love to see how all the different configurations go together and how lightweight it is in comparison to other strollers at 33 lbs.


I really like the B-Ready's height adjustable handle. This could be a great choice for our family as my husband is taller than I am. The 8 different ways it can be assembled as a double stroller and one-step parking brake sound like this stroller is easy to use! We have purchased a convertible seat for Miss O from Britax and have been impressed with the quality that we got.
Teething Cures
This isn't my first rodeo. I'm very familiar with the trial and tribulations of teething. Miss O likes to get at least 4, if not 6 teeth at once. This is both a blessing and curse. There's no saying that Baby Boy will be the same way. I have my go-to's with Miss O (particularly now that we're in the world of molars – yikes!) but it's great to see other options.

I have been learning more about homeopathic medicines that can help. We have used Camillia and I can attest to the fact that it works wonders. I'm unsure if there is any new products available for infants or to see what other products Boiron has that perhaps can work as miraculously as this one!

Teething necklaces started becoming popular shortly after Miss O stopped gnawing on her fists. I never really explored them as an option to deal with a teething baby. I really like this pink & brown necklace as it matches a lot of my wardrobe – I love wearing pink!
Nutrition for the Whole Family
I remember the lack of energy that comes with having a newborn. Now that this will be coupled with a toddler, I plan on being extra exhausted. As a result, I may not feed myself or even Miss O as well as I would like. Sometimes it just requires having easy go-to foods in the cupboard that you can whip out.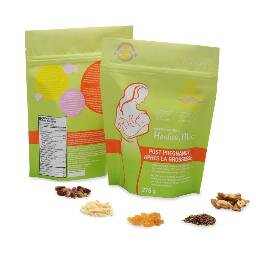 Now for Mothers has a Healing Mix that is a variety of natural & organic foods to help boost energy, milk production and more. I am quite excited to learn more about them at the show (and hopefully get a taste!).

I remember how confusing starting first solid foods could be. It was hard to find a quality first cereal. Maybe this one for when Baby Boy is ready to start eating??
Taking Care of Our Skin
Babies have delicate skin. So does this mama! I'm always in the market for natural products that are safe for my baby's skin. Miss O was never one to have sensitive skin until more recently – the long, cold winder wreaked havoc on her face. We are also a fair-skinned bunch so we have to take great care of our skin.

I'm hoping to learn a little bit more about Calendula creams and how it can help heal our winter ravaged skin.

Also, on my hit list is Live Clean's Gentle Moisture Creamy Head to Toe Wash for both Miss O and Baby Boy.

I'm never tried Arbonne but at lot of moms I know swear by them. I'd like to see their Arbonne Baby Care Set in action, it has so many great products in one bundle like hair & body wash, lotion, diaper cream, body oil and sunscreen.
Get Our Insights from the Show!
I'll be live-tweeting & Instagramming while I'm there on Friday April 25th (be sure to follow us @theinspiredhome & on Instagram) while I test & preview many of the items on my list. Join in the fun! Tweet me your questions about the show and I'll do my best to answer them. Is there a product I need to see? Tell me what I missed!
Win A Pair of Tickets to the Spring BabyTime Show!
Enter below for a chance to win one of two pairs of tickets to the BabyTime Show. They can be used on any of the three days the show is running. Parking is free at the International Centre so aside from all the great things you're sure to pick up inside, this is a fantastic money-saving event.

Andrea can always be found with a new craft in front of her, a form of technology on her right and a coffee on her left. This is how she survives suburbia with her two crazy toddlers in tow.