Who doesn't love a festive and easy-to-make drink for a summer holiday? The weather is hot but that doesn't mean your drinks should be. Here are five easy, tasty, and chilled Fourth of July drinks to spice up your party while keeping in theme perfectly. Here are five festive drinks for your July Fourth celebration.
1. Red, White, and Blue Layered Drink

Kid friendly or made alcoholic you can read more kid friendly drinks next page, this drink has the 4th written all over it. It tastes good and it looks good, what more could you ask for? Go all out.
Here's the recipe, I know you'll want it:
1 cup Sobe elixir pina colada
1 cup Blue G2 Gatorade
1 cup Cranapple juice
Ice Cubes
 2. Red, White, and Blue Sangria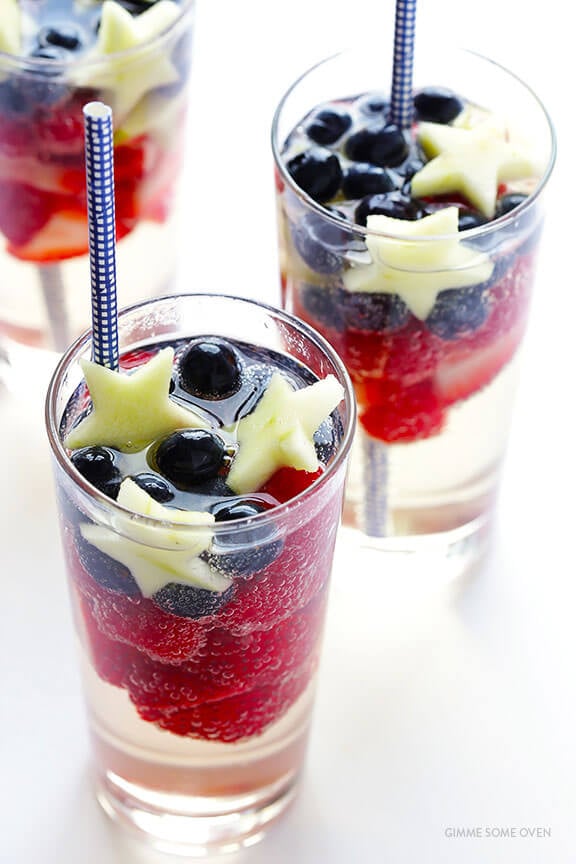 Fun, fruity, and all things 4th. The perfect summer drink catered for the holiday. Relax by the pool and sip on your celebratory mix of wine, juice, and fresh fruit. Trust me, you'll love it.
2 cups fresh Blueberries
1 cup fresh Raspberries
1 lb fresh Strawberries
1 cup Apple juice or white grape juice
Ice cubes
1 bottle dry White wine
3. Blueberry Strawberry Mojito

Mix the mint and the fruit and we have a party! It is a classic drink, but with the right fruit, it can instantly be transformed to fit any holiday, especially the 4th.
3 tbsp. fresh Blueberries
1/2 Lime
10 fresh Mint leaves (a small handful)
2 Strawberries
1 tsp Granulated sugar
1 Club soda
1 Ice
1 ½ oz white rum
4. The Red and Blue Sparkler

Kid friendly and has fruit; it must be healthy right? The wonderful mix of crystal light and fresh fruit is sure to be a hit with all the kids (and the parents too).
1 pint fresh blueberries
8 oz fresh strawberries
1 package Crystal Light drink mix
2 cups water
2 cups Seltzer water
4 wooden skewers (trimmed to be a few inches longer than the glass)
5. Firecracker Popsicle Shot Cocktail

Everyone's favorite popsicle incorporated into a drink: what could be better? The frozen drink is perfect for poolside drinking and tastes just right. It is a perfect drink to add to the festivities while also keeping everyone hydrated and cool for the hot holiday.
6 oz of White Rum
.75 oz Blue Curacao
2 oz Lime Juice
.75 oz Simple Syrup
.5  Cup Strawberries
3 Cups Crushed Ice
1 Bomb Popsicle
*BONUS:  a way to make your vodka more colorful and fit the theme: drop red or blue jolly ranchers in your drink and you're ready to go!
Also check out the perfect summer playlist to listen to while sipping these fourth of july drinks.