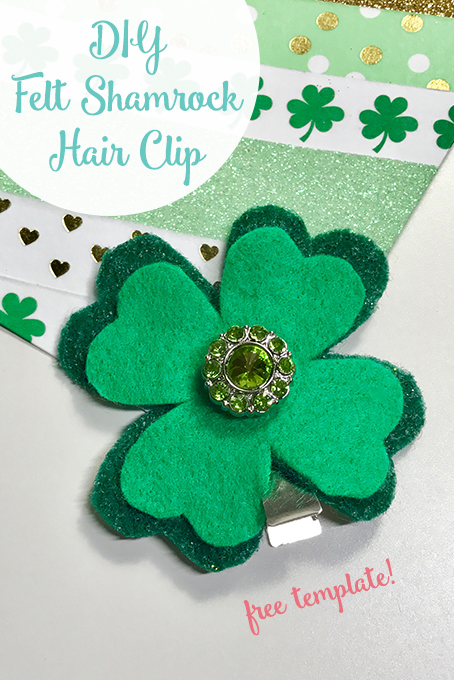 Having a little girl means I get to make her fun hair bows for every occasion! It doesn't have to be difficult. Felt is one of my favourite mediums as it is so easy to work with and so forgiving. I whipped up this adorable little shamrock hair clip in about 15 minutes.
Quick & Simple Felt Shamrock Hair Clip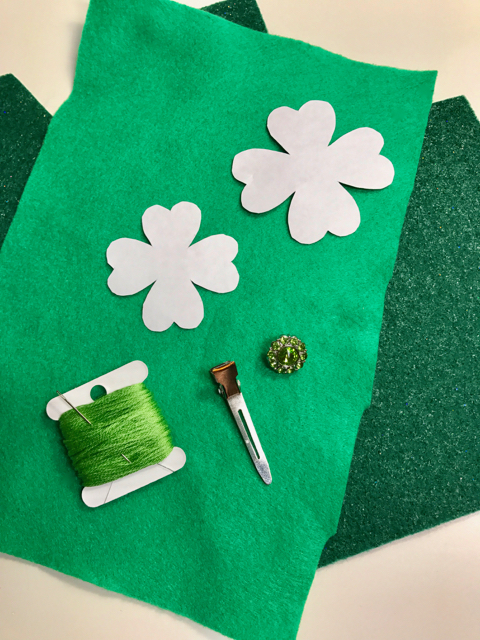 What You'll Need
Two shades of green felt – this is a great project for using scraps
Green button
Hair clip of choice (alligator, bobby pin, the world is your oyster!)
Green thread
Glue dots or hot glue (not pictured)
Free template *see below
Download Template Here
Felt Shamrock Hair Clip Template
Let's Get To It!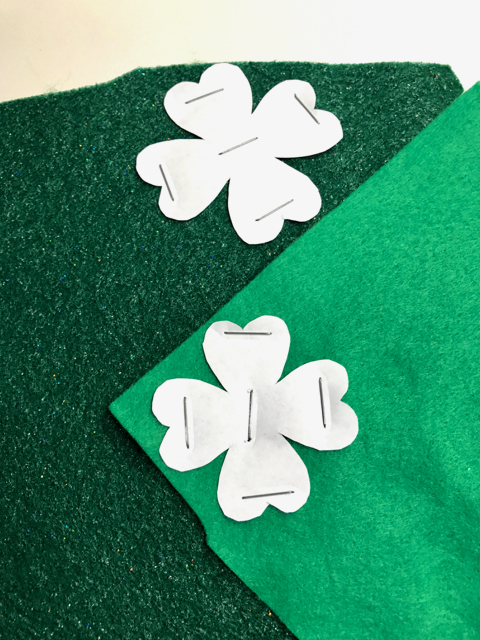 The first step is to print out the template and cut out your clover shapes. Staple one to each of your pieces of green felt. Be sure to place the larger shamrock on the felt you wish to use for the back and the smaller shamrock on the front felt. If you don't want to staple the templates on, feel free to use the method that works best for you. I find that staples hold the template without puckering the felt.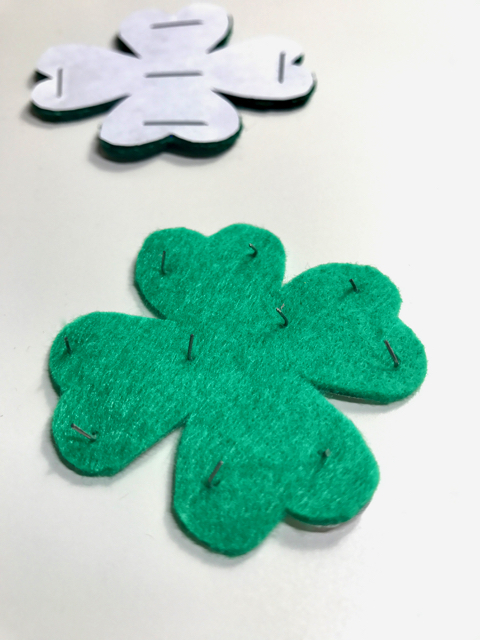 Once you have cut out your shapes, gently remove the staples. I use a fingernail to lift the prongs at the back and gently remove from the front. If there are any small holes, simply use your finger to rub over them and they will disappear.
Layer your clovers with the button in the centre. I suggest doing a few stitches to secure the button before attaching to your hair clip. There's no need to knot your thread after these stitches – simply hold it onto your hair clip and attach it with a few rounds of secure loops.
Once you have finished attaching it, use glue dots or another adhesive such as hot glue to secure the clover to the clip. Most hair clips are quite slippery and I found this helped to ensure it would stay in place. I used mini glue dots just between the felt and the hair clip.
And there you have it! A quick and simple little shamrock hair clip for your little lady. This can also be altered very easily to make a pin for your little gentleman. Alligator clips are also great for attaching to clothing if you don't want to use a sharp pin.
Erin go Bragh!

Looking for more great ideas on crafts, activities and food to celebrate St. Patricks Day: check these out.
Looking for some St Patrick's Day Decor ideas? Check out St. Patrick's Day Mantel + DIY Shamrock Garland.