With Earth Day just around the corner, we are in search of some new and exciting crafts & activities to do with our kids. We love all the creative ideas we found, from simple toddler crafts and fun sensory activities, to awesome science activities that are great for young & old, and even some Earth Day baking ideas. You are sure to find something that you and your kids will love to do. Whether you display it in your window or on the fridge, or care for it long enough to bring it out to the garden when the warm weather rolls around, these ideas are sure to delight.

Earth Day Crafts
Recycled Newspaper Earth Day Garland gives new life to your old paper.
Let the kids get a little dirty making this Planet Earth Craft using actual dirt
Kids can create Coffee Filter Earths to hang in the window.
Work on those fine motor skills making this Melted Bead Transparent Earth Craft.
Add some sparkle to your earth day with this Sparkling Earth craft.
Looking for a mess free craft? Try this Painting in a Bag Earth Craft.
Make a decoration you can display each year with this Earth Day Handprint & Photo Keepsake.
Use your recycles in a unique way with this Marvellous Recycled Art Project for Kids.
Everyone will love making an Earth Day Salt Dough Necklace.
Get those little fingers working on their fine motor skills making a Mosaic Earth.
Decorate your windows with a beautiful Earth Sun-catcher.
Grab your recycles and some crayons to make this Earth Day Craft.
This Planet Earth Sun Catcher is simple and fun to create.
There's nothing better than some cut & paste with this Green Is The New Black craft.
Create your very own Paper Mâché Earth Mobile.

Earth Day Activities
Be sure to check out our very own Simple Earth Day Playdate.
Earth Day is on its way, get ready with a fun scavenger hunt for you and the kids.
Make use of your recycles and make this Recycled Planter on a String.
Get your preschoolers learning about pollution with these activities.
Create something beautiful with the nature around you, make a Nature Weaving Art Project.
Grab this free printable Earth Day I Spy Game.
It's never to early to learn bout sorting recycles with this Preschool Recycle Game.
Why not Make an Earth Day Pledge?
This Planet Earth Fine Motor Activity will keep the kids busy.
These Recycling Printables and Montessori-Inspired Recycling Activities are perfect for young kids.

Earth Day Sensory Fun
Let the kids explore and create with this Earth Day Oobleck Science Sensory Play.
Why not whip up some Earth Slime today for some sensory fun?
Get out your shaving cream for some Easy Earth Day Sensory Play.
Make some Earth Day Play Dough for the kids to create with.
Dye some rice and pasta to make an Earth Day Tuff Spot your kids will love to create and play in.

Earth Day Science Activities
Teach the kids with this Simple science experiment to show the effect of plastic bags.
Let the kids explore the idea of New Growth with this fun experiment.
The kids will absolutely love this how to: Build your own Wormery!
Learn about how paper is recycled and made, and Make Your Own paper.
Grow your very own Cress World Map.
This Soil & Rocks Lesson is good for kids of all ages from toddlers to big kids.
Everyone can get in on this action: Planting Seeds in DIY Biodegradable Planters.
Kids will love the hands on fun of making these DIY Earth Moss Balls.
Watch and learn as the kids take time to Grow Grass.
Make your own Homemade Seed Paper, perfect to use as a card or give as a gift.

Earth Day Food
With the help of a little food dye, you can enjoy these Earth Day Easy Cookies for Kids.
Make a yummy treat to celebrate with this Earth Day Fudge recipe.
Get the kids helping in the kitchen to make these Earth Day Cookies.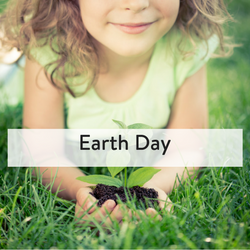 Looking for more great crafts, activities, and foods to celebrate Earth Day? Check these out.

Andrea can always be found with a new craft in front of her, a form of technology on her right and a coffee on her left. This is how she survives suburbia with her two crazy toddlers in tow.