Must Have #1  – Ovulation tracker
Ok, first things first. If you ready to start trying to have a baby to for real, you need you start tracking your cycle. It doesn't matter if it's your first baby or your fifth, you're cycle changes over time. So if you want to know your best days to try. One option is to chart your temp daily. Or you can use an ovulation predictor.
I chose the First Response®Digital Ovulation Test. It predicts your most fertile days based on your personal LH surge. Since your two most fertile days begin with the LH surge, you're most likely to get pregnant if you get busy 24-36 hours after you detect your personal LH surge. If you have no idea what I'm talking about when I say LH surge, don't worry. If you get head over to firstresponse.com you can learn everything you need to know.
Must Have #2 – Pregnancy test
If you're actively trying to get pregnant – and many sometimes when you're not, you're going to want to know if you're late for a reason. But did you know, you may not need to wait that long? No really. The First Response™ Early Result Pregnancy Test can tell you if you're pregnant up to six days before your missed period.
I remember the first time I saw that second pink line. First, it was after years of trying and fertility treatments. And then, the first cycle of IVF we did was very overwhelming. They recommended that you don't POAS (pee on a stick) before your blood test, but I just couldn't wait. I remember sneaking off to test early, then, when I saw that tiny little ghost of a second line after seeing nothing for 30 cycles, it was all worthwhile.
Must Have #3 – Nausea buster
Everyone says this, but it's true. Morning sickness is not just for mornings. Personally, I felt sick 24/7 for 23 long weeks. While that's not normal, it's not uncommon. I wasn't as sick as some, but I did feel 'seasick' just about all the time for months. I really hope you don't experience the same. But if you do, something like these DIY Pregnancy Pops may give you some relief.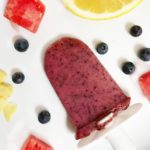 Easy DIY Pregnancy Pops
Ingredients
3

cups

seedless watermelon

cut into 1 inch chunks

1

cup

blueberries

1

cup

apple juice

1

cup

coconut water

2

tbsp

honey

1

tbsp

fresh ginger

grated

2

bananas

1/4

cup

mint leaves

1/4

tsp

lemon juice
Instructions
Place watermelon and washed blueberries into blender.

Add the rest of the ingredients to blender. Blend on high until smooth.

Pour into ice pop molds or ice cube trays.

Freeze and enjoy (some relief).
Must Have #4 – Calming agent
Once baby has arrived, there might be times when you ask yourself "what was I thinking". One trigger of such thoughts is a bout of seemingly endless crying. Our second was a gassy, gassy baby. And a gassy baby is an uncomfortable baby. Due to this, when we were in the NICU, one of suggestions we got was to try OVOL™ Drops.
OVOL  is a simple, alcohol-free solution that can be added to a bottle or used on its own. It helps relieve discomfort caused by trapped gas, making it easier for babies to pass gas and burp at feeding time. Now we were cleared to use them during her stay at the hospital. But you'll want to ask your doctor first to find out if this product is right for your new baby!

As part of our 2017 Brand Ambassador partnership with Church & Dwight, we receive monetary compensation, as well as products to review and giveaway. The views and opinions expressed are our own. 

Melanie from mommydo.com writes about parenting, food, neat stuff and the unexpected beauty in life, all while juggling work, family life and spreading awareness and raising funds for Williams Syndrome.