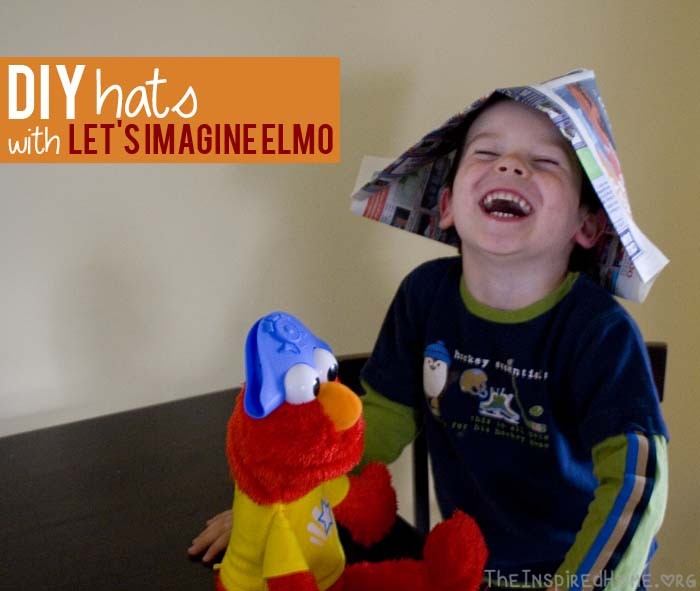 DIY Hats with Let's Imagine Elmo
We arrived home to a new arrival at our house – Elmo! It was a well-needed treat after going through the play bag so many times on our trip. Let's Imagine Elmo came with 3 different fun hats too – from a crown, sailor's hat and cowboy hat. Each hat changes Elmo into a mode that allows your child to sing, count or do actions along with him. The fun doesn't stop when Elmo isn't wearing a hat either – your child can still bounce, tickle or squeeze his nose.
Mr J had a great time learning what to do when each different hat was on. Elmo quickly became toted around the house with him. After a few times listening to what Elmo was asking him to do, Mr J was able to follow along without prompting. Cowboy Elmo seems to be the #1 favourite! I asked Mr J if he liked Elmo's hats, and he mentioned he wanted to make ones so he could match. I thought, why not?
Make Your Own Elmo Hats
Upcycled DIY Sailor's Hat

This one is an old classic that I have used many many times at various programs. It's a great upcycle for your favourite local newspaper (ours being The Hinton Voice). Grab one section out and fold it horizontally along the pre-creased fold. Fold both corners into the center creating a triangle shape. Fold the remainder up towards the triangle. Repeat for other side. Use a small amount of scotch tape to secure the hat on either side.
Simple DIY Crown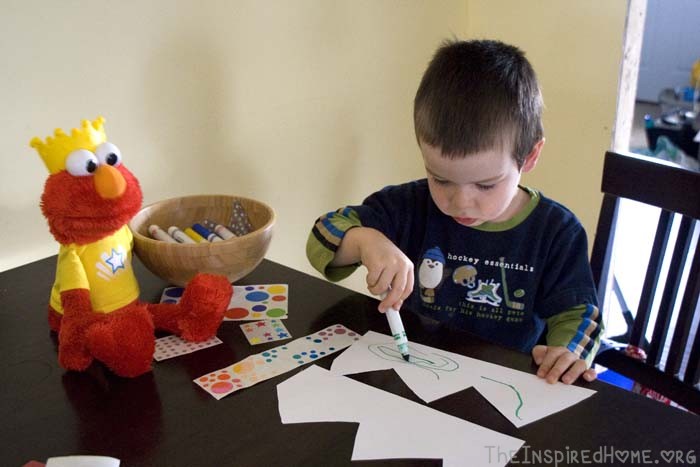 Cut a piece of paper or cardstock into rows of triangles. Let your child decorate with markers, crayons, stickers, or any other craft materials you have on hand. Tape two sides together and size for your child's head.
Cowboy Hat

I'll admit this one is quite a bit harder to DIY. As it is Halloween season, I took a stroll through my local dollar store and was able to pick up a cowboy hat for about $2. You could also try Printable Horse Headband, Felt Cowboy Hat Pattern.
Want to Win Your Own Elmo?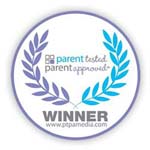 Enter below and tell us how Elmo boosts your child's imagination for your chance to win 1 of 5 Let's Imagine Elmo's from PTPA and Hasbro.
Disclosure: I am part of the PTPA Brand Ambassador Program with Hasbro and I received compensation as part as my affiliation with this group. The opinions on this blog are my own, as usual.