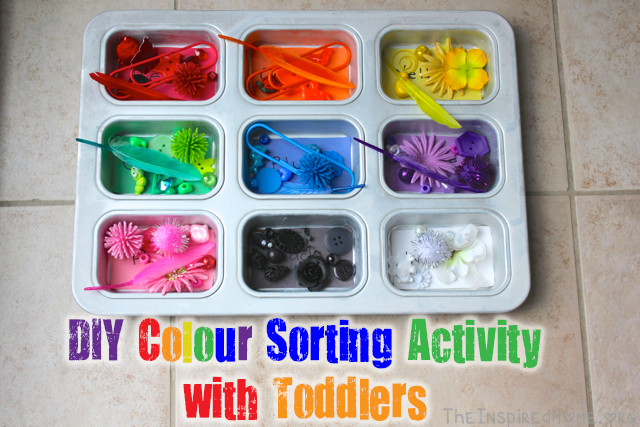 Miss O is a big fan of sorting things. If you have checked out the posts on the various sensory bins I've made (Easter Sensory Bin, St. Patrick's Day, Valentine's Day), you'll see she's been doing this for quite some time. She also loves to announce all the colours she sees when we are out and about. I decided to combine these two things into a fun activity for her.
Items Needed
muffin tin, mini loaf pan, ice cube tray, etc.
construction paper
tape (I used double-sided but you can use any kind of tape folded over)
black marker
a variety of items in each colour such as buttons, beads, feathers, paperclips, etc.
container to house the trinkets
How-To
Figure out which colours you are going to include based on how many slots there are in your tray. I used a mini loaf pan with 9 slots so I did red, orange, yellow, green, blue, purple, pink, black and white. For a muffin tin you might just do red, orange, yellow, green, blue and purple. For an ice cube tray you can include other colours such as brown, grey, etc.
Once you have decided on your colours, you will need construction paper in each colour. Measure the bottom of the slots in your container. Cut that size out of your construction paper in each colour. Write the name of each colour on each piece with your black marker. Affix inside the bottom of each slot using a piece of tape.
Put all your trinkets into a bowl or other container. Sit down with your toddler and get sorting!
Skills Learned
Color Recognition
Sorting
Letter/Word Recognition
Counting
You can use this activity in a number of ways to help your toddler hone various skills depending what level of learning they are at. Sorting is a simple skill learned quite young. From there, decide what you want to work on with your toddler. Are they slowly learning their colours? Simply focus on that. From there you can move onto counting the items as you place them in. Writing the name of the colour on each square is great as they are learning their alphabet – review the letters in each word with them before you begin sorting.