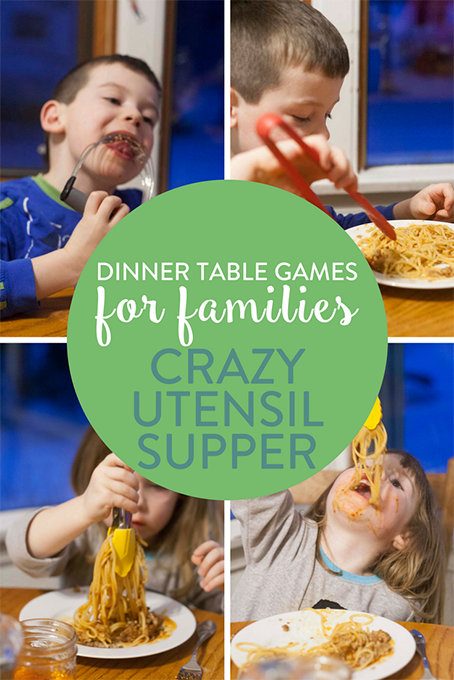 Dinner Table Games for Families: Crazy Utensil Supper
Throwback to my days of a camp counsellor, a couple times a week we would have elaborate theme dinners for fun. We would either dress up in costumes, act out a scene while campers waited for dessert or add a little twist to dinner. Who says playing with your food can't be fun? It occurred to me recently that some of these fun dinners could apply to the dinner table at my house.  So I'm sharing my favourite dinner table games for families (and campers), it's called Crazy Utensil Supper.
Getting Ready for Crazy Utensil Supper
Items Needed:
A bag
Random utensils from your collection, 1 for every family member, plus 2 additional for the bag
(Optional) bibs or aprons
What Utensils Work Best?
The difficultly of your utensils is based on the age of your children. For 3-5 year olds, utensils like flippers, pastry cutters, tongs, potato mashers, and slotted spoons are easier to handle. For 6-12 year olds, you might try utensils that are more challenging like wooden spoons, hand-crank egg beaters, or anything in your drawer that might be a little more challenging. Stay away from silicone items. The spaghetti will just slide off and frustrate anyone who tries. Think wooden or metal implements.

What's For Dinner?
Spaghetti and meatballs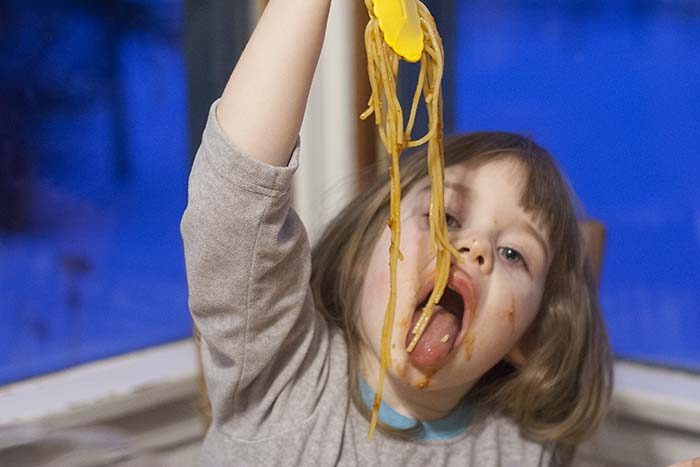 How To Set Up Dinner Table Games for Families: Crazy Utensils
Set the table as you usually do, omitting the utensils.
Serve dinner then announce it is Crazy Utensil Supper!
Let each family member pick a utensil out of the bag, and try to eat their supper with it. If a family member wants to trade a utensil, they can do so once, and then choose between their old utensil or their new utensil.
Let the mess and hilarity ensue!

For other fun family activities, check these out.
Why not have an indoor picnic in your living room?