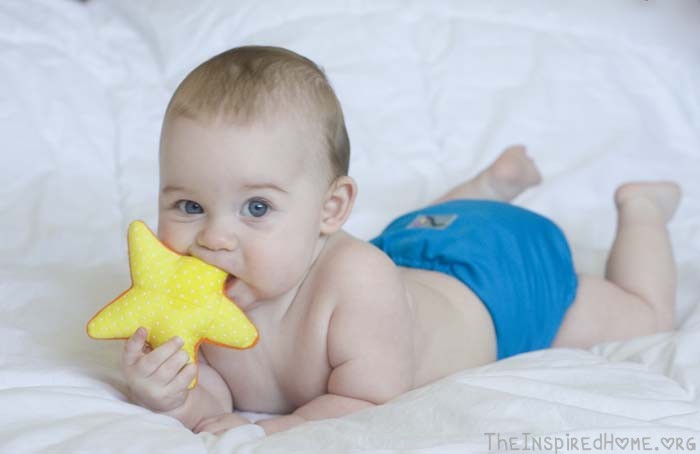 Moms on cloth diaper forums often joke that cloth diapers are the gateway "drug" to becoming a little more granola and a little less rock and roll. Cloth diapers definitely released my inner hippie. One minute cloth then snap, it's two years later and you just treated your cut with essential oils (and it worked!), you have unpaper towel in your kitchen and you're growing your own food.
In all seriousness though, I'm in love with my collection of cloth. I've accumulated about 30-40 diapers which lasts us about a week. I tend to wash them every 2-3 days. My first stash of about 20 cloth diapers were purchased used from an online buy & sell site. They are been through wars with Mr J, and even after all their use they keep on going. Unfortunately, the same couldn't be said of their inserts.
After a lot of use, microfiber just seems to lose it's fluff and absorbency. To replace all of my inserts for my workhouse cloth, I was looking at about $10 an insert. (Less if I picked a cheaper brand of insert.) I also debated just doubling them up but I didn't have enough infant inserts to be able to do that and still have enough diapers to use.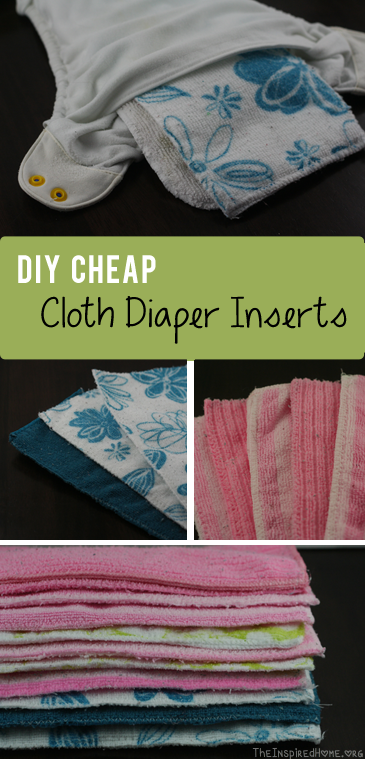 DIY Cheap Cloth Diaper Inserts
Inspiration struck when making baby shower gifts – I had been using microfiber towels from the local dollar store to make super soft burp cloths with a bit of fabric for my girlfriends. Why not use these as boosters with the infant inserts I already owned?
I picked up these microfiber kitchen towels at my local dollar store. They came in a variety of colours, solids and prints. These package with two towels was a $1.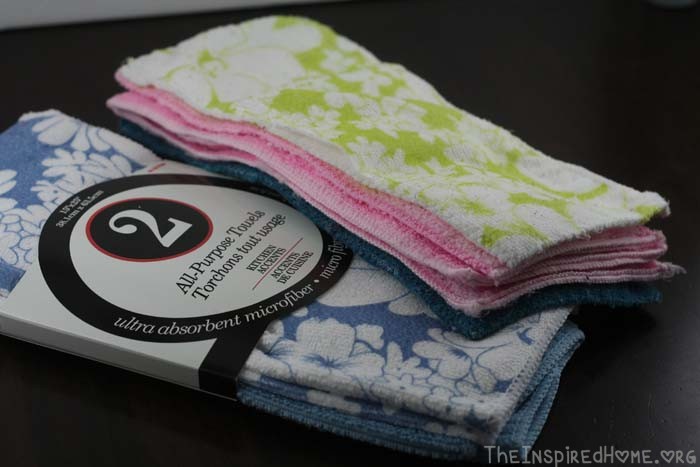 Each towel is 15×25″ – we folded them in half (length-wise), and then cut into thirds – making the final cloth diaper insert: 5″x12″
(Note: This worked for our used cloth diaper, but you might consider measuring yours as the interior pocket can really change depending on what brand & version you are using)
Thankfully, my mom (the grand sewing master) came to help me shortly before Miss P was born and she did some of the leg work. We stitched each diaper with a zigzag stitch around the edges with the presser foot lined up with the edge (as close as possible). If you had a serger or access to one, it would work even better!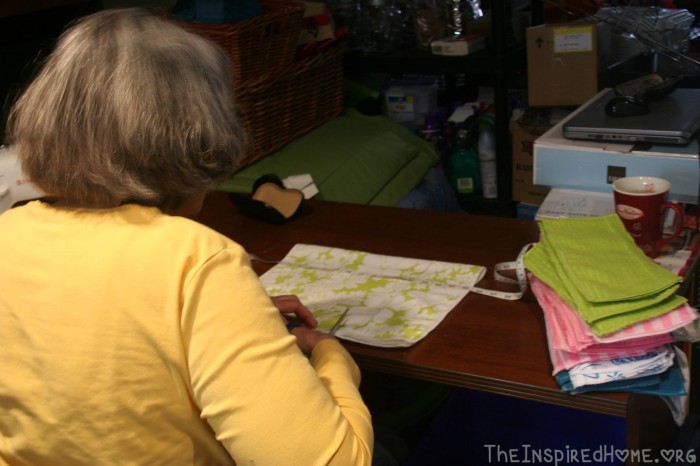 That's it. To prep them for use, I recommend washing them as you do your cloth diapers (cool rinse, wash hot with detergent, cool rinse) to get maximum absorbency and any remaining fluffies out of them before use. They are really easy to make and even a beginner sewer can handle the straight stitching required.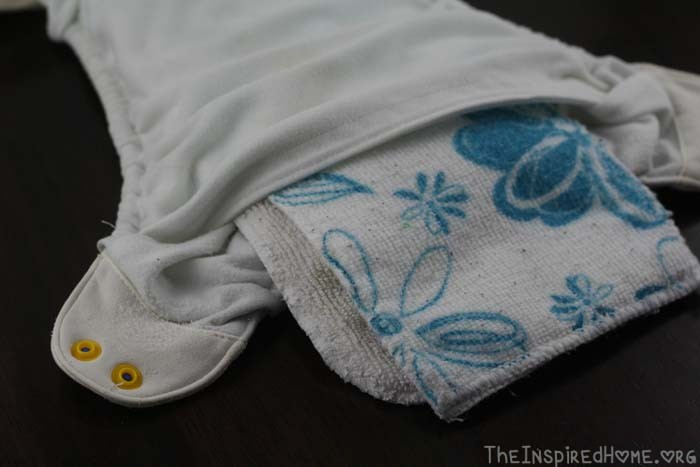 To use, couple them with your existing old inserts, or use two to stuff in your pocket diaper for maximum absorbency. They work well as nighttime doublers too.

WOTB from Nature Bumz Co.
The majority of my cloth collection I have purchased new from amazing small cloth diaper stores run by savvy cloth mamas. Nature Bumz Co. is one of my favourite stores full of fluff & natural parenting products. They are located in Niagara Falls, ON. Crystal & Brian Cline work hard to answer all those tricky questions and give unparalleled customer service. I love buying from one of my old stomping grounds not to mention a fellow Brock U alumni to boot!
Through their Facebook page, the question frequently is asked – #WOTB, meaning what's on the bum? Today, we've been provided with a Rumparooz G2 One Size Pocket Diaper in Bermuda Blue with Aplix Closure for review. I followed the directions from Rumparooz on how to prepare my G2 then we were off to the races. It is interesting to note, this meant washing it once – many of the other brands I own say you need to wash anywhere between 5-8 times to get the diaper to be absorbent.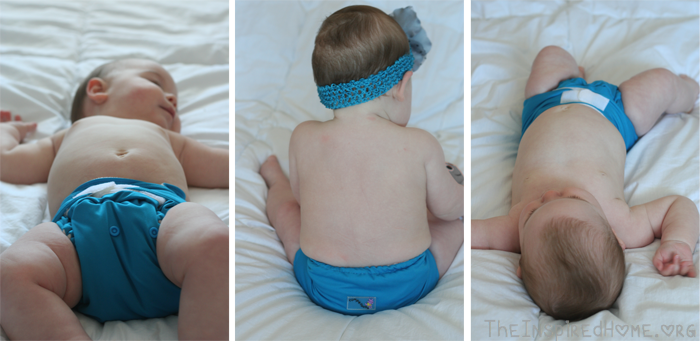 Pros:
Inner gusset of the diaper channel is deep and helps keep messes contained.
Micro-chamois inner fabric is really absorbent, and does a fantastic job of wicking the moisture away from baby's skin.
The microfiber inserts to adjustable, and comes with one very thick (6*r) insert and another thinner (newborn) insert.
Terrific naptime or nighttime diaper with both inserts in – absorbency is one of the best features of this diaper.
I'm addicted to chevron – so the Charlie fabric below that is comes in delights me.
Cons
I didn't find the diaper to be as trim as others that I own. Several of her pants were difficult to snap up over the diaper.
The pocket where you stuff the inserts in is a little lower than what I'm used to. With a larger child & a bigger mess, this may cause difficulty.
The inserts did not agitate out in my washing machine. I had to remove them by hand after the wash cycle.
Overall
Miss P is about 18 lbs, and has cute little chunky thighs. I had the diaper on the first snap rise and it seemed to fit fine. I can understand how this diaper could do the range of weight and four sizes it suggests (6 -35 lbs). I tried both inserts out together, as well as separately. The smaller insert (newborn) seemed to be enough for her now as it was so absorbent, but when I took it out after a pee, it was fully saturated. We fully put this to the wiggle test – Miss P rolled, bopped, jumped, and stretched around in it and the gussets around her legs held everything in. If you're looking for a more absorbent diaper for nap times or overnight, I would suggest trying it out. The inner microchamosis wicked moisture away from her skin & the super thick and fluffy microfiber inserts are very thirsty.
Visit Nature Bumz & buy pocket diapers of your own to stuff.
Check out more great DIY projects on our Pinterest Board.
Follow The Inspired Home's board Organization on Pinterest.