It's easy to buy one of those little advent calendars full of cheap chocolates from your local discount store. But if you want to add a little more excitement for your kids this holiday season, why not take the time to make an advent calendar for them? It doesn't take much time and it's nice to personalize the calendar to their tastes. Holly and Andrea each completed an advent calendar for our little ones in different styles. Both are easy and do not require a lot of time. We have also included a sample of some of the items we included in our advent calendars.
Advent Calendars: Two Ways
Andrea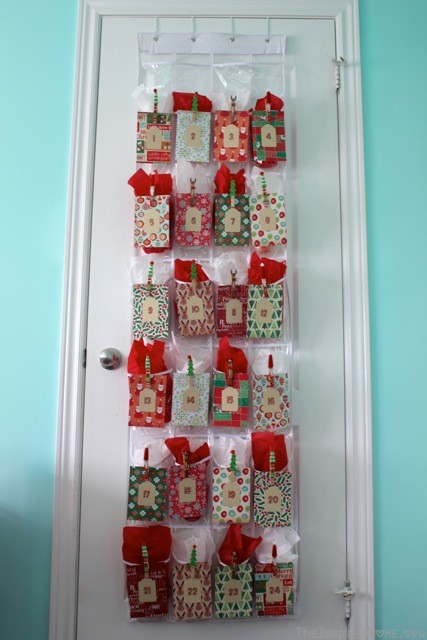 I chose to use a plastic shoe organizer to complete my advent calendar. As I enjoy scrapbooking, I have a lot of supplies. I had a large pad of Christmas paper which I cut into rectangles to pin to the front of each pocket. I used 12 different papers and cut two 6″x 4″ rectangles from each using a paper cutter. I downloaded a festive font for free from www.dafont.com. I chose Candy Time and typed out the numbers 1-24 in a document on my computer. I ensured the numbers were spaced accordingly so I could use a paper punch in a tag shape. You could use any shape to punch out the numbers from a circle to a square to a shape with a scalloped edge. You don't even need a punch – cut into rectangles using a paper cutter or use some fancy scissors to cut them out! I attached the tags to the rectangles using glue dots.
I found some fantastic Christmas clothespins from Target to holding the papers onto the pockets. By using clothespins I am able to remove the numbers very easily and store them for next year yet still be able to use the shoe organizer for other uses throughout the year.
As the shoe organizer is clear, the rectangles don't quite hide the contents of the pocket. I chose to wrap each gift in festive tissue paper. Using tissue paper requires minimal time and effort when wrapping 24 gifts compared to using wrapping paper on each gift. Also, the tissue paper can be reused whereas a small square of wrapping paper cannot.
Some of the gifts I included:
Various items from Target dollar spot bins
Baby Mum Mums
Toy cars
Finger puppets
Slinky
Small books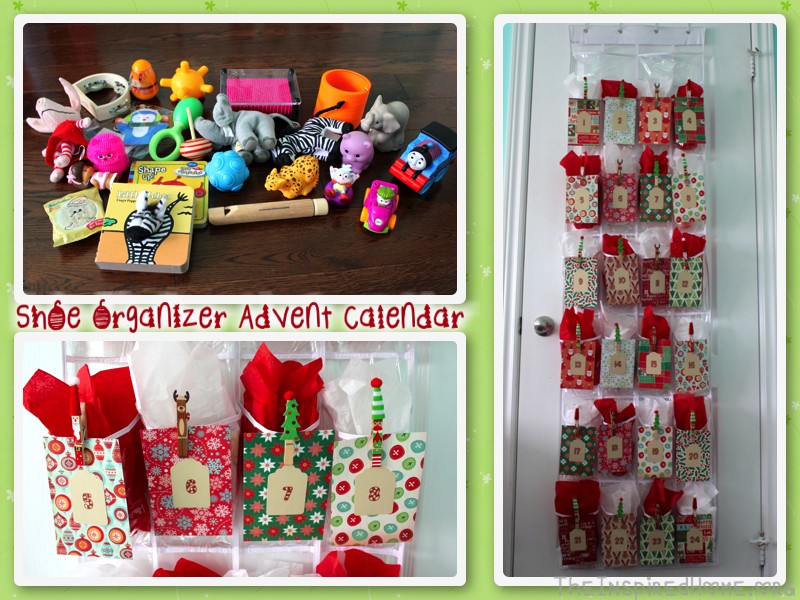 —–
Holly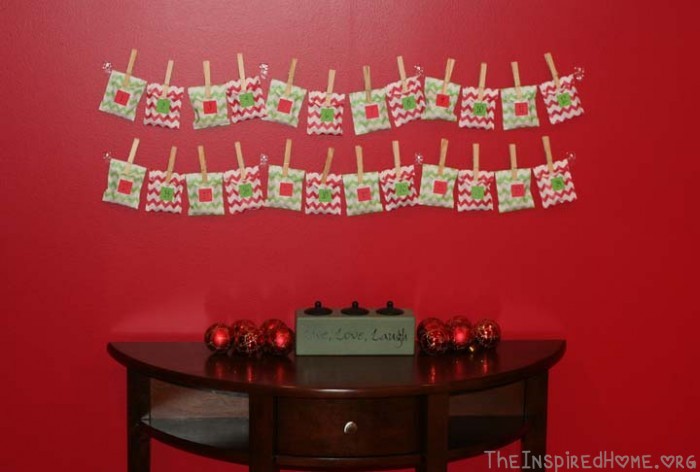 I am currently obsessed with all things chevron. One of my favourite local stores, Greenmunch, sells a wide variety of snack bags. I used some recently for another project and knew it would be perfect for this one. I took 2 sheets of cardstock from my scrapbooking stash and cut them into 1″ x 1″ squares on my paper cutter. I used rub-ons from my collection to add numbers to each square and I used double-sided taped to attach them to the bags. The only tricky part was measuring & installing the Command Hooks (there's a $1 coupon available to print here). I chose to make each hook exactly 12″ from the previous hook. Each row had 4 hooks. The second row is 6″ from the bottom of the first row. I carefully adhered the Command Hooks to the wall; always make sure you put the black WALL sticker to the wall as this will ensure no damage when it's time to remove. I hung peppermint twine between the hooks – I measured out 12.5″ and made a loop with a knot at each point. The knot is key as the bags do get quiet heavy with the candy inside them. I added clothespins to keep the bags hung & shut, and voila! I used some upcycled Halloween candy to fill each of the bags.