As I recently participated in a felt quiet book craft night with some of my Momstown mamas, I have been inspired to keep on creating these magical pages. Miss O adores books; aside from a few stuffed toys, I think I could take away all of her toys and she wouldn't really care as long as she has a stack of books. She's not bothered with being read to just yet as she prefers to flip through the pages and look at the pictures. This is why I feel a felt quiet book will be awesome for her. I have discovered some fantastic tutorials and felt quiet book ideas that I'd love to share with you. I would love to see some of the work you have done or some excellent sites you have found with a great selection of felt quiet book pages – leave a comment below!
Imagine Our Life – Quiet Book Patterns
http://www.imagineourlife.com/quiet-book-patterns/
This site has a giant list of patterns and templates for some awesome felt quiet book pages! Some of the best pages out there and also one of the biggest collections of templates.

Serving Pink Lemonade – Quiet Book Templates
http://www.serving-pink-lemonade.com/2011/01/quiet-book-templates.html
A small selection templates for her amazing felt book designs can be found here. She also has a book available on Amazon that includes a CD with printable templates. I'm personally in love love love with her tree design for the different seasons (her entire quiet book can be viewed here).

The Quiet Book Blog – Jocelyn's Quiet Book
http://quietbookblog.blogspot.ca/2012/09/jocelyns-quiet-book.html
You will find a lot of information on this website as a whole; however, this particular page has some fabulous designs such as Mr. Potato Head. There is a link included for a PDF of the templates. Awesome ideas here and lots of templates. Definitely check this one out.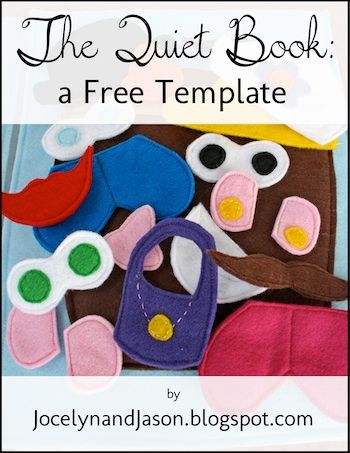 Pops & Podge – Quiet Book Templates
http://www.popsandpodge.com/p/about-me.html
A small selection of templates and tutorials can be found here. Included are a nifty clothesline page, tic tac toe, tie the laces and a fishing page.

Julie's Blog – Quiet Books
http://juliegillrie.blogspot.ca/search/label/quiet%20book
On this site you will find instructions to make some absolutely excellent geeky quiet books. She has completed a Harry Potter Quiet Book, a Star Trek: The Next Generation Quiet Book and a Jedi (Star Wars) Quiet Book. They are incredibly well done – you can't miss checking these out!


Andrea can always be found with a new craft in front of her, a form of technology on her right and a coffee on her left. This is how she survives suburbia with her two crazy toddlers in tow.