Easter Baking
I can hardly believe how fast time is flying this year! It seems like I just flipped the calendar to 2017, and here we are just a few short weeks away from Easter.
It was right around Easter about 5 years ago that I walked into my first class at culinary school to learn the art of baking. Never in a million years did I think that in my 40's, I would be going back to school! After all was said and done, I was so happy that I took the leap to follow my passion for baking. And now you get the reap the rewards!

Mini Cream Puffs
The celebration of Easter is a time where I really love to schedule an appointment with professionals to help me to create something special for dessert. It's easy to gorge on chocolate but why bother when you can enjoy a simple, delicious dessert. This year I am going to make these strawberry cream puffs with white chocolate whipped cream. Despite looking all fancy, these mini cream puffs are incredibly easy to make. This is my favourite type of recipe.
In fact, Choux pastry was one of the first things we learned to make in class. It is the basis of many a-fancy French pastry but is really nothing more than eggs, flour, butter and water. It is a versatile pastry dough that can be turned into not only classic cream puffs (otherwise known as Profiteroles), but also éclairs and even show-stopping croquembouche. Fill them with simple whipped cream or pastry cream and you can't go wrong. And your guests will be wowed, thinking you spent all day in the kitchen.

I decided to fill these delectable little morsels with white chocolate whipped cream for a smooth, creamy, and slightly sweet flavour. It really compliments the sugary sweetness of the strawberries. A light dusting of confectioners' sugar is all the "frosting" that is required.

When it comes to Easter desserts, this decadent looking cream puff is light and airy with just enough sweetness to make it the perfect after-dinner treat. Your guests will be begging for seconds (and thirds and fourths…)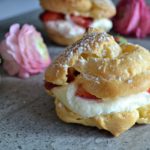 White Chocolate Strawberry Cream Puff
Ingredients
Pastry
1

cup

water

1/2

teaspoon

salt

1/2

cup

butter

1

cup

flour, sifted

4

eggs

1

teaspoon

sugar
White Chocolate Whipped Cream
8

ounces

good quality white chocolate

1 1/2

cup

heavy cream, divided 1/2 c + 1 cup
Macerated Strawberries
1

cup

sliced strawberries

1

tablespoon

sugar
Instructions
Pastry
Line baking sheets with parchment paper. Preheat oven to 400 degrees.


Add water, salt, butter and sugar to a saucepan and bring just to a boil over medium heat. Add the flour all at once, stirring vigorously with a wooden spoon until all the water is absorbed and it forms a dough that pulls away from the sides of the pan and leaves a light film on sides and bottom of the pot.

Transfer mixture to the bowl of a stand mixer and with the paddle attachment and beat for about a minute or 2, until dough is slightly cooled.

Add eggs, one at a time, beating well between each addition. The dough should be somewhat glossy, not too runny but not too stiff. It should pull away from the paddle in a thick rope.

Arrange by heaping tablespoons onto prepared baking sheet, 3 inches apart. Bake at 400 degrees for 10 minutes, reduce heat to 375 degrees and continue baking 15 minutes until they are a golden brown, light and puffy. Allow to cool before filling.
White Chocolate Whipped Cream
Combine white chocolate and 1/2 cup heavy cream in a heatproof bowl, place over pot of simmering water (aka double-boiler), heat and stir until chocolate is melted and mixture is smooth. Allow to cool to room temperature.

By hand, whisk the remaining heavy cream until soft peaks form. Fold one cup of this whipped cream to the cooled white chocolate mixture until blended, then return this mixture to the whipped cream. Continue to beat with a wire whisk until well combined and stiff peaks form. DO NOT OVER BEAT. Refrigerate for 20 to 30 minutes while you prepare the strawberries.
Macerated Strawberries
Place sliced strawberries in a bowl and sprinkle with sugar. Allow to sit for 20 to 30 minutes until strawberries soften and release their juices.
Assemble
Split the pastry puffs in half horizontally. On the bottom half, add a heaping tablespoon or two of the white chocolate whipped cream, a tablespoon of macerated strawberries, and top with the other half of the puff. Dust lightly with powdered sugar.

Maureen shares her passion for baking, DIY and all things home at RedCottageChronicles.com. She and her husband, daughters, and beloved golden retriever live in a tiny cottage in Ontario, Canada where you will find her up to her elbows in flour or sawdust as she creates recipes, handmade furniture or home décor accessories on a budget!