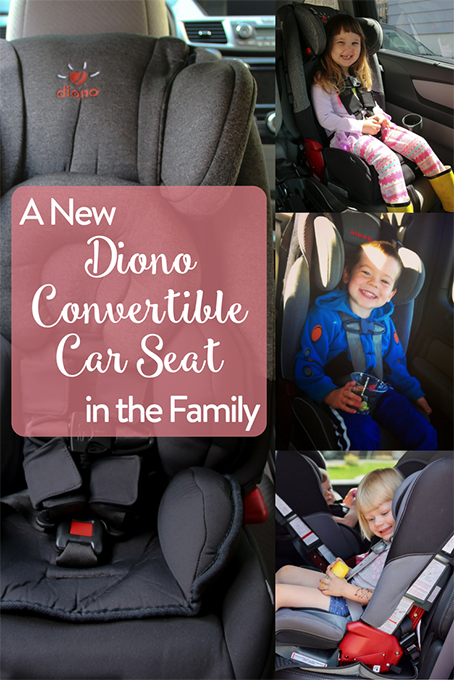 A New Diono Convertible Car Seat in the Family
Sarah
We installed our first convertible car seat into my small car back in 2013. Suddenly our small car felt small, and I missed being able to easily drop the seats down for more room. We added a second carseat, and while I still managed to cram far too much in with some creative organization, I knew the time would soon come that we would have to part ways.
When we found out I was pregnant with our third child, we knew there was no way to get three carseats across the back. I realized it was time to get a minivan. The often dreaded minivan purchase isn't for everyone, especially now that so many SUVs come with the third row option. For me, it was the way to go because I wanted to have LOTS of space again.

Moving On Up and Trying to Fit in 3 car seats
Last November we made the big purchase. We had our two convertible car seats in the second row, behind the driver and passenger seats. The question then arose: Where do we place the third car seat? While moving someone to the third row would make a lot of sense, I didn't want to lose all the space I had just gained back.
Just before having our third at the end of March, I was given the amazing opportunity to receive a convertible car seat from Diono. Knowing the amazing quality of these carseats, I jumped at the chance to test one out and use it with my kids. We received a Diono radian rXT, a convertible carseat that can be used rear-facing, forward-facing, and as a booster seat. Diono also sent me an Angle Adjuster and a Stow 'N Go seat-back organizer for review.
We decided to use it for our oldest, and tried installing it both rear facing and forward facing. After installing the seat both rear and forward facing, I am excited to say that the install process is very smooth for each. The seat positions well in our van, and the UAS connectors are very easy to attach and detach from the anchors.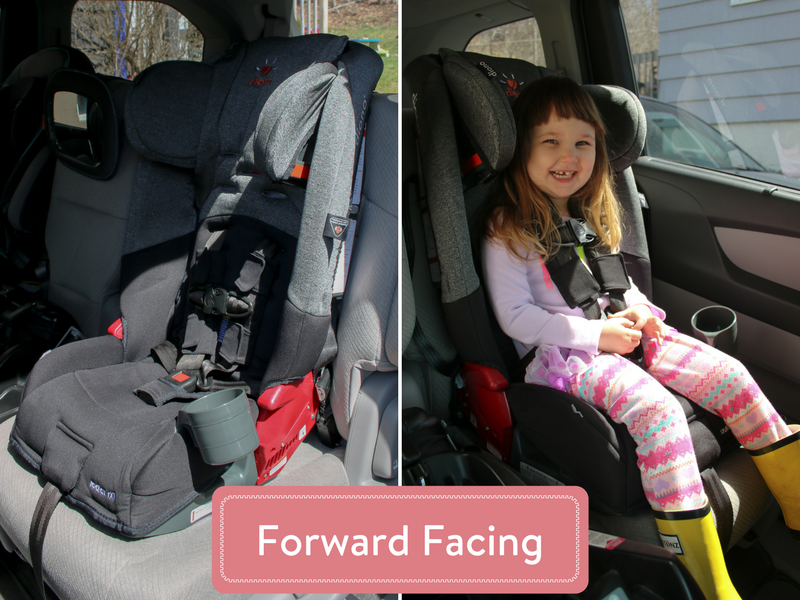 Our Review of the Diono Radian rXT
A few of the features I absolutely LOVE are:
The detachable rear-facing base – this makes the seat much more flush when installed forward-facing.
The slim design – which allows three seats to fit side by side in a single row.
How smoothly the UAS strap and tether strap slide while tightening, and how easy the mechanisms work to loosen the straps.
That the Infant Support Cushion and the Cup Holder are included in the box – sometimes it's the small things that make me really happy & excited.
That replacement parts are readily available and easy to order directly from the Diono website.
Things that are different about a convertible car seat:
It's heavy but this is par for the course with a convertible car seat.
Diono straps feature harness pads. These are a bit different than your usual shoulder strap pads.
You will have to remove the seat to adjust the height of the harness straps.
Now our only "problem" is that we want two more Diono radian rXT convertible car seats for our other girls!
Holly
Along this parenting journey, we have to make decisions that will affect our kids. One of the very first decisions I felt I really got right was choosing a convertible car seat for my son. Safety is not taken lightly in my family. With first responders in our family who have seen the absolute worst that can happen, we strive to protect our kids in the best ways we can. In my opinion, that means you need a convertible car seat that can grow up with your kids and protect them should the worse happen. The steel alloy frame in the Diono Radian rXT puts my mind at ease at protecting what matters the most to me.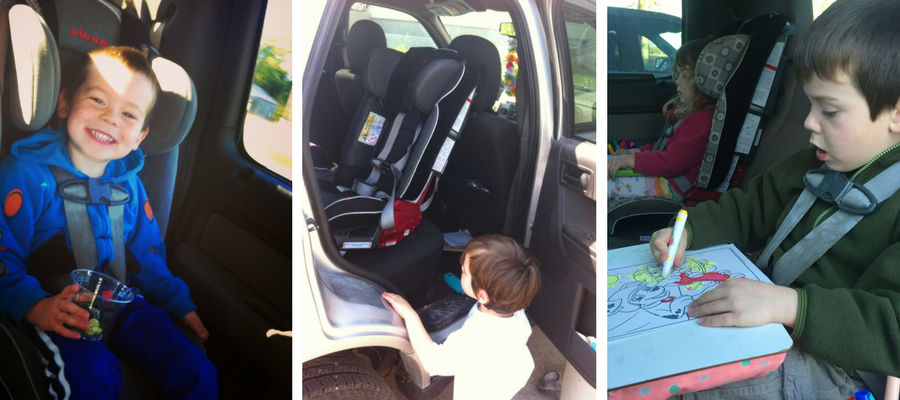 As a family who lives rurally and loves to camp, we spend a lot of time in our vehicles. My Diono seats have been with us through it all. From the 9,000 km long camping trips, the potty training accidents, to more snacks and activities than I can count.  My husband and I have cleaned the covers, foam and all the pieces multiple times from everything that outdoor kids can throw at them.  (Believe me, these have been through the ringer).
Andrea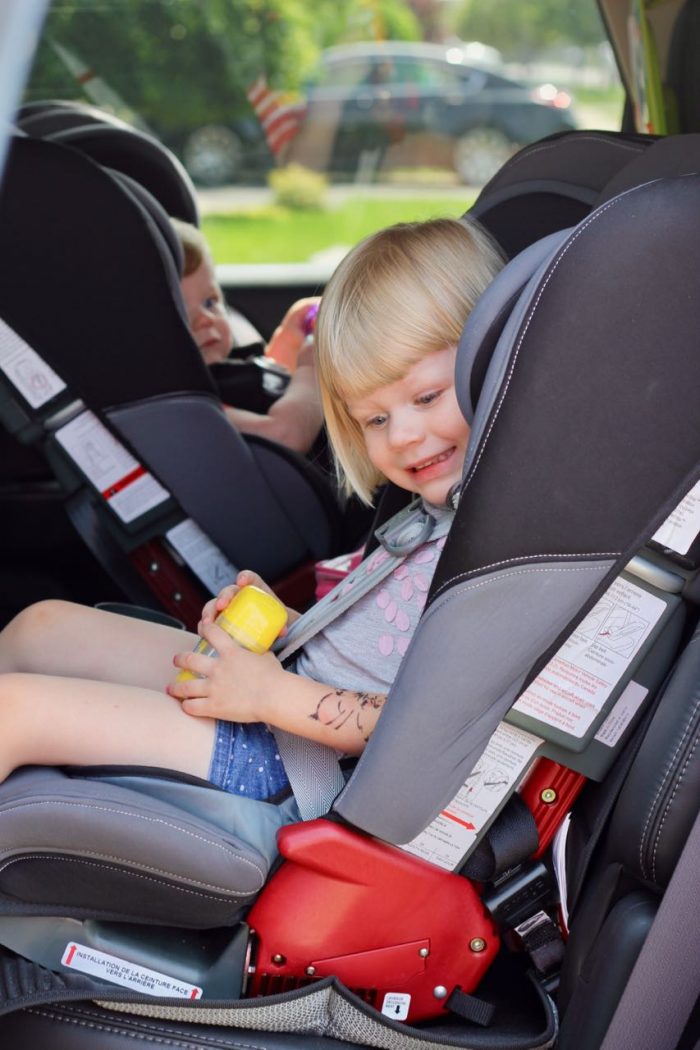 Like most new moms-to-be, I researched car seats to death. I also turned to my trusted friend Holly above and asked her opinion. With her son being one year older than my daughter, I knew she had experience. She mentioned two brands and shared with me her experience with Diono. I will confess that I opted for the other brand she mentioned as it just looked comfier. That's the one I stuck with until my second kid came along.
In the end, the deal-breaker for me was ease of use. With two kids and two cars, we needed more seats. I picked up the Diono radian rXT for my son and fell in love. That original car seat is now in my mom's car as I much preferred strapping the kids into the Diono. Now, when my friends are becoming moms for the first time and asking my opinion, I tell them Diono all the way.
Diono provided us with a Diono radian rXT for Sarah to use and review.  All the opinions expressed in this blog post are our own and based on our experiences with over 8 different radian rXT's.

Find more of our posts on parenting here.