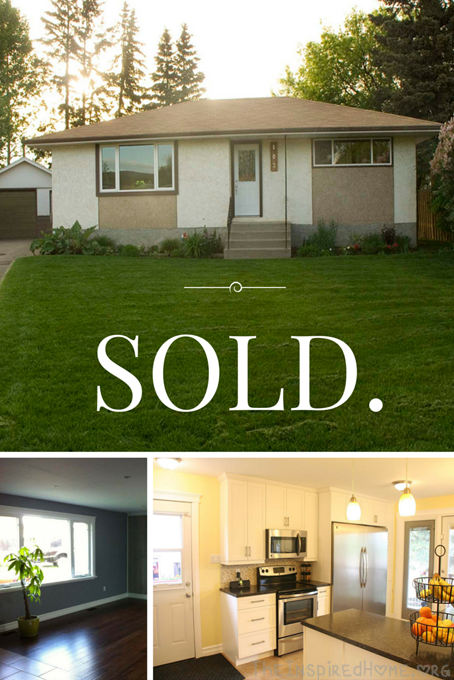 I've been waxing poetic a little about our little HoboChic Project that turned into an Inspired Home on my Facebook page…. Sorry, not sorry friends. It's the end of an era, and that deserves a little recognition in my mind.

We bought this house back in 2010….here's our first family picture from the lawn. (We were so excited, little did we know we would have to chip the ice out of the driveway just to get our trailer in as well as other surprises there were in store for us!)

The little project that could sold yesterday – to a nice young couple who we know will do it justice. We hope they fill their house with all the joy, laughter, dogs and kids that we did.

Kudos to my husband and father in law who have faithfully moved all our stuff again. To my mother in law who helped us with the kids as we struggled through moving, a new job and being in two different locations. I couldn't ask for a better extended family. To my mom and dad who have heard me rant about every possible planning, development and acreage question in the last few weeks, I'm sorry and thanks for your patience. We couldn't do any of this without you, and we love you dearly.

So here's our last family picture from the front stoop.
My ode to the HoboChic

:
Saying goodbye to the house where we poured our blood, sweat and tears for the last 6 years.

We brought our new puppy home to this house, we brought our new babies home to this house.

We discovered our love of Alberta, mountains, and turned into the outdoor family we really wanted to be. We grew vegetables in our front garden, and cried a little when the trees in the back got cut down.

We discovered small town living, and how you don't always find exactly what you need at the hardware store and how to make do.

We're going to miss our fabulous neighbours with kids who ride bikes with ours, and walking to the grocery store for a little fixin' for dinner.

We're going to miss the Hintonites who truly made this home for us for 6 years. Thanks for being our substitute Alberta family, it means more than you'll ever know.