Print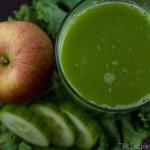 Holly's Green Juice
A simple green juice made from ingredients from your local grocery store.
Peel vegetables and fruit as noted

Feed into juicer in order listed

Stir juice with fork
The broccoli is bite sized. Think the size of one you would put on a vegetable tray.
Best to consume immediately, but will keep in the fridge about 2 days in sealed glass container.