Print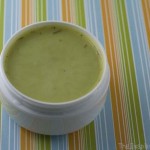 Natural Healing Salve
A simple recipe for natural healing salve made with essential oils and herbs.
In double boiler, mix in coconut oil, grapseed oil and herbs. Cook on rolling boil for about 30 minutes, stirring occasionally. Mixture should be melted in a liquid state. Strain herbs from oil using a coffee filter, discard.

Using paper towel, wipe out the top of the double boiler and add liquid back in. Stir in beeswax beads and essential oils. Let melt and stir mixture frequently.

Pour into mason jars, or heavy plastic jars and let set.