Print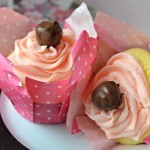 Chocolate Cherry Cupcakes
A delicious cherry cupcake topped with a chocolate-covered maraschino cherry.
Drain maraschino cherries, reserving the juice and set both aside.

Line cupcake pans with cupcake liners.

Prepare cake mix according to package directions for cupcakes. Fill each cupcake liner about 2/3 full and drop one maraschino cherry into each before baking.

Bake as per package directions.

Meanwhile add the butter and 4 cups of the confectioners' sugar to the bowl of electric mixer.

Fill a half cup (1/2 cup) measure about 2/3 full with the reserved cherry juice and top up to fill (for a total of 1/2 cup) with milk, add this mixture to the mixing bowl.

Beat on low for 30 seconds and then increase speed to medium high and mix for 4 minutes.

Beat in remaining confectioners' sugar, 1 cup at a time, beating for 2 minutes after each addition until frosting is smooth and of good spreading consistency.
For the chocolate covered cherries
In a microwave-safe bowl, combine chocolate chips and shortening and microwave for 30 seconds. Stir and continue heating at 15 seconds intervals until melted and smooth. Dip 18 maraschino cherries into the melted chocolate with a fork and place on wax paper to set.

When cupcakes have been baked and cooled, pipe or spread frosting generously on each and top with a chocolate-covered cherry.

Optional: set each frosted cupcake into a Valentine's themed cupcake liner for an extra special touch.