S'mores Cookie Bars Recipe
A summertime favourite around my house is making s'mores over the fire-pit in the backyard or while we are camping. We all miss the messy deliciousness that s'mores deliver as the summer days fade into the fall & winter months. When I came across this recipe for S'mores Cookie Bars, I knew it would be an instant hit and it did not disappoint. The first time I made these, they were gobbled up within two days due to their sweet yumminess. Needless to say, they have become a regular treat around the holidays and whenever we get that s'mores craving.
This recipe for S'mores Cookie Bars is quite simple to throw together, especially since you probably already have most of the ingredients in your pantry. The only thing I ever find myself running to the store for is the graham cracker crumbs. That being said, I should probably just buy graham crackers and put my 3 year old to work turning them into crumbs the day before we make these tasty treats.

Tips & Tricks
Let these cool completely. I typically bake in glass, so these can take 4-5 hours to cool all the way through.
Cut them IN the pan, which will help them stay together.
Use a HOT knife to cut these, since the marshmallow gets sticky even when cooled. The hot knife will slice through faster, leaving you with less mess.
The Recipe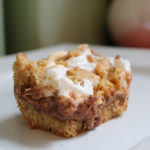 S'mores Cookie Bars
Ingredients
1/2

cup

butter or margarine

softened

3/4

cup

sugar

1

egg

1

tsp

vanilla extract

1 1/3

cup

all-purpose flour

3/4

cup

graham cracker crumbs

1

tsp

baking powder

1/4

tsp

salt

1 1/3

cups

mini milk chocolate bars

or 5 1.55 oz full size bars

3

cups

mini marshmallows
Instructions
Heat oven to 350°F, and grease an 8" square baking pan
For crust
Beat butter and sugar until blended

Add egg and vanilla, beat well

Mix together flour, graham cracker crumbs, baking powder, and salt. Add to butter mixture, beat until blended.

Press HALF of dough into prepared pan. Bake 15 minutes
For topping
Remove crust from oven.

Sprinkle on mini chocolate bars, or cover with full size, breaking to fit as needed.

Spread marshmallows on top, and then break up remaining dough and drop across top of marshmallows.

Bake 10 to 15 minutes - until lightly browned

Cool completely in pan on wire rack. Cut into bars.
Recipe Notes
These freeze well; cut first and layer with wax paper in container before freezing
Tell us in the comments below what your favourite bar recipes are! We've got a few favourites of our own including these delicious gluten-free mint nanaimo bars. What do you make every single year that is always a hit with a crowd?

I am a busy mom to 3 kids, so my days are typically filled with tea parties & story books, singing & dancing, crafts (for as long as a 3yo's attention span will allow) & cuddles. All the while trying to keep up with laundry & cleaning & meals (we have PB&J sandwiches for dinner more often than I'll ever admit). The days (& weeks, & months) seem to speed past so I try to soak up as much as I can each day.