Savoury Apple Calzones with Prosciutto and Walnuts
Comfort food
As we move into winter, I'm a big fan of comfort food like these Savoury Apple Calzones. I love a pillowy soft calzone stuffed with steamy goodness. But I don't need my calzones to feel like they come from the pizza place around the corner. Instead, I prefer to fill them with a more unexpected combination of flavours and textures. That's why this recipe features mild but sweet Cortland apples, salty prosciutto, crunchy walnuts, a touch of lemon, peppery arugula, a little honey, olive oil, aged sheep cheese and a touch of mozzarella.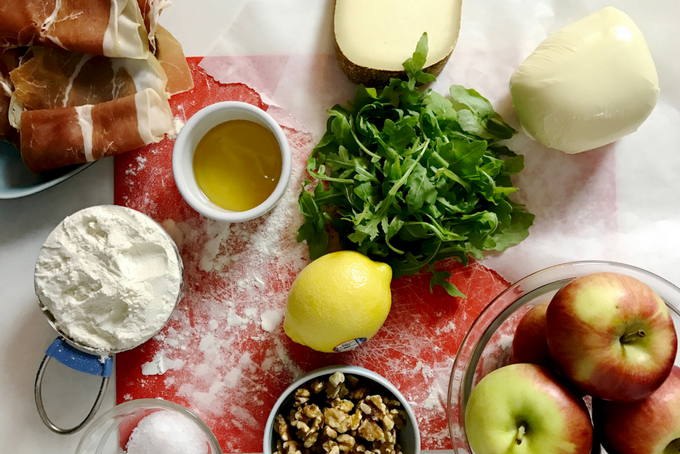 Apples add character to savoury dishes
Apples, like many fruit, are often thought of as a star of pies, strudels and other sweets. But the character they add to savoury dishes is not to be overlooked. Cortland apples hold their shape, making them the perfect choice when you want the apples in your dish to play a starring roll alongside other distinct ingredients.
Savoury Apple Calzones would make a wonderful addition to a buffet table, a great 'company's coming' meal or a simple Saturday date-night at home dish. I made my dough from scratch, but you could easily create these with store-bought dough to save time and effort. They bake in only nine minutes.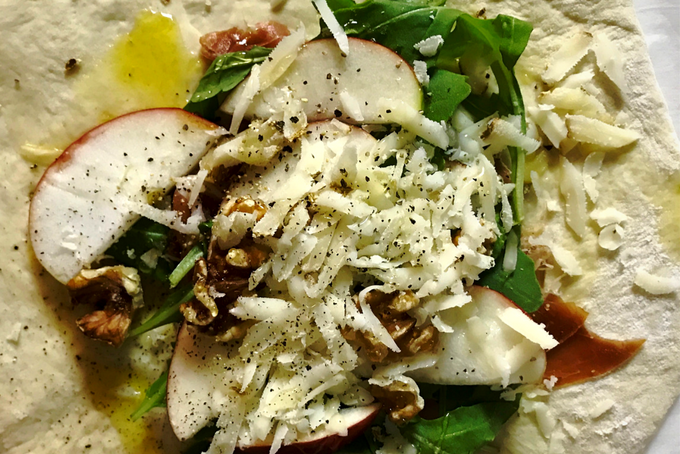 Fresh and local
I try my best to choose local ingredients when I can. They taste fresh and delicious. I love supporting family businesses that employ people close to home. Thankfully, there is now an abundance of Ontario grown and made food to choose from. Ontario grown apples are an easy pick and they are available all year round. The sheep cheese in the savoury apple calzones is made in Prince Edward County. I used local honey and local prosciutto.
Savoury Apple Calzones with Prosciutto and Walnuts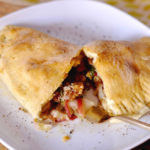 A delicious savoury apple recipe featuring prosciutto, walnuts, arugula, honey and sheep cheese
For the Dough
1 package active dry yeast
1 cup water (hot from the tap)
2 1/2 cups of flour + more if necessary
1 1/2 teaspoons coarse salt
1 1/2 teaspoons olive oil (I used EVOO)
For the Filling
1 drizzle of olive oil (about 1 tsp)
1 piece prosciutto torn into about 4 pieces
1 small handful arugula (about 1/4 cup loose)
1 tablespoon chopped walnuts
About eight pieces thinly sliced Cortland apple (peel on)
1 drizzle of honey (approx 3/4 teaspoon)
About 2 tablespoons grated aged sheep cheese (I used local Shepherd's Harvest)
About 2 tablespoons thinly sliced mozzarella cheese (I made with and without and personally preferred without)
Lemon Juice
In a large bowl, mix olive oil, salt and hot water.
Add yeast.
Let sit for 5 min to allow the yeast to proof.
Once proofed, add about 2 cups of flour.
Mix gently but thoroughly with a wooden spoon.
Transfer to prepared surface and knead, adding extra flour as required, for 5-8 minutes.
Place in a lightly oiled bowl and let sit until the dough has doubled – an hour or more.
Once the dough has risen, knead gently for about a minute.
Cut the dough into 4 pieces.
Let rest for approx. 15 minutes.
Preheat oven to 475°
While the dough is resting, prepare the filling ingredients.
Wash and dry the arugula.
Gently tear apart the prosciutto.
Roughly chop the walnuts.
Grate the cheese.
Slice the mozzarella (or grate if preferred).
Thinly slice the apples and mix with a squeeze of lemon juice.
Roll the dough into small circles.
Add the toppings to the centre of the circle.
I started with Olive Oil, then added prosciutto, arugula, apple slices, walnuts, a drizzle of honey, cheese and finally, a grate of fresh black pepper.
Fold the dough over the filling so the edges meet.
Gently pinch and roll the edges to form a seal.
Finish with a fork to help ensure the calzones don't open in the oven.
Place onto a parchment lined baking sheet.
Bake for 8-9 minutes.
Not a fan of sheep cheese? I have also used Blue Cheese in these calzones with great success.