Pork Stew Recipe: Beer Braised Stew with Apples & Vegetables
Pork chops and apple sauce were a staple at Sunday dinner when I was a kid. Seems like there is just something about those two flavours together that make me feel like I'm right back in the dining room in the house I grew up in.

I think the apple sauce was key, because my dad was not an excellent cook and the pork was always a little… um, tough. It's probably why I love about apples so much. Or at least one of the reasons. Not only are they delicious on their own, they also saved countless Sunday dinners.

How do apples stay delicious all year long?
Here in Ontario, you can find apples that taste like they were picked yesterday, all year long. I've always wondered why that is. I mean, the apples get picked in the fall.
Last month I had the opportunity to visit Martins Packing Plant to learn more about what happens to apples between the tree and the grocery store. Now, I have to say, it's pretty cool.

The apples are harvested in the fall at farms and orchards large and small, all across Ontario. While some of the small growers sell their apples at own family shops or local farmers markets during apple season, most have many more apples to sell than that. Therefore, they turn to packers like Martins to store, package and ship their product.
The Martin family
The Martin family has been farming since 1820, and has been in the apple business for almost 50 years. Hence this family run business in St. Jacobs may sound familiar. In addition, they make the popular Martin's Apple Chips you see at grocery stores and coffee shops.
At Martin's, the apples are stored in carefully controlled storage rooms until it's time to pull them out and prepare them for sale. While process is technically automated, there are a number of people throughout the process doing manual checks to make sure the right apples end up in the right places.

What happens at Martin's
An automated system makes it sound like things happen to the apples along the way, but in fact, there is very little processing at the plant. First, once they leave climate controlled storage, the apples are washed, buffed, sorted by size. Then they are manually checked for any major issues. Next, after washing, their natural protection is cleaned away, so they get a thin coat of wax, created to replace the naturally occurring wax that helps prevent spoilage. Lastly, they head down the line and are placed in the right boxes, bags or bins. After that, they are prepared for shipping.

Choosing the perfect apple
All the work that that happens at Martin's packing plant and others like it across Ontario, ensures that choosing the perfect apple is easy. For this recipe, I chose Red Prince apples. Not only are they delicious, but they hold their shape when cooked. If you're not sure what apple to choose, you can see all the Ontario varieties and uses here.
Pork Stew Recipe: Beer Braised Stew with Apples & Vegetables

This recipe takes all the things I loved about those Sunday dinners I mentioned, and fixes all the things that I didn't. Um, like the leather-like pork chops. For instance, the pork in this stew melts in your mouth. Also, the Red Prince apple chunks fit perfectly with sweet root veggies. And then, the beer and cinnamon compliment each other perfectly. Which is fitting, considering how many compliments I've received on this dish. Seriously, I hope you enjoy it as much as my family does.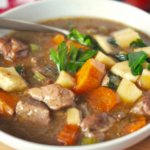 Beer Braised Pork and Apple Stew with Root Vegetables
This delicious stew features melt-in-your mouth pork perfectly paired with sweet apple and cinnamon. While it is fancy enough for company, you're not going to want to share it.
Ingredients
6

tbsp

. olive oil

3.5

lb

. pork shoulder

about 1 inch, cubed

2

onions

chopped

4

cloves

of garlic

finely chopped

4

sprigs thyme

700

ml

craft oatmeal ale like Left Field Eephus Ale or your favourite brown ale

900

ml

chicken broth

5

tbsp

. all-purpose flour

½

cup

light brown sugar

1

tbsp

. cinnamon

6

cups

of chopped root vegetables

-I used about 2 sweet potatoes

1 parsnip, 2 carrots

2

stalks of celery

chopped

2

medium Red Prince apples

about ½ inch, peeled and chopped

1 1/2

tsp

. kosher salt

1

tsp

. ground black

½

cup

Italian Parsley
Instructions
Prepare the pork, removing excess fat and cutting into even cubes of approx. 1 inch.

Season pork with half of the salt and pepper.

In a large Dutch oven over medium heat, add 3 tbsp. olive oil.

In batches, add the pork and brown on all sides. Add a little more olive oil if necessary. Transfer to bowl.

Add the remaining olive oil to the Dutch oven, then cook onions for about 5 minutes, until translucent. Then, add the thyme and the garlic and continue cooking.

After 2 minutes add flour, and cook for one more minute.

Add the Oatmeal Ale and increase heat to bring to a boil for 2 minutes, then return the pork and any juices to the Dutch oven, along with the broth and brown sugar.

Bring to a boil once again, then reduce heat. Simmer partially covered for about 1 hour, 20 minutes until the pork is very tender.

Add the root vegetables, celery, apples and cinnamon to the stew. Bring to a boil, reduce heat again and continue simmering, partially covered for about 30 minutes, or until the vegetables are tender.

Add remaining salt and pepper, and sprinkle parsley into the stew.

Serve hot.


Looking for more great easy weeknight dinners: check these out.
Looking for another stew to try? Try Country Chicken Stew.
Although this post has been generously sponsored by Ontario Apple Growers, the opinions, language and yummy photos are my own.

Melanie from mommydo.com writes about parenting, food, neat stuff and the unexpected beauty in life, all while juggling work, family life and spreading awareness and raising funds for Williams Syndrome.