Gluten-Free Mint Nanaimo Bars
One of the other favourite holidays treats mentioned by my nearest and dearest (other than Scottish Shortbread) was Mint Nanaimo Bars. I admit, I did start to drool slightly when these were mentioned. The textured bottom with coconut melts into your mouth, followed by the sinfully delicious creamy sweet filling, then the big finish – a crisp crackle of sweet chocolate on top. It was difficult not to eat all of these before we sent them on to family and friends.
I didn't realize that the original recipe for Nanaimo Bars actually comes from Nanaimo, British Columbia. With the name, I suppose it makes perfect sense that this delightful treat is Canadian-made! I also love the fact that is no bake, so literally, you throw those terrific layers together and that's the end of it. I find the layering works best when you freeze it in between putting each layer together.
This may not have been the healthiest holiday recipe I made recently but I was determined to give it a kick of nutrition, so I naturally dyed the custard using spinach & used gluten-free products too. My husband didn't know the difference and hoovered them up. I didn't tell him either. PS. If you see my sister enjoying her homemade Mint Nanaimo Bars, don't tell her they are healthy and gluten-free!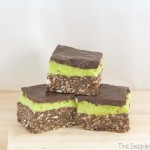 Gluten-Free Mint Nanaimo Bars
A deliciously healthier twist on the Nanaimo Bar - dyed using organic spinach and using gluten-free ingredients. Egg-free option available.
Prep Time
1
hour
30
minutes
Total Time
1
hour
30
minutes
Ingredients
Bottom Layer

1/2

cup

salted butter

1/4

cup

sugar

5

tbsp

cocoa

1

egg beaten

1 1/4

cups

gluten-free graham wafer crumbs

1/2

cup

finely chopped almonds

I buzzed mine quickly in the food processor

1

cup

coconut

Second Layer

1/2

cup

salted butter

2

tbsp

& 2 tsp whipping cream

1

package GoBio organic

gluten-free custard powder

1 1/4

cups

icing sugar

1

tsp

peppermint extract or food-grade Essential Oil

2 drops

3

cups

of spinach

juiced

Third Layer

5

squares semi-sweet chocolate

1 oz each

2

tbsp

salted butter
Instructions
Bottom Layer: Melt first 3 ingredients on top of double boiler (if you don't have one, use a metal or glass bowl on top of a saucepan). Prepare crumbs, coconut, nuts in a metal or ceramic bowl (not plastic). Add egg (or egg substitute) and stir to cook or thicken. Remove from heat and combine cocoa into the dry mixture and press into an ungreased 8x8" pan (glass works the best). Put in freezer.

Second Layer: Juice 3 cups of spinach into a glass measuring cup. Cream everything else (except peppermint extract) together carefully, beating with KitchenAid mixer or hand-mixer until light. Add spinach juice & peppermint extract and beat for another 1-2 minutes. Add second layer to pan & spread out to equal thickness with a spatula. Return to freezer.

Third Layer: Melt all squares of chocolate with butter over low heat, stirring occasionally. Once cool but still liquid, pour over second layer and freeze or chill in the refrigerator.
Recipe Notes
To my egg-free friends, egg substitute can be used in this recipe as it is cooked.
If you are planning to eat them later (good luck), they can be kept in the freezer for up to 3 months. When using, slightly thaw them and cut with warm knife (run under hot tap water).

a passionate recreation coordinator by day, crazy farm mama of two by night. i live outdoors: growing my own food, camping and hiking with my border collie with two active kids in tow. when I'm not writing, I'm experimenting with recipes, and crafts – or anything else that might keep the monkeys entertained.