One of my favorite ways to save time and get a healthy meal in the morning is with the Make-Ahead Sunshine Breakfast Smoothie. You can make these pre-made packages with any combination of fruit, vegetables and milk (dairy, almond, coconut or any milk of your choosing) or just follow the recipe below for a delicious vitamin-packed morning kick-starter.

Having these little bags of pre-measured smoothie fixings prepped and ready to grab and go helps encourage you to have breakfast in the morning. This is very important if you are trying to eat healthy and take better care of yourself and your family. They work really well for kids and teens because they can customize them to their tastes and they are portable if you have to have breakfast on the run.


I will often pick a day on the weekend to prep the week's meals. The smoothies take about half an hour to peel and chop your fruit then assemble the rest of the ingredients into the baggies, label and freeze. Tip: Label your baggies before you fill them to include any instructions such as how much milk to add, if you need to thaw and at what speed to blend.

Each serving makes about 12 oz. of tropical goodness. Feel free to experiment with adding extras like protein powder or probiotics to increase the nutritional value of your smoothie. I like to use an organic ginger/honey syrup that I get locally at a farmers market in place of the honey and fresh ginger but either combo works wonderfully.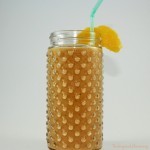 Make-Ahead Sunshine Breakfast Smoothie
A simple make-ahead breakfast smoothie that can be altered to be dairy-free.
Ingredients
1 2

L

carton Almond Milk or Coconut Milk

2

cups

grated carrot

about 3 large carrots

2

cups

sliced oranges

about 3-4 oranges, peels removed

2

cups

frozen mango chunks

3

medium bananas peeled

1/4

cup

honey

2

inch

piece of fresh ginger or 1/4 cup ginger syrup

1/4

cup

ground flax seeds

8

sandwich-size freezer bags
Instructions
Assemble your ingredients. Peel carrots and grate them on a box grater or food processor, set aside in a bowl.

Peel oranges. Using a sharp knife, carefully slice off the top and bottom of the orange. Using even downward strokes, slice the skin away from the fruit. Remove any remaining white pith. Next slice into circles and then into half or quarters. Place in a bowl and set aside.

Peel bananas and cut into 1/2 inch rounds, set aside in a bowl.

Fill each baggie with 1/4 cup of each mango, orange, carrot and banana.

Next put a 1/2 tablespoon of honey and ground flax seeds into the baggie.

For the ginger, peel and cut into 8 equal size pieces and put one into each baggie; if using ginger syrup you can omit the honey and fresh ginger by using a 1/2 tablespoon of the ginger syrup.

Squeeze the air out of the baggies and seal. Place in the freezer, flat for serving day.

On serving day you can slightly thaw the baggie or place it frozen right into your blender, add 1 cup of almond milk/coconut milk or cows milk and blend until smooth and frothy.
Recipe Notes
You can substitute ginger syrup for the honey and fresh ginger.

Selena is The Dip Diva who dishes on food and the fabulous things that inspire her; a savvy entrepreneur and farm girl who has a passion for culinary adventures. Crafting recipes that meld fresh ingredients with family friendly flavours is her mission.
Find more of her delicious recipes at http://www.dipdiva.ca/