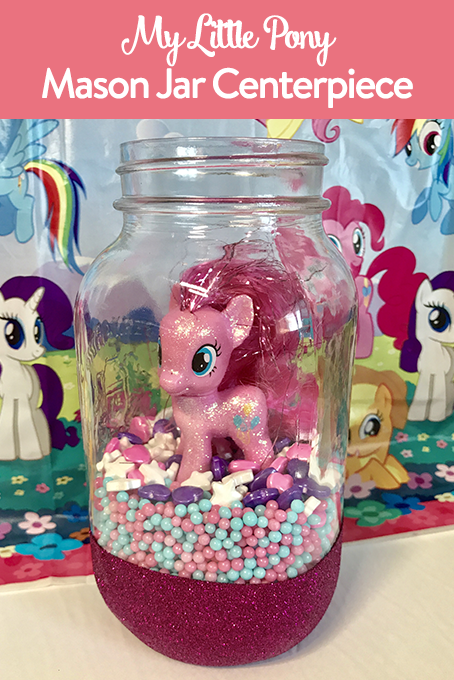 My Little Pony Birthday Party
If you are a regular visitor here at The Inspired Home then it doesn't come as a surprise to you that I love to throw fun, themed birthday parties for my kids. Miss O has had a pink party, a Princess Peach party and a Hello Kitty party over the years. This year's theme of choice was My Little Pony. I decided to whip up a simple mason jar centerpiece to adorn the food table. I pulled out one of my favourite Bernardin mason jars and went to work!
What You'll Need
Lots of sprinkles!
Pony figure
Mod Podge (optional)
Extra fine glitter (optional)
Painter's tape
Foam brush
Note: You can get away with 500mL mason jars if that's all you have on hand, you'll just need to use a smaller pony.

Get Crafty
If you want to add a little sparkle to your mason jar centrepiece then you'll need to pull out some Mod Podge (matte, glossy, glitter, it's all up to you!) and some extra fine glitter in a colour to accent your pony. Lay out some paper on your work surface. First, you'll need to put a line of painter's tape around the jar to mark off a nice straight edge. I suggest stopping the glitter just under the logo of the mason jar.
Using your foam brush, paint a coat of Mod Podge from the bottom edge of the jar right up to the edge of the tape. Once you've done that, it's time to pour on the glitter! It's helpful to do this over a container that will make it easier to pour the excess glitter back into its container. Use a heavy hand with the glitter to cover it fully.
Allow the jar to dry for at least 30 minutes but one hour is best. Once that is done, paint on another coat of Mod Podge and dump even more glitter all around. Let dry once again. Now it's time for one final coat of Mod Podge to seal the glitter. Once you have finished with that layer, peel off the painter's tape while the glue is still wet – this will ensure a nice, crisp line around the jar. Let dry overnight.
Now comes the easy part (especially if you decided to skip the glitter!): pour in the sprinkles, pop in your pony and you have assembled a beautiful mason jar centrepiece that any My Little Pony lover is sure to adore.