Raise your hand if you drink coffee every day. You're not alone. Canadians consume an average of 2.8 cups of joe a day. On September 29th, embrace your vice and celebrate National Coffee fellow coffee-lovers coast-to-coast.
Back to the Grind
I don't know about you, but I find September to be one of the hardest months. The harsh return to routine, packing lunches and getting used to a new schedule (when is swimming this year?) makes me even more grateful for that first morning cup. It doesn't tame the chaos, but sometimes feel like it it's actually speaking to me. "We got this" it says.
Other reasons to celebrate on National Coffee Day
Coffee is good for your memory. A study conducted in Maastricht, Holland found that coffee can combat the forgetfulness that often accompanies aging2. Plus, Coffee helps fight the common cold. Coffee can help cold sufferers feel better faster by relieving the sluggish feeling colds leave behind3.
No need to step way from your cup
When a great cup of coffee is a less than perfect start to the day, there's no need to give it up for good. Here are a couple ideas to help with common coffee woes.
Clothing stains. I'm always amazing in the movies when a man takes a clean shirt out of his drawer and changes in his office. First, hello open concept and second – who has that many shirts. All it takes is a little drip on my shirt to make me feel self conscious all day – and don't even get me started on those times when someone plows into you, spilling have the cup down your front. OxiClean™ Colour Shield Liquid Laundry Stain Remover features the power of OxiClean™ that reaches deep into fabric fibers to quickly and safely break up and remove stains and keeps colours looking their brightest.'
Teeth stains. These stains tend to sneak up on me. Every morning I look in the mirror and don't notice a thing until one day I'm like "when did that happen to my teeth?" My teeth probably hate me the most for my love of coffee. ARM & HAMMERTM Truly Radiant™ Spinbrush and Whitening & Enamel Strengthening Toothpaste are the perfect pair to fight coffee stains and get to a whiter, brighter smile in just 3 days. Spinbrush removes 100% more plaque in those hard to reach areas*, and Whitening & Enamel Strengthening Toothpaste removes stains, helps remineralize tooth enamel restoring its shine and smoothness.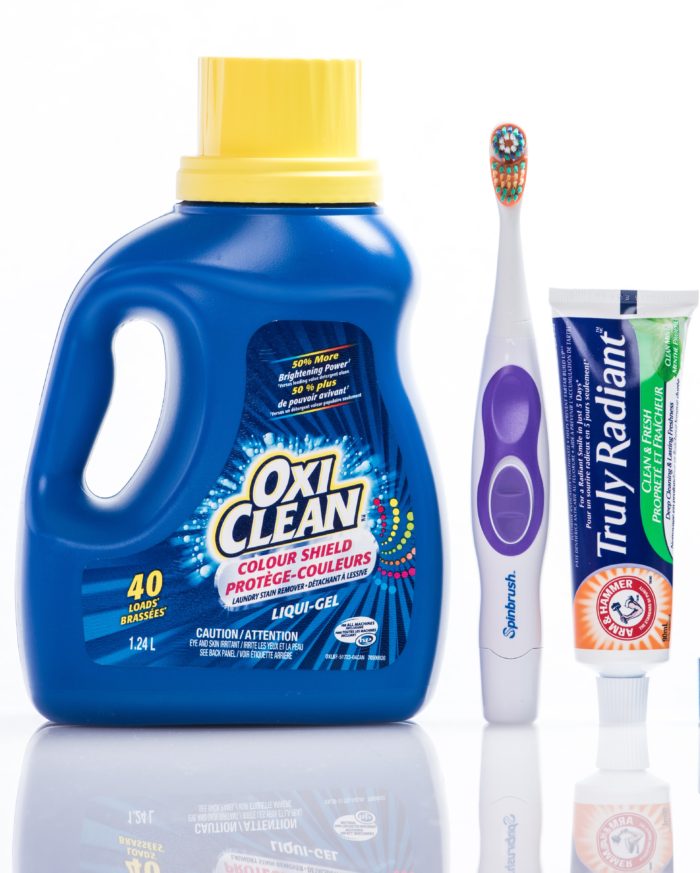 National Coffee day is just a single square on the calendar, but I think I'm gonna celebrate all year long. What about you? What is your favourite way to enjoy your morning coffee?
*versus a manual brush