Grape Jelly BBQ Sauce Meatballs
It just feels like crockpot season again to me! I can't quite put my finger on if it's because of the cooler nights and a few dashes of snow, or if that daylight savings has caught up with me. When the fall (or maybe even winter) is upon us, I want to whip out my crockpot and start in to filling favourites. The weekend finds me at my stove making soups, casseroles and other filling dishes to help with the busy weeknights.
Meatballs have a huge nostalgia factor for me. One of my favourite mentors, Marc would always bring meatballs to any potluck gathering we would have. All day long, his crockpot would waft delicious smells up as it cooked away in the office before the celebration. On the buffet table, hours later, they would be one of the items that everyone had on their plate. Try as I might, mine still have a ways to go until they meet Marc quality. But every time I make them, I think about my old YMCA friends.
Melanie actually suggested that I throw my love of meatballs in with my homemade grape jelly. I whipped up several batches of it this summer with fresh concord grapes that we have been enjoying at the breakfast table. Add in a little of our favourite Albertan BBQ sauce and this recipe is a winner. Even though they aren't Marc's.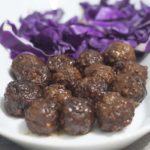 Grape Jelly BBQ Meatballs
Easy crock pot meatballs ready for your next pot luck or game day celebration!
Ingredients
1

cup

of Cattle Boyz Original BBQ Sauce

3/4

cup

of grape jelly

1

box of angus meatballs

907g
Instructions
Mix grape jelly & BBQ sauce together.

Pour over meatballs.

Cook on low in the crockpot for 20 minutes.

Serve & enjoy.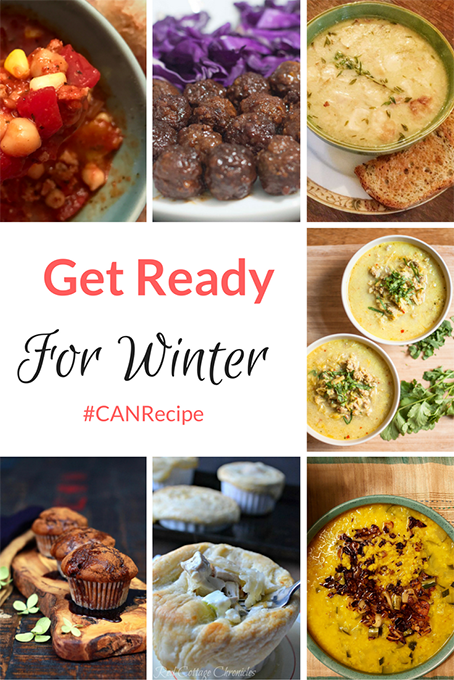 Today I'm glad to be sharing recipes from fellow Canadian bloggers under the hashtag #CANRecipe. November is the unofficial start of winter across the country and what better way to get ready for the season than with delicious food straight from our kitchens.

From the top the dishes are:
Easy Weeknight Turkey Chili @ Mommydo
Puffball Mushroom Soup @ OffThePorch.ca
Creamy Curry Meat Soup @ Allergy Girl Eats
Moong Dal (Indian Lentil Soup) @ Maple and Marigold
Chicken Pot Pie @ Red Cottage Chronicles
Pumpkin Molasses Muffins @ Everyday Allergen Free

a passionate recreation coordinator by day, crazy farm mama of two by night. i live outdoors: growing my own food, camping and hiking with my border collie with two active kids in tow. when I'm not writing, I'm experimenting with recipes, and crafts – or anything else that might keep the monkeys entertained.