Gluten Free Turkey Dinner
For just over 10 years, members of my family have been dealing with intolerance and allergies related to gluten. First my grandmother stopped eating it, then my mother, and other members of my family quietly avoid it. Our celebrations since then have evolved to ensure that each family member will still be able to enjoy it without fear of pain later. And isn't that what hosts are supposed to do anyway?
Utility vs. Grade A
This year, I raced out to my local grocery store to grab a frozen turkey during a big sale. I grabbed a turkey and left, and therefore discovered the difference between a Grade A and a utility turkey. Canada Utility turkeys are birds with minor skin tears or one or more parts missing which in no way affects the quality. As a result, my turkey was missing one wing. Since I usually carve it before I get to the table, this wasn't a big deal to me. To answer more questions about turkeys like thawing times, or how long to roast, visit Canadian Turkey.
Here's what I've discovered about ensuring your next holiday meal is a safe one for gluten-free folks in your midsts. Below, we have ways to choose a gluten-free turkey, excellent sides for gluten-free turkey dinner, and my mom's own gluten-free turkey gravy recipe.
How To Know If Your Turkey is Gluten-Free
The best way to ensure your turkey is gluten-free is to read the label to see what (if anything) has been added. Generally, turkeys are, but some brands do pre-baste their turkeys and this baste can include gluten. Buying a fresh turkey (not frozen) from your local farmer which would have no added ingredients is the best option. If you are very sensitive, look for a fresh organic turkey or frozen organic turkey. In the last few years, labelling has come a long way and I find most turkeys are clearly labelled gluten-free.

Excellent Sides for Gluten Free Turkey Dinner
Unstuffed Turkey – use the Whole Bird Turkey Calculator here
Gluten Free Turkey Gravy (see recipe below)
Green Beans and Toasted Almonds
Carrots and Peas
Steamed Sweet Potato
Smashed Turnip
Buttered Brussel Sprouts
Mashed Potatoes with Chives
Glazed Beets
Garden Salad
Braised Swiss Chard
Grilled Winter Squash
Maple Roasted Carrots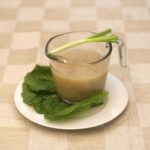 Gluten Free Turkey Gravy
A simple turkey gravy made without gluten.
Ingredients
About 2 cups of turkey drippings from the pan

1-2

tsp

of salt to taste

3

cups

of water

2-3

heaping tablespoons of corn starch
Instructions
Remove turkey from pan.

Add salt and 1 cup to pan. Turn on stove element to maximum heat, and leave pan until bubbling.

In a 2 cup measuring cup, add corn starch, then add 2 cups of water slowly while stirring. Make sure to stir out any lumps that occur.

Stir 3/4 of the corn starch mixture very slowly into the turkey dripping pan while stirring. Don't mix it where it is bubbling heavily. When the gravy begins to steam, turn it down to medium heat.

Continue stirring until the gravy looks clear and is to the desired thickness. If it is not thick enough, add the reserved 1/4 of corn starch mixture. If it is already to your desired thickness, don't use the reserved 1/4 mixture.
Recipe Notes
Great tip: Turkey neck and giblets simmered in a small saucepan in the top of the stove creates a strong broth. You could use this 2-3 cups of broth in the place of the water in this recipe. It would add amazing flavour to your gravy.
What are your favourite gluten-free side dishes?
Although this post has been generously sponsored by Canadian Turkey, the opinions, language and yummy photos are my own.

a passionate recreation coordinator by day, crazy farm mama of two by night. i live outdoors: growing my own food, camping and hiking with my border collie with two active kids in tow. when I'm not writing, I'm experimenting with recipes, and crafts – or anything else that might keep the monkeys entertained.