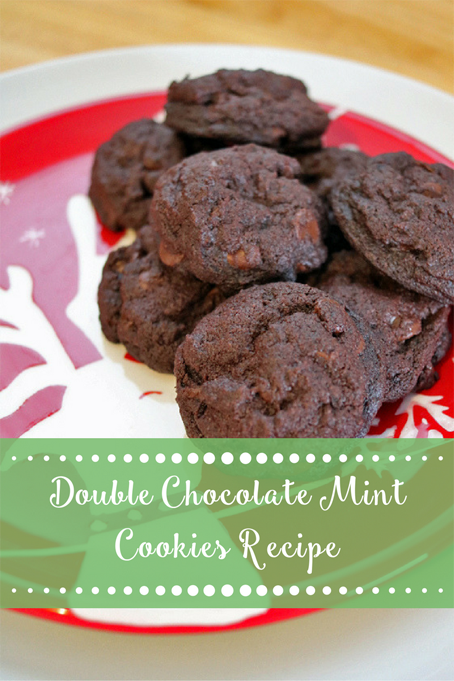 Double Chocolate Mint Cookies
Anything minty is just perfect for the holidays in my opinion, maybe because it reminds me of peppermint candy canes we hung on our Christmas Tree growing up. I remember my brother and I would try to be so sneaky as we plucked them off the tree, and then ran off to eat them out of sight from our parents. Now that I am a parent, I realize we weren't fooling them in the slightest, and I can appreciate why they let us get away with it.
Chocolate and mint together is one of my all time favourite flavour combinations. If you saw my recipe for Peppermint Brownies, this will come as no surprise to you. Needless to say, when I first saw this recipe for Double Chocolate Mint Cookies practically jumped off the page, calling out to me to be baked as soon as I could run out and pick up some mint chocolate chips.
Bake & Enjoy
Double Chocolate Mint Cookies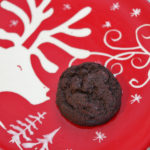 2/3 cup butter (softened)
1 cup sugar
1 egg
1 tsp vanilla extract
1 cup all-purpose flour
1/2 cup cocoa
1/2 tsp baking soda
1/4 tsp salt
1 2/3 cups mint chocolate chips
Heat oven to 350 F
Beat butter and sugar, on medium speed until creamy
Add egg and vanilla, beat well
Stir together flour, cocoa, baking soda and salt
Gradually add dry mixture to butter mixture, beating well
Stir in mint chocolate chips
Drop by rounded teaspoons onto ungreased baking sheet
Bake 8-9 minutes or just until set – do not overtake
Cool slightly on pan
Remove to wire rack and cool completely
What is your "must bake" this holiday season? Is there a recipe your family insists you make for them? Maybe it's a family tradition or a new found favourite. Share it with us in the comments below.