DIY Halloween Decorations
Andrea
I have always enjoyed Halloween, especially the decorations. My mother was always passionate about decorating at Halloween. Now that I have a child I find myself getting really into decorating for all of the major holidays and even the minor ones too! As Miss O gets older I'm sure there will be more and more decorations. I'm a little bit sad that our new home doesn't have a large covered porch. My mother's main decoration every year was a fabulous spider she attached to the ceiling of the porch using balloons and streamers. She also wore her spider costume every year that she made herself when she was in her 20's. It has held up well over the years!
This year we decided to give our house a face. I bought foam board from the dollar store and cut out teeth and eyes. I outlined the teeth with some black acrylic paint to make them stand out and painted the eyes with black & green acrylic paint. Both the teeth and eyes are attached to coat hangers. The teeth are hung into some siding under our awning. The eyes are attached with fish wire that is anchored in the window above.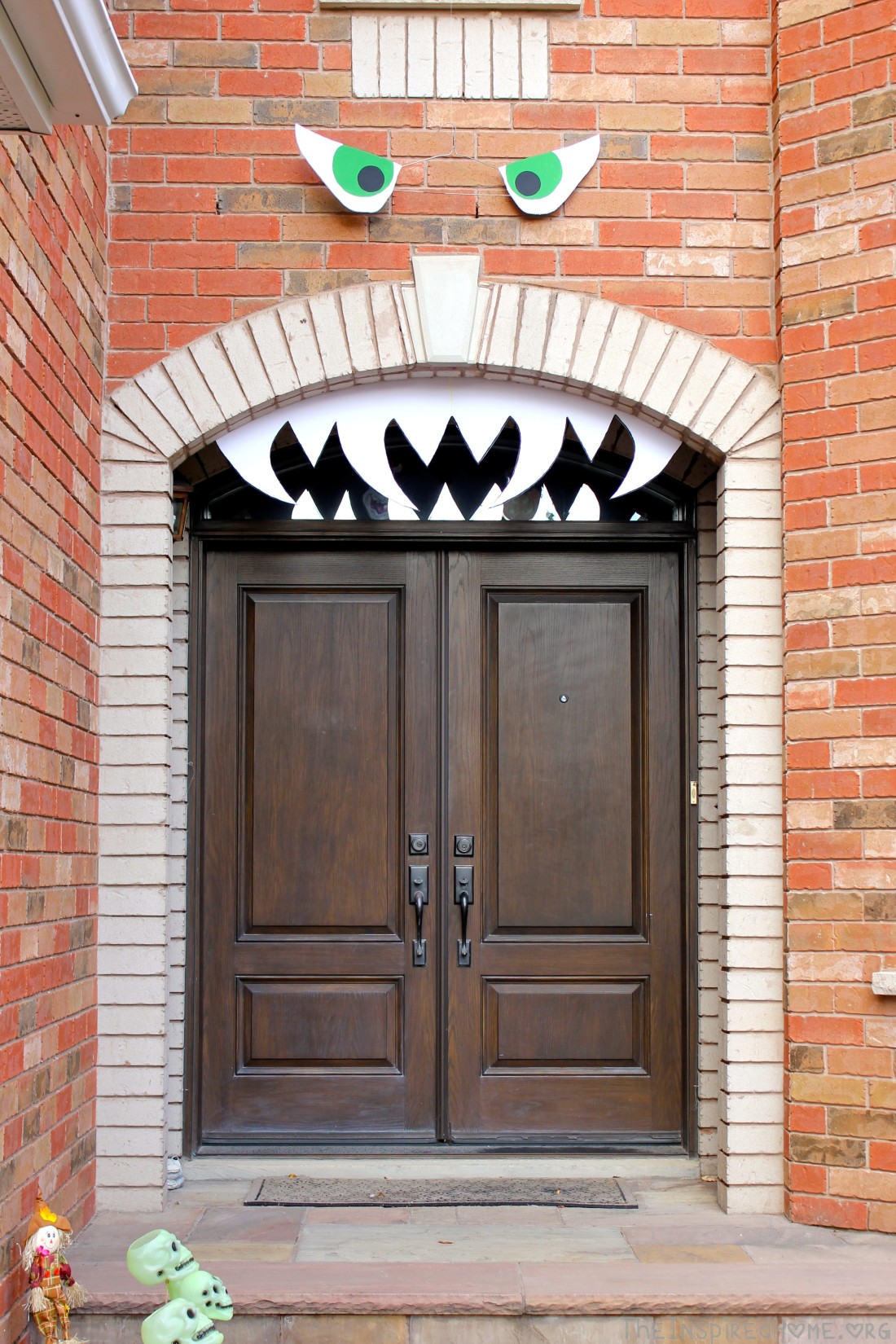 We also bought a fabulous posable skeleton from Costco whom we zip-tied to the chair & table to anchor him as well as prevent anyone from stealing him. There is also a corner by the front door designated as the witch zone complete with broom and floating witch hat! Majority of the decorations are from the dollar store with a few bigger ticket items like the tombstone being purchased from HomeSense.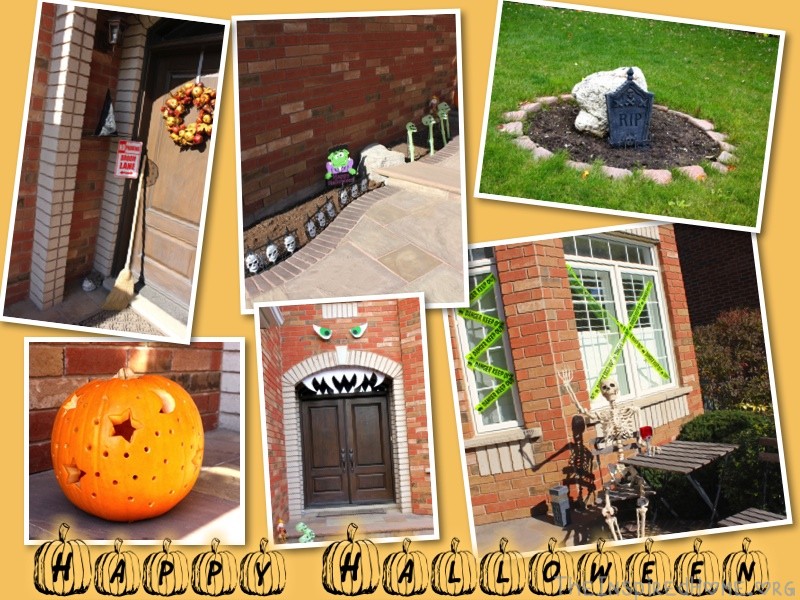 Holly
My family always enjoyed Halloween – but on a budget (as Christmas is coming you know!). So the decorations I am used to are largely homemade from things around the house. Our one splurge was usually very large leaf bags with pumpkin faces that we would stuff full of all the leaves from our large maple trees around our front & back yards. Raking them up and jumping in the leaves was half the fun! We would use dress-up clothes and make a figure for the porch too. I can remember a witch, a scarecrow, and a pumpkin head man. For extra kicks we would put our baby monitor in the pumpkin head and greet visitors by name to our door, and laugh uproariously when the visitor jumped ten feet!
Our Halloweens in Alberta tend to be snow-filled. Of the last four years, it has snowed 3 out of the 4, more than 20 cm.  Snow-covered pumpkins just somehow seems odd to me but that's the way of life here in the foothills of the mountains. Because we were fairly certain it was going to snow (and it did)  – we didn't get too fancy or attached to our decorations.
Out of Glad Kitchen Catcher bags, we made scary & happy ghosts to hang in our bush, along with creepy eyes.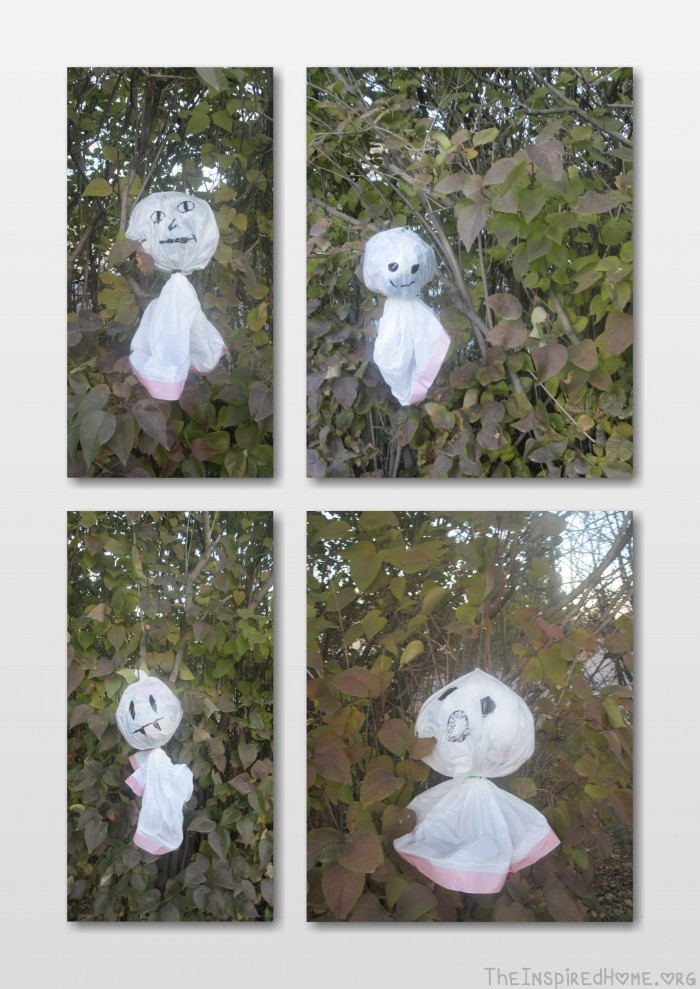 Out of inside-out compostable leaf bags, we had stands for our pumpkin leaf bags.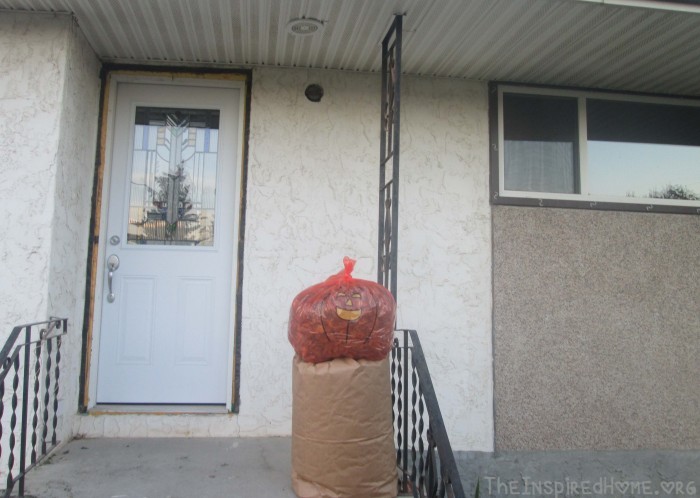 We added tombstones to our garden too.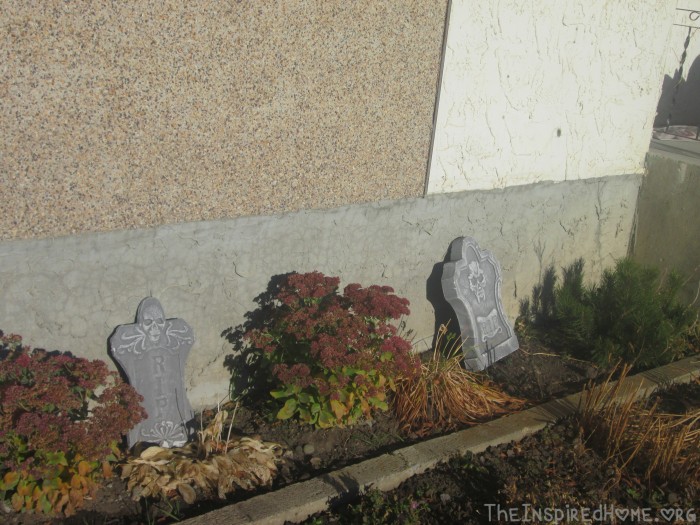 The piece de resistance was Garbage Bag Spiderwebs from How About Orange, which are brilliant in their simplicity and I added a spider we had from last Halloween.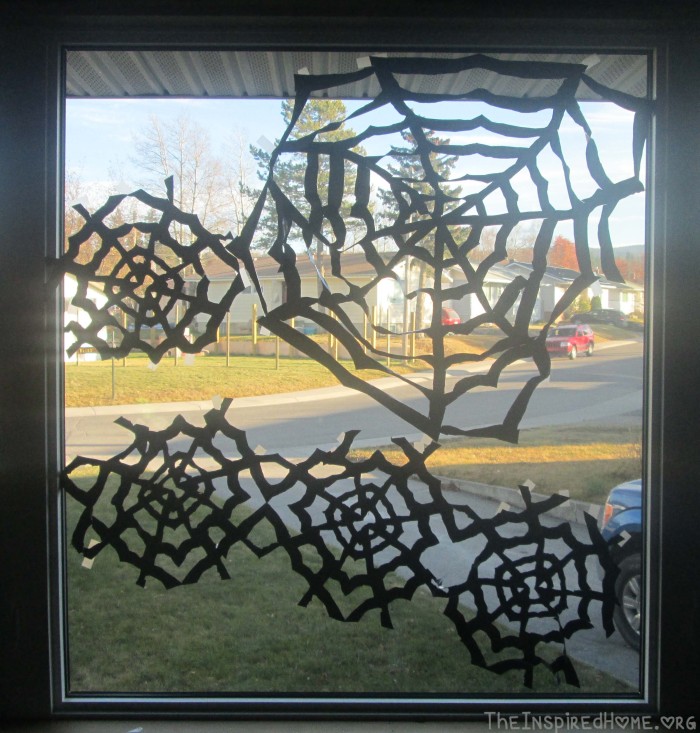 Right before dinner, we'll turn on our pumpkin stakes & throw the glowsticks in our pumpkins (even with our candles in mason jars, the wind always seems to get them!)
We hope you enjoyed seeing some of the ways we decorated our homes. How did you decorate your home for Halloween? Let us know in the comments below!