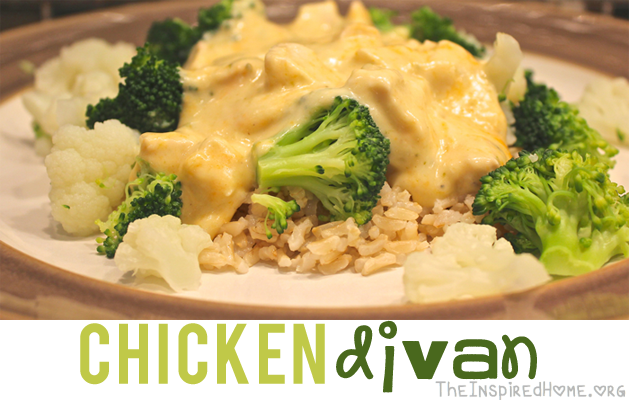 My mom has made chicken divan for as long as I can remember. When I was a kid, she hadn't yet mastered the fine art of gourmet cooking so she stuck with simple yet delicious meals. Since I've become a mom, I find I'm the same way. This dish was one of her staples.
It's a great dish because quite often you'll find you have the ingredients already in your cupboards and refrigerator. It's quick, it's simple and I have yet to meet anyone who doesn't love a big helping of chicken divan. Even the kids will love it. Smothering broccoli with a rich, creamy sauce will convince just about any kid to eat their greens.
This dish will warm your bones on a chilly winter evening and it takes very little effort or time to make. These things make for a great recipe in my books!
Chicken Divan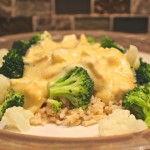 A quick and simple meal that everyone will love.
2 cans cream of chicken soup (I prefer low-fat)
1 250 mL container of sour cream (or 1 cup, I prefer low-fat)
1 cup shredded cheddar cheese
2 cups cubed (cooked chicken)
Dash of onion powder (garlic powder and cayenne pepper or paprika)
1 bunch broccoli cut into florets
4 servings rice
Combine all ingredients except broccoli & rice in a casserole dish. Cover.
Bake at 350°F for 30 minutes.
While divan is heating through, prepare your broccoli – you may choose to boil, steam or prepare in another manner. I tend to place in a frying pan with 1 inch of boiling water, covered, for 7-10 minutes or until broccoli is tender.
I also make rice to accompany the divan. I use Minute Rice brown rice and I prepare 4 servings according to box directions.
Put the broccoli & rice on your plate and smother it with divan!