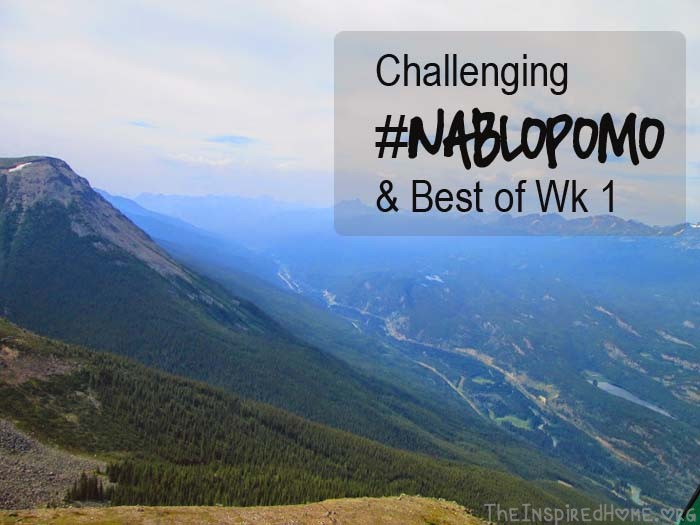 Challenging #NaBloPoMo
The writing mojo has been a little off as of late. Maybe it was the 5 week trip, and dive bombing back in only 4 days. Or possibly it was following all of that up by landing myself in the hospital (don't worry, I'm ok).
I could come up with a million and one excuses, reasons and justifications. Bottom line, when I do write down my thoughts, and let my creative thoughts flow, my world functions a little better. My overloaded brain with work, kids' things and what to make for supper has a chance to think beyond the basics. I find it relaxing, fun and challenging all at the same time.
On an average week, I write between 2-4 posts. November is National Blog Post Month, so the bar has been raised. If participating, you have to write and post every single day. Even today, Sunday! I started on November 3 with a group of other enthusiastic (and slightly competitive) Canadian bloggers. We put money where our mouths are too, so the pressure is on.
In their own right, they are all brilliant writers. I wanted to take the time to round-up my favourites from their posts as well as what I have been writing this week. Check out the posts below and go and give them a little comment love.
#NaBloPoMo, The Best of Week 1
Jennifer from Mom Dad & Cuppa Kids started the week off with this: Let's Talk About Rape, Shall We? I still have no words.
Anne from Food Retro had a hilarious take on 25 Ways To NOT Display Christmas Cards. I feel compelled to ensure I send her one this year, to see if she can come up with at least 2 ways TO display a Christmas Card as she claims to be "not crafty".
Cyn from Creative Cynchronicity wants you to raise a reader and has 10 Ways To Help Your Children Read. I love the one about leading by example – aka, read yourself.
Julie from 3 Chickens and a Boat is tackling raising kids as individuals and not via their gender. Do you believe in girl vs. boy colours? We sure don't.
Jenn from You Pinspire Me fell in love at Blissdom Canada, and she's still glowing and sharing about the experience.
Last but certainly not least, Christine from Whine & Cheese is giving out wine suggestions with top 10 white wines under $15. She has a few of my favourites already from Yellow Tail to Naked Grape, so I for one plan to try a few more of those on her list in the upcoming holiday season.
What I Wrote This Week
Are you participating in #NaBloMoPo?