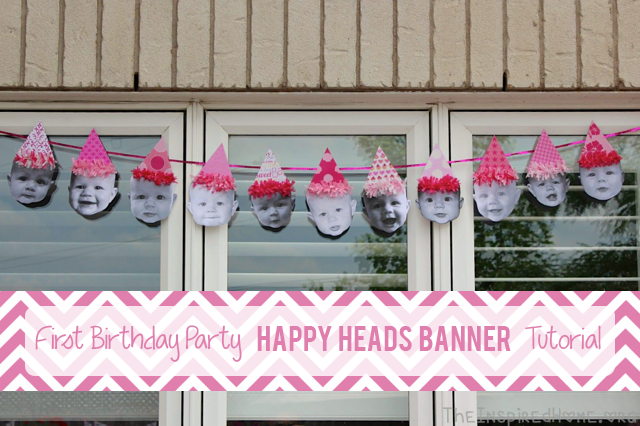 This banner is great for your child's first birthday party but it works for any age from 0-90! This happy heads birthday banner is sure to bring a smile to everyone's face. Aside from a few craft supplies, you will also need access to a printer. It doesn't have to be a high quality printer by any means; in fact, it doesn't even need colour ink! It just has to be able to handle printing on cardstock.
Items Required
white cardstock
printer
patterned cardstock to match your theme (scrapbooking supplies)
coordinating tissue paper
double-sided tape
scotch tape
scissors or exacto-knife
string or ribbon to hang
How-To
You start by printing out about 10-12 pictures of heads. The heads should all be the same size. To do this, I did everything in Microsoft Word (I'm a little more handy on the Mac now and would probably do it differently; that being said, at the time of Miss O's party, I was strictly a PC-user with a preference for Word!). Set page layout to landscape. Crop your pictures to show only the heads; two heads should fit on each page. Use the rulers on the screen as your guide for size. Make sure the heads are at the bottom of the page as you will need excess space at the top of the page. Once you've cropped & re-sized all your heads, print onto the cardstock. If using a colour printer, be sure to set it to print in grayscale only – this saves you having to convert the pictures to black & white!

Use scissors or an exacto-knife to cut out the heads. I have a self-healing cutting mat which I used under the photos to cut using the knife – I found it allowed for more precision. With patience it's also easy to cut the heads using scissors. Be sure to leave a tab at the top of the heads to attach your party hats to.


Cut triangles from your patterned paper in the shape of party hats. Ensure the bottom edge of each hat is just wider than your heads. Place some double-sided tape on the tabs at the top of the heads and attach the hats. Next, cut your tissue paper into strips about 1/2″ wider than your hats and about 2″ tall. Layer 3 rectangles on top of each other. Cut fringe into the top and bottom 3/4 of each strip making sure the fringe don't meet in the middle! Every few cm, twist your tissue. It won't look pretty until you attach it to the hat. Place a piece of double-sided tape along the edge of the party hat and attach your fringe, fluffing it up to make it stand out and look pretty.


Lay the heads face-down on a flat surface. Tape your ribbon or string at about the half-way point of each party hat. Voila! Happy Heads Banner!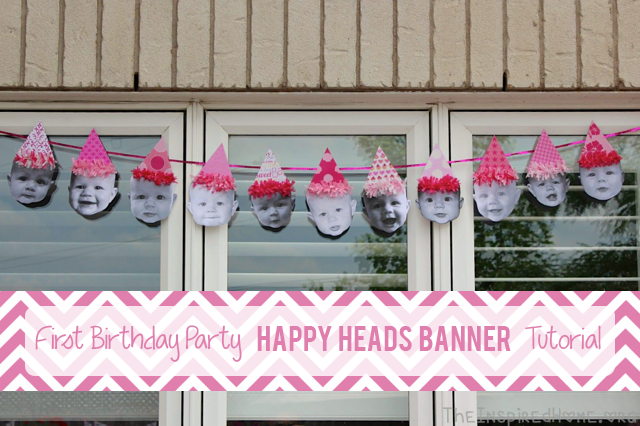 Check out our Pinterest Birthday Party Board for more great ideas…
Follow The Inspired Home's board Birthday Parties on Pinterest.



Andrea can always be found with a new craft in front of her, a form of technology on her right and a coffee on her left. This is how she survives suburbia with her two crazy toddlers in tow.