This post was originally published at the Hobo-Chic Project on Mar 5, 2012 when I went back to work full-time after the birth of my first child. As my husband has recently taken over full-time as the stay at home dad of 2, I think its a good one to revisit.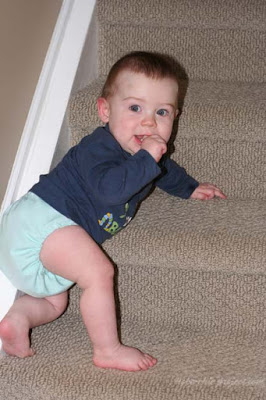 Dear Baby,
I went back to work this week. I'm not sure you noticed yet that we are not spending so much of our day together anymore, but instead you're rocking around with Daddy.
I wanted to tell you that it's not anything you did – it was a well-thought out decision that I hope will allow us as your family to provide you with the same type of childhood that Daddy and I had that includes sports, and higher education.
You may not realize it, but in Alberta, and in our small town, it is really odd for the mama to be the one who works and the daddy to stay home. Yes, we as your family, we're a little different. Not in a bad way, just we tend to do things differently – and I hope someday you come to appreciate this quirk in the same way I have.
I have full confidence in Daddy as being with you, and it is so wonderful to watch you draw closer and create an amazing connection with him like the one we already share. Be kind to him, in a lot of ways we're both still learning what you need, and we do the best we can.
A few of the mama's we know, have been asking if this has really upset me, but you know what? It really hasn't, it is just another transition in our life, and we're getting good at them. I'm also focusing on feeling grateful.
I'm grateful I work 5 minutes away from where we live and I can come home at lunch and breastfeed you. I'm grateful I don't work twelve hour days so that I get some time in the afternoon and evenings with you before you're ready to sleep. I'm grateful that Daddy and I can work out caring for you between the two of us so that you don't have to go to day care.
Thank you for smiling whenever I zip home to see you in these moments and continuing to be flexible and learning so many skills every day. Watching the way you view the world with joy and fearlessness every day is truly amazing and we are so blessed to have such a happy little man.
Much love,
Your working mama