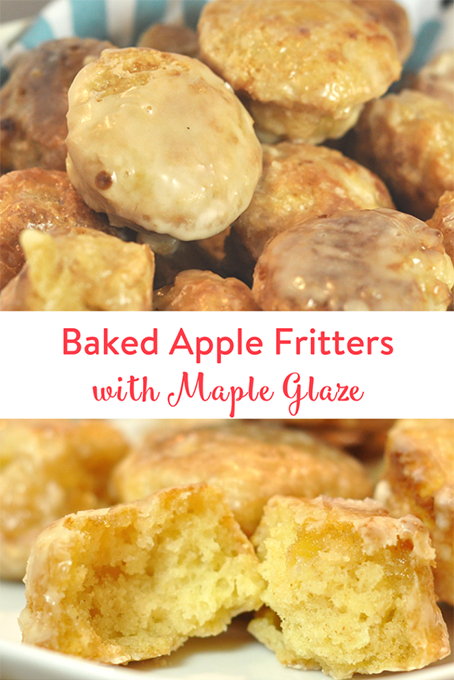 I love, love fall.
Warm sweaters, tall boots and the delicious fall flavours like apple and pumpkin. It's my favourite time of year. I even love tramping through an apple orchard on a drizzly fall day, picking apples and taking in all that fresh air.
Earlier this month, I joined a group of fab foodies at Nature's Bounty for a wet but amazing day, learning all about apple varieties. We were treated to a delicious lunch that started with an apple soup that won't soon be forgotten. Walking in an apple wonderland all day, the only thing I could think about was Apple Fritters.

Royal Gala
I got to pick my very own bag of Ontario Apples. Did you know that there are 15 commercial varieties of apples grown in Ontario? I picked about 10 different kinds including Cortland, Ambrosia, Empire, McCoun, Spartan and more. For this recipe, I chose Royal Gala. Galas are a cross between the Kidd's Orange and Golden Delicious. They are often on the larger size; yellow-orange ground colour with a red blush. Excellent in recipes as they hold their shape but soften nicely and also great to eat out of hand.
Baked Apple Fritters with Maple Glaze
Apple fritters are my favourite donuts but I'm not that keen on frying for safety and health reasons. Let's be honest, if they're baked, I feel I can eat more of them.
These are a new creation for me and I honestly don't know why I haven't tried this before. The secret is to use the broiler to caramelize the first coat of glaze to give them that oh-so-delicious crunchy outside and soft, cake-like centre. The maple glaze is both literally and figuratively the icing on the cake, which just adds to the complexity of flavours.

You might be tempted to dice the apple because the pan is so small but I urge you to chop slightly 0.5″ larger chunks. You want to have a good soft apple bite in every mouthful.

Consume Quickly (Like You Needed a Reason)
Like any glazed baking, they don't keep too long – the glaze starts to weep after about 36 hours so I give you permission to eat them all up in 2 days. Anything else would be wasteful. And if you're wondering if you can eat that many, just ask my son. He said "Mummy, I will do anything, and I mean ANYTHING if I can only eat these for the rest of my life."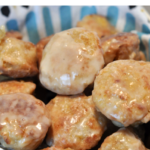 Baked Apple Fritters with Maple Glaze
A sweet, delicious, bite-of-apple treat made in the oven.
Ingredients
1/3

cup

softened butter

2

large eggs

1

tsp

vanilla

½

cup

milk

1 ½

cups

flour

½

cup

sugar

2

tsp

baking powder

Pinch of salt

1

large or 2 smaller apples

2

tablespoons

brown sugar

1

tsp

cinnamon
For the Sugar Glaze
1

cup

of powdered sugar

1.5

to 5 tablespoons of milk or cream
For the Maple Glaze
2

tbsp

maple syrup

1

cup

icing sugar
Instructions
Preheat the oven to 350°F.

Grease the mini muffin tins.

Chop apples into small chunks. Stir in brown sugar and cinnamon then set aside.

In a large bowl, beat softened butter and sugar together till creamy.

Add eggs and beat on low till combined.

Add vanilla and stir.

In another bowl, mix flour, baking powder and salt.

Pour the dry ingredients into the wet ingredients and mix with a wooden spoon until just combined.

Add apple mixture to the batter and stir.

Spoon the batter into the prepared pans. Make sure you have apple chunks in every one.

Bake for about 15 min.

Meanwhile, prepare the sugar glaze by mixing the icing sugar and milk. You want a thin consistency.

Next prepare the maple glaze – this one should be thicker. If it doesn't pour like a ribbon from the spoon, add milk to thin slightly.

Once the fritters are baked, remove them from the muffin tins and coat with the thin glaze. You want them to be fully coated but not saturated. I suggest setting them on a cooling rack with parchment paper or a tray underneath to allow the excess glaze to run drip off.

Here comes the fun part. Turn on the broiler. Place the muffins on a baking tray lined with parchment paper and pop them into the oven.

Once the sugar from the glaze starts to turn a golden brown, flip them so they get a caramel coloured crust on all sides.

Once they're all crusty and delicious, take them out and coat them in the maple glaze.

Let cool on a wire rack and enjoy within a day or two.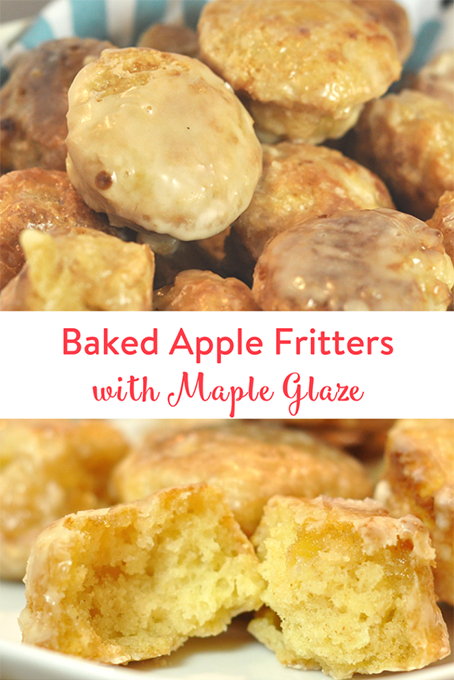 Although this post has been generously sponsored by Ontario Apple Growers, the opinions, language and yummy photos are my own.

Melanie from mommydo.com writes about parenting, food, neat stuff and the unexpected beauty in life, all while juggling work, family life and spreading awareness and raising funds for Williams Syndrome.