Bahmi Goreng (also spelled Bami Goreng) is an Indonesian dish that is commonly known as a Dutch dish. My dad is Dutch and made this dish regularly when I was a kid. I recently had a craving for it so I picked up the spice mix & noodles required for it along with a package of ground beef to make this traditional Dutch meal! Although the seasoning packet comes with directions, they are in Dutch! The recipe calls for the addition of veggies which I'm sure would be lovely but my dad always made it with nothing but ground beef & noodles so that's exactly how I made it. Miss O loved it! I was excited to introduce her to some new flavours. The kid loves her veggies and also loves Italian food but sometimes it's nice to bring in a new blend of spices and experience different types of cuisine.
Anywhere that sells Indonesian or Dutch food should have the items you need to make this dish: Bahmi Goreng seasoning mix and Mie noodles. I live in a city with a large Dutch population so it is very easy to come by. We even have The Dutch Shop in town!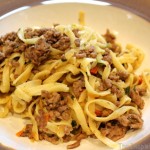 Bahmi Goreng (Bami Goreng)
Indonesian cuisine traditionally known as a Dutch dish.
Ingredients
1

lb

ground beef

1

pkg Bahmi Goreng seasoning mix

1/2

pkg Mie noodles

1/2

cup

boiling water
Instructions
Boil some water. Pour 1/2 cup of boiling water into a glass measuring cup and add seasoning mix, stirring it all up. Allow to steep while cooking.

Start browning beef in a large frying pan.

Boil a large pot of water; add Mie noodles, cooking until al dente - they will be stickier than a traditional Italian noodle.

Once meat is browned, add the seasoning mix to the beef and continue frying in pan until any liquid is gone.

Turn off heat. Add noodles to the frying pan. Heat through, coating with the beef/seasoning mixture.

Serve and enjoy!

Andrea can always be found with a new craft in front of her, a form of technology on her right and a coffee on her left. This is how she survives suburbia with her two crazy toddlers in tow.