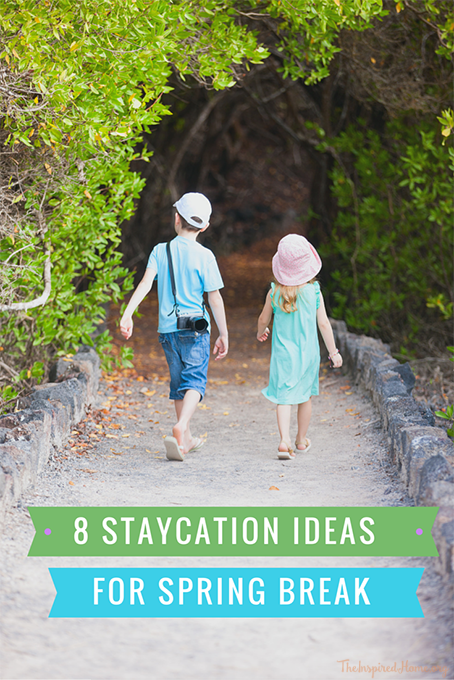 Planning on a staycation this March Break? Some may find a staycation daunting, but it doesn't have to be! Here are eight tips on how to fully enjoy a staycation (perhaps you can even try one a day), without the stress and exhaustion that international travel can cause.
Think of it as being a tourist in your very own city or province. You can stay indoors, cozy and warm, or get outside and enjoy an adventure.
Planning Your Staycation
Half of the fun is planning your staycation is counting down the days, and planning it together as a family. Make a countdown calendar – a simple calendar crossing off days will do, or a paper chain with loops for each day until the staycation is awesome too! Decide how many days your staycation will consist of, and agree that the regular chores can wait (no laundry!)
Things You Can Do At Home
Ask your kids for suggestions. Here's a few ideas to get the gears turning:
Plan an indoor excursion. Take a trip to a museum, gallery or science centre (to name a few). Whatever your interest may be – from antiques and art to science and nature – there is an exhibit for you.
Game Day: Blow the dust off the old board games (or go grab some from the thrift store). Cards, video games, Minute to Win It, or Minecraft all can count on Game Day. Designate a time for each of the categories of games you want to paly. Players go head to head to win a ridiculous trophy and bragging rights. The food is simple finger foods you can eat one-handed like nachos, veggies and dip, and cookies to snack on.
Visit a local ski resort. Take a day, or two, to hit the slopes with your family; you can ski, snowboard, snow tube or hike, the options are endless.
Tip: If you have family members who are motion sensitive, GravolTM Quick Dissolve Chewables (available for kids and adults) are an effective and convenient option to treat nausea, vomiting and dizziness, so you can get there more comfortably and with less worry. (Don't take GravolTM chewables and drive, as GravolTM Quick Dissolve Chewables may cause cause drowsiness).
Camp Out in the Living Room: Set up your tents in the living room and go camping. No electronic devices allowed! Do some tinfoil meals on the grill, cook hot dogs over your fireplace or campfire pit, or make a S'more bar. Tell ghost stories, play flashlight tag, or go on a flashlight walk around your neighbourhood after dark.
At-home makeovers. Be your own glam squad and grab those nail polishes, make-up powders, sparkle eye shadows, styling tools and last but not least…BatisteTMDry Shampoo! It's perfect to use between washes and easy to use. Applying quick burst revitalizes hair and removes any excess oil, adding body and texture. With the new limited-edition BatisteTM Ella Henderson Sweet & Seductive Dry Shampoo, you'll feel like a celebrity, with hair that looks, feels – and smells – great!
Get Adventurous: Pull those bikes out of the shed, grab the dog and explore a new trail. Take your smartphone and try geocaching. Rent a boat, Segway or bicycle built for two. Explore a new playground, or playground hop between the neighbourhood ones.
Chef for a Day: Pick out the menu of the day and get adventurous in the kitchen. Scour your local farmer's market, grocery store for steals and ingredients and prepare a gourmet feast. For a splurge, hire a personal chef for a day, or visit the swankiest restaurant in town you've always wanted to try. Don't forget dessert from a charming little bakery or cafe!
In addition to all the good food you'll cook up, make sure all family members get the get their daily recommended nutrients by taking VitafusionTM Men's or Women's Complete Multivitamin and Lil'CrittersTM Gummy VitesTM for kids.
Do-It Yourself Day: Grab your computer and have each family member pick 2 items from Pinterest to get crafty with. Head to your local craft or building supply centre to get all the required pieces. Each family members has to help with each of the projects. Too complex? Grab a couple craft kits from your local book store or craft store for easy DIYing.
What other ideas have you tried on a staycation? What was your favourite?
Giveaway
On behalf of your family's most trusted brands, here's a staycation giveaway for you to enjoy: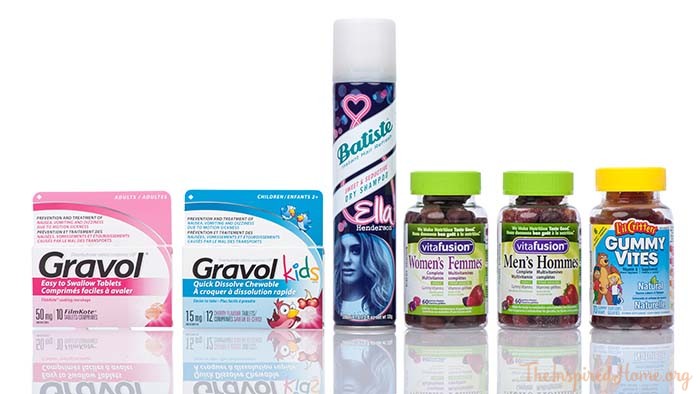 Vitafusion™ Women's Complete Multivitamin
Vitafusion™ Men's Complete Multivitamin
L'il Critters™ Gummy Vites™
Ella Henderson for Batiste™ Dry Shampoo
OxiClean™ Versatile Stain Remover (not pictured)
Arm & Hammer™ Truly Radiant Clean & Fresh Paste (not pictured)
Arm & Hammer™ Spinbrush™ Truly Radiant™ Clean & Fresh Battery Brush (not pictured)
Arm & Hammer™ Spinbrush™ Paw Patrol Battery Brush (not pictured)
Arm & Hammer™ Spinbrush™ Disney Descendants Battery Brush (not pictured)
Nair™ Wax Ready-Strips Legs & Body (not pictured)
Value: Approximately $80