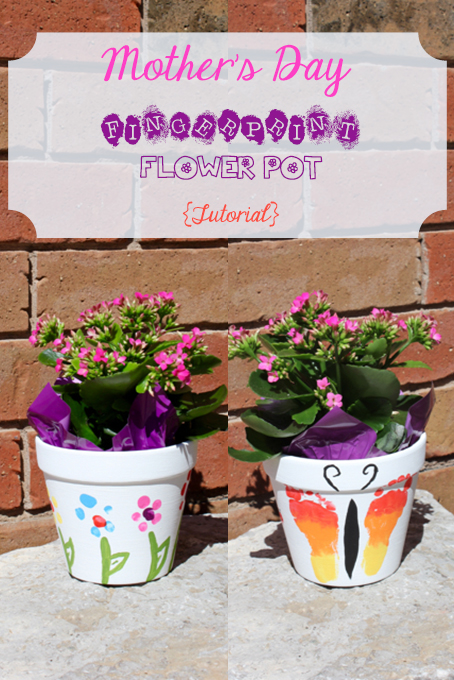 Yesterday I posted the Mother's Day Love Canvas gifts that the kids made for their grandma. I also decided to make some flower pots – one from each child. Again, all of my supplies came from the dollar store. These flower pots have a great personal touch with fingerprints, footprints and toe prints. And they look simply adorable with a nice spring bloom in there like a hyacinth or daffodil.
I lucked out with Miss O on this one – she was in a great mood, filled with patience and she actually let me help her which made for a very successful craft. This rarely happens when painting. I was glad this happened with a sentimental Mother's Day craft we were making for grandma. Toddlers don't always possess much in the way of patience!
For this craft, hubby held onto Little J. It's one thing to press his foot onto a canvas while strapped in a high chair but I needed help getting the angle just right when pressing his foot onto a clay flower pot. He's a mover and doesn't like to stay in one place so it was nice to have some muscle hanging onto him. Once again I was impressed at how well it turned out. It was just one of those days where things turn out right! They don't happen often when you have a baby and a toddler so I count them among my blessings.
What You'll Need
Clay flower pot – make sure it's big enough to fit a baby-sized footprint
A rainbow of acrylic paint colours – make sure you have green & white & black
Paintbrushes – fine ones are best for this project along with sponge or larger brushes for baby's feet
Some sort of pallet for the paint – we used an ice cube tray!
Thin black permanent marker
How-To
Like the Love Canvas Art, this is another craft you would be best to prep the night before you want to make it with the kids. Lay down some newspaper. Paint the rim of the pot with white paint – I prefer to use a sponge brush for large surfaces. Once that is complete, turn the pot over and balance it on a bottle of the paint or something similar – just high enough that the freshly painted rim doesn't touch the newspaper. Paint the entire pot with two coats of white paint. Let dry overnight.
To do the fingerprint flowers, I parked Miss O in her high chair once again with an ice cube tray filled with all the colours. She would choose a colour for the petals and a colour for the centre of the flower. I held the pot in one hand and guided her hand with my other hand to do 5 petals for each flower. A quick clean with a baby wipe and she would do a different colour for the centre. In total I think it took about 10-15 minutes to do flowers all the way around the pot. It went quickly because she was being very, very cooperative. Once that was done, I sent her on her way. Using your green paint, add some stems and leaves to your flowers.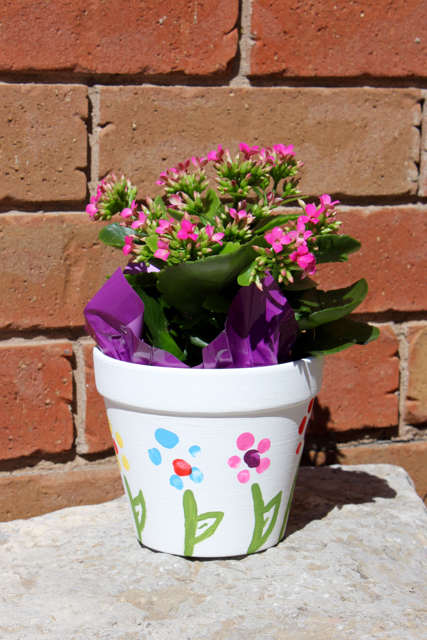 For the baby's flower pot I decided to do a butterfly and some caterpillars. You will need to paint both feet (one at a time) with three colours. You'll have to be quick about it so the paint doesn't dry and your active baby doesn't start freaking out! Little J is very ticklish. Make sure you have everything prepared before you start! Babies lack patience, especially 8 month old little boys.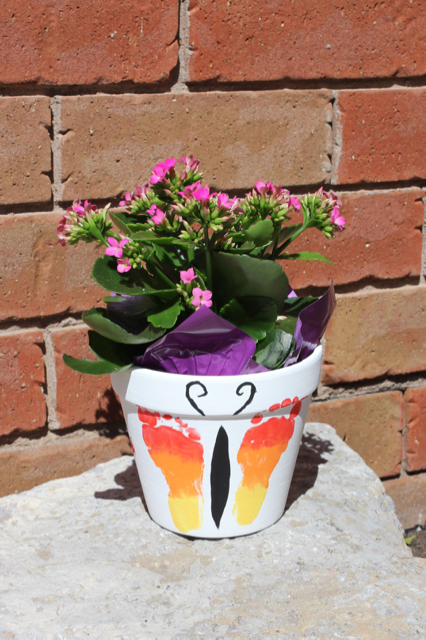 I found it helpful to start painting the bottom of the foot first as you can steady the ankle but you can't steady the toes! Painting them last just seemed to make it simpler. When placing the feet on the flower pot, remember that the left foot is the right wing and the right foot is the left wing. Figure out the logistics of how you will be holding the pot before you start so you know which foot to begin with. I started with his right foot. Make sure to press down the whole foot and the toes – it's much easier if you have someone helping you.
Once your wings are done, it's time to move onto the caterpillar. You simply paint their toes! I went with a rainbow but you can also just stick with one colour or one colour for the body and one colour for the head. If you go with a rainbow of colours like I did, you have to be quick so that the paint doesn't dry. Once they're painted, press the toes onto the pot. Again, it's very helpful to have assistance. I opted to do two caterpillars. I did not have to repaint the toes in between, I just moved quickly. I did have to touch up one toe on the second caterpillar as there wasn't quite enough paint.
When the butterfly & caterpillar are dry, paint a black body & antennae between the foot prints. Using a thin black permanent marker, give the caterpillars some legs, antennae and a little smiley face!
If you're feeling inspired, you can write Happy Mother's Day or some other note around the rim of the clay pot. I used the permanent marker to write their names and the date on the bottom of the pot.
If the pots will be used indoors only, you do not have to seal them but I still recommend it for protection. For outdoor use, you can purchase a sealant from your local craft store. When sealing, ensure that you cover the entire thing – inside, outside and the little hole in the bottom. Follow the specific instructions on the product and make sure to do it in a very well-ventilated area.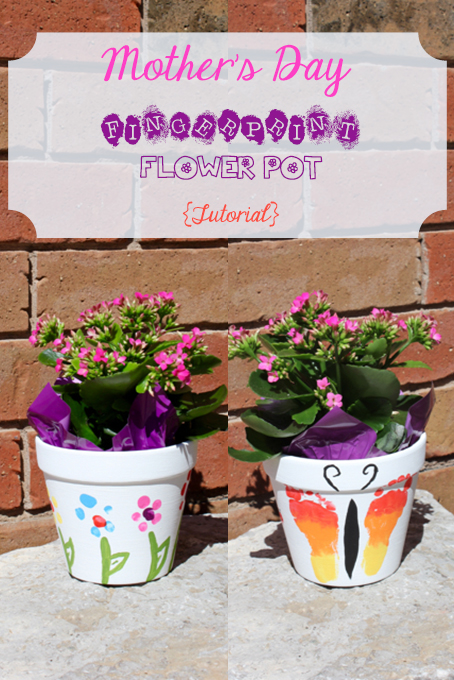 Be sure to check out some of our other Mother's Day gift ideas!