We're on to week #2 of Mantel Mondays! Were you inspired by last week's mantel? If that wasn't really your style then perhaps this week's mantel will be up your alley. The theme this week can also be applied as a general holiday mantel yet can also be slightly altered to be more of a Hanukkah-inspired mantel. Please note: As we have never actually used our fireplace (although it does work!), I have free reign when it comes to decorating it as nothing will melt since it never gets switched on. I cannot say the same for your fireplace mantel so please use caution and decorate using discretion.
Blue and Silver Mantel
This week's theme is a Blue and Silver Mantel. This has been the theme through my home for a number of years. I always found the combination of blue, white and silver to be striking and classically beautiful. My husband, however, disagrees. He has informed me that he has had enough of the blue & silver and that I must decide on a new theme! I am very glad that I got to have one last hurrah with these pieces for a brief window of time this year. Decorating the mantel four different times this month is helping me to figure out exactly what type of festive theme my husband prefers! All of the pieces used in this blue & silver mantel are from my own collection therefore I am unable to provide a total cost for this one. As I'm sure you have guessed by now, all of the pieces came from various discount decor stores over the years as I refuse to pay a ton of money on just about anything! I hope you enjoy this beautiful blue & silver mantel as much as I have over the years.

Details
From left to right on mantel:
Blue & silver ribbon with white LEDs inside
Blue glitter tree
White candlestick with blue glitter reindeer
Blue & silver tree decorations
Snowflake shattered glass stocking holder
White candle holder
Silver glitter star tree-topper
Tree shattered glass stocking holder
Blue & silver tree decorations
Upside-down wine glass
Blue & silver jingle bell mini-wreath
Large blue glitter reindeer
Other details:
Large beaded garland strung over mirror
Blue wreath with silver & blue decorations attached
Silver beaded garland
Silver glitter bows
Blue & white fabric stockings
Tips for your mantel
Use wine glasses on your mantel to hold battery-powered tea lights or add height to items
Hang garlands in a different manner as I have around the mirror
Extra tree decorations or tree toppers can find a lovely home on the mantel
Explore different ribbon options – the battery-powered LED ribbon helps illuminate your hard work
Use Command Hooks to hang items temporarily – ensure you follow directions completely to ensure proper removal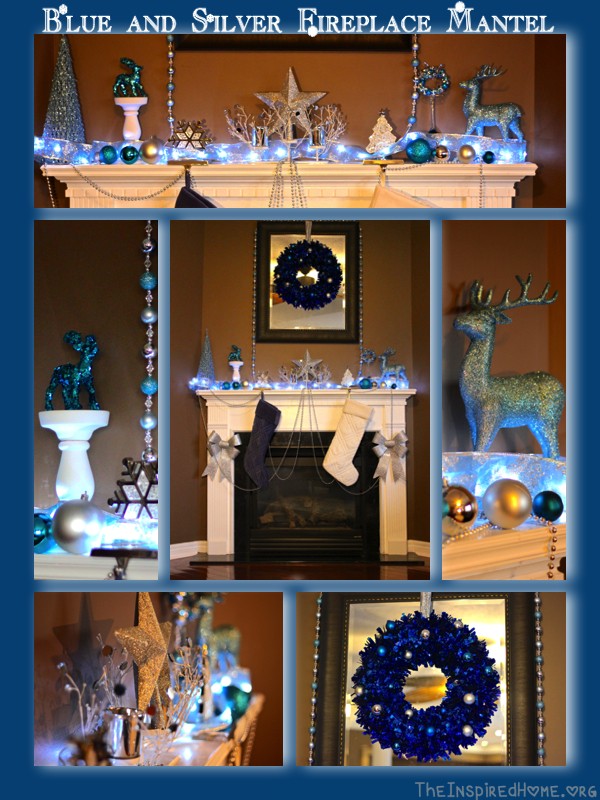 Mantel Monday Link-Up
[inlinkz_linkup id=339601]